A good way to check whether you're receiving data from your site is to simply visit several of its pages and then see if data appears in Higher Logic Thrive Marketing Professional (Thrive Marketing Professional).
NOTE: During these tests, make sure you're aware of any excluded IP addresses in the Domain Setup for Web Tracking, as web traffic from an excluded IP address won't flow into Thrive Marketing Professional. It's common for the IP address associated with an organization to be excluded so resulting metrics aren't biased toward the pages that staff visit. If your organization has done this, make sure to test on a different IP address.

See Enable Web Tracking to learn how to check your domains.
Page visit test
NOTE: If you have just enabled Web Tracking, spend some time navigating around your site to generate some data.
Classic admin interface - Navigate to Marketing Automation > Web Tracking
New Admin Interface - Navigate to Web Tracking
From here, click the Pages tab. If web tracking is working as expected, you will see all of the pages of your website that have been visited. This indicates that the JavaScript is on your site and is sending data to Thrive Marketing Professional.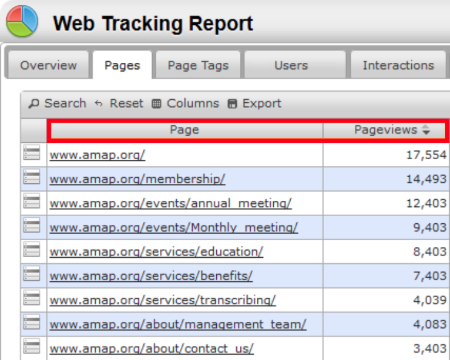 User test
This test checks to see whether you have gathered Users (subscribers who have clicked a link in one of your mailings to visit your site) for use in Target Groups.
Publish a mailing to yourself, and include a link to your website. With Web Tracking enabled, all links to the domains that you track are automatically configured to work with Web Tracking.
NOTE: A test mailing won't work in this case, so make sure to publish a mailing for this test.
Once you receive the mailing, click one of the links to visit your site.
Look at the resulting page's URL to make sure two parameters are present: _zs and _zl. These parameters appear at the end of the URL and are responsible for communicating which Thrive Marketing Professional subscribers are on your website (_zs), and to validate their presence by attaching it to an Thrive Marketing Professional mailing record (_zl). The presence of these parameters inform you that you've configured your domain properly in the Web Tracking Setup.

Classic admin interface - Navigate to Marketing Automation > Web Tracking
New Admin Interface - Navigate to Web Tracking
Click the Users tab. You should now show up as a User in the Web Tracking Report.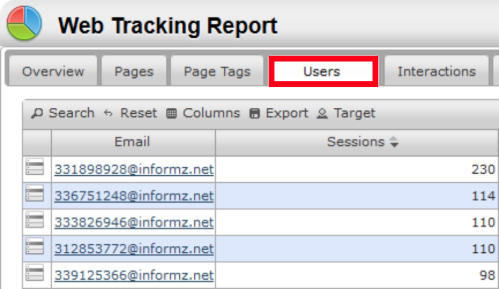 Takeaway
If data is appearing in the report related to website visits, now is a good time to start planning on using Interaction Tracking Codes and Purchase Tracking Codes on your website to increase the power that Web Tracking can have on the creation of Target Groups.
See Track Specific Interactions and Track Purchases to learn more about each.