A preheader is the top section of an email; it's the initial piece of your message that your recipients see. While this area is often populated with substantive text, such as "Click here to download images," it's typically better to include something more inviting.
When recipients look at your message, they'll see your sender address and subject line. The preheader is an additional tool that works alongside these elements to create a stronger allure. Think of your preheader as an extension of your subject line in the inbox. It is a first impression and a preview that occupies a valuable location in your message.
Below are two examples of a preheader in an email client: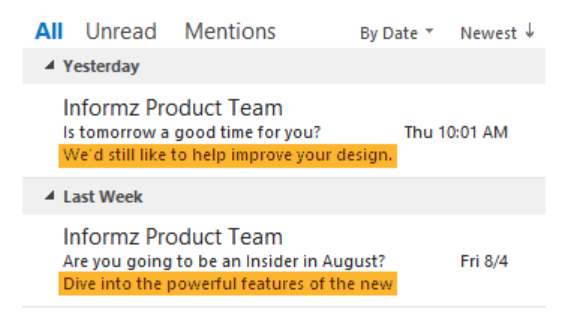 You'll typically use a preheader for two reasons:
Marketing - A preheader lets you include additional elements that will draw your recipients into a message.
Preview - A preheader also gives recipients a sense of what is to come within a message.
Creating a Preheader
When you use a template with a preheader location in MD2, you'll see a placeholder for your preheader content.

Click the placeholder to open the rich text editor and add content to your preheader.