Microsites is one of Higher Logic's optional modules. It gives your community leaders and organization staff the ability to create and manage independent websites (Microsites) for any of your Higher Logic communities. Microsites can be tailored to their members, and admins can control everything from content to the design, layout, and site navigation.
Watch the video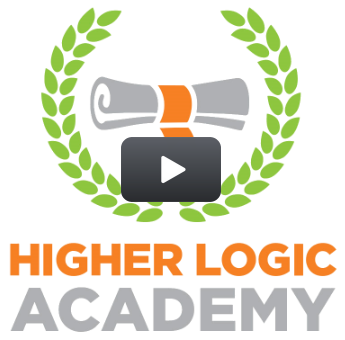 Is a Microsite right for me?
Microsites are not necessary or even beneficial to all accounts. Review the following list to determine whether a Microsite would be a beneficial add-on to your main site.
| | |
| --- | --- |
| I require a dedicated, unique URL | |
| I require additional space and a unique navigation structure that can't be accommodated in my main site | |
| I have sufficient content to warrant a Microsite and enough staff and/or volunteers to maintain it | |
| I have a website-design requirement that significantly differs from my main site | |
| I have sufficient community engagement to warrant a dedicated site | |
There are legitimate business cases for having a Microsite, so be sure to carefully review these points and consider the amount of work necessary to design, launch, and maintain.
Alternative option
If you think that a Microsite is not right for you, use these out-of-the-box tools to differentiate your communities without having to launch a Microsite.
Additional Community HTML area
Announcements
Unique community landing page layout
Types of Microsites
There are two basic types of Microsites: Nested Microsites and Standard Microsites.
Nested Microsites
The Nested Microsites model allows for the inclusion of multiple nested communities within the community structure. In this model:
Each nested community can host its own unique content that is tailored to its members.
The main community's content can be easily shared with its nested communities, rather than having to individually update the same content on each nested community. (This is called syndicated content.)
Only the communities that are nested beneath the Nested Microsite will display in that Nested Microsite's All Communities list.
There is no limit on how many Nested Microsites an account can have.
A parent Microsite community can have a maximum of three sub-levels of nested Microsite communities.
An example of this model is a national organization that wants to have unique, locally-managed sites for its lower-level, smaller branches or chapters, but to have those lower-level sites host content from the national site also.
Standard Microsites
The Standard Microsites model allows you to associate a single community to the Microsite. In this model, your organization can create and manage an independent website for your community.
Most Microsites exist within the context of a community and this is generally the recommended model. However, you can opt for a Stand-alone Microsite which has fewer features and options than a Standard Microsite.
Stand-alone Microsites
NOTE: Stand-alone Microsites are not associated to a community.
While there may be use-cases for a Stand-alone Microsite, consider the following points before opting for this model.
If you initially think that your community won't use some features (such as discussions and libraries), you may realize their value after your Microsite is live.
If you opt for this model and then realize that you'd prefer it to be associated with a community, you will have to create a case and likely incur the expense of the change.
If you're ready to get started with Microsites, create a case to have Higher Logic install and configure your model site.
Integrations
If your community is managed by an integration (AMS-managed), community Microsites use the same integration and web services that have been established for your primary Higher Logic site.
Integration write-backs
Also, some Microsite activities can be written to your integration database during the standard activity-sync process.
Navigate to Settings > External Content > Activity Sync in the Admin interface in order to manage writeback activities on the Subscriptions tab.
To learn about the activity-sync process, see Member Activity Sync.
Permissions
The permissions settings for community content that is displayed on a community Microsite are inherited from your primary site. For example, the view permissions for a webpage are limited to members of a Security Group; viewing the same webpage in the community Microsite will also be restricted to those same Security Group members.
NOTE: Admins can override these inherited permissions for the community Microsite webpages using the CMS.
See Manage Page and Content Access to learn how to set permissions for pages and Content Items.
Widgets in a Microsite
Several widgets are available that display community-specific content on a Microsite's Home page. By default, these widgets display only that content that is specifically attributed to that community, but they can be configured to show all content for all communities based on the memberships and permissions of an individual user.
See Widgets - Vehicles for Dynamic Content to learn more about the most popular widgets used on community and Microsite Home pages (also known as landing pages).
Microsites and indexing
Microsites can easily be set as active or archived to determine which are visible and which are not. And the indexing of active microsites can be enabled and disabled to control whether the site-specific content (its unique pages and HTML content items) is available in search results.
See Manage Microsites and Indexing to learn more about applying these settings on the Microsite Archive and Search Index Management page.
Related articles