Curious about the recent features and updates that are available in Higher Logic Informz? If so, you've come to the right place.
Update Password option
RELEASE DATE: October 25, 2021.
The Profile area in the upper right of the Admin interface now has an Update Password option.
NOTE: Informz Users of all permission levels can now manage their own passwords.
Click Update Password to open the dialog and change your password.
Message names as hyperlinks
RELEASE DATE: August 11, 2021.
Message Names are now hyperlinks; notice that they now display as blue text.
If you click a Message Name, you will navigate away from the page, so consider the following options when managing your Messages.
Click a Message Name to open the its associated editor in the current browser window.
Right-click a Message Name and choose the "new tab" option to open the associated editor in a new browser tab (keeping this list open in the current window).
Click anywhere on the row other than the Name to select and manage the Message.
TIP: To learn more, see Manage Messages.
TD2 and MD2 - Designer enhancements
RELEASE DATE: July 20, 2021.
Template Designer 2 and Message Designer 2 have received exhaustive enhancements to offer you a cleaner and more modern layout.
TIP: To learn more, see Sr. Product Manager, David Jovel's HUG post.
Enhanced filter on Messages List pages
RELEASE DATE: May 12, 2021.
The filter feature on Messages lists pages was enhanced in order to offer a more robust filtering experience.
At the top right of the page, use the filter option to refine the current list to more easily find messages.
You can apply one or several filters to the list in order to limit which messages display.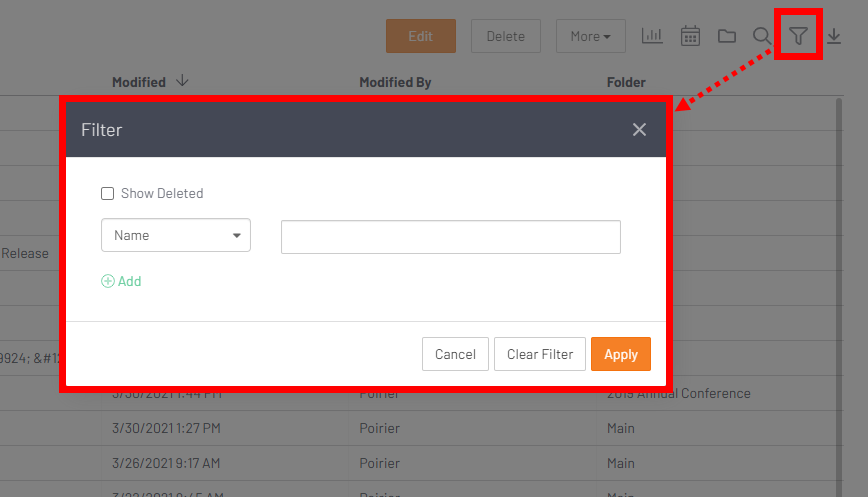 TIP: To learn more, see Manage Messages.
Send Failed alert
RELEASE DATE: April 28, 2021.
Send Failed is a new feature to alert admins that a message has failed to send.
Messages that fail to send will display on the Messages > List > In-Progress list page and the message name will display in red text with SEND FAILED appended to name.
This feature applies to scheduled and 'send now' messages.
Functionally, the message is like any other In-Progress message and can be resent using standard Send options.
TIP: To learn more about Messages, see Manage Messages (Informz).
Sender Profiles
RELEASE DATE: February 22, 2021.
Sender Profiles is a new feature that admins can use to more easily apply consistency to some aspects of their organization's messages. The consistency comes in the form of fields that are populated by your account admin with default values that are chosen by your organization.
When a Sender Profile is used with a message, the prepopulated values are automatically used. This reduces the chance of errors and it saves having to manually input, possibly often-used, values.
You can create multiple Sender Profiles and each can have distinct values for:
Friendly From
From Address
Reply To Address
Benefits
speed up message creation,
ensure a consistent experience for your Contacts, and
eliminate errors in email addresses.
Sender Profiles can be used by anyone at your organization who is sending a message.
When you edit a Sender Profile, your change replaces the prior value and the new value is automatically applied when that profile is used. You won't have to notify anyone to start using the latest From Address, Friendly From, or Reply To Address.
TIP: Visit the knowledge base to learn more about Sender Profiles.
Best Practice Campaign Starter Kits
RELEASE DATE: July 26, 2020.
These new starter kit campaigns simplify creating an organization's most-often used campaigns.
These ready-made campaigns take some of the guesswork out of campaign design. The pre-configured -- but completely customizable! -- campaign workflows will enable you to more quickly manage your memberships and promote your organization's activities.
Although customizable, the campaigns are pre-populated with recommended messages, decision points, and send intervals to speed up your campaign design and creation efforts. When you start the campaign-creation process, choose one of the following campaigns so that you hit the ground running.
Welcome Campaign for your organization's new members
Renewal Campaigns to remind current members of upcoming membership renewals
Win Back Campaigns to

target prior members and those whose membership renewal is

past due by:

3 to 6 months or
7 to 24 months

Promotion Campaigns to get the word out about your organization's:

Small & mid-sized events
Large events

Fundraising Campaign to solicit donations
TIP: Visit the knowledge base to learn more about the Best Practice Campaign Starter Kits.
Terminology updates
As we prepare for the New Admin Experience, we are making some naming convention changes.
What impact will our terminology changes have on you?
You will start to see updates to various pages. These updates will be iterative. You may see some inconsistencies across pages as we work through updating each individual page, but this will ultimately help unify your new admin experience.
What terminology will be changing?
Here's the list of the updates you will begin to see.
Mailing(s) will become Message(s)
Subscriber(s) will become Contact(s)
Virtual Inbox will become Inbox Preview
Target Group will become Group
Target Group Name will become Name
System Settings will become Account Settings
NOTE: For more information, see this HUG post.