In this article, you'll learn how to create an RSVP Only event. This event type is typically used for events where formal registration (or payment) isn't required but users still must acknowledge their attendance by RSVP. This enables an attendee roster to be tracked, which is perfect for events like webinars, fun-runs, and various work functions.
NOTE: Only users with accounts on your site can RSVP.
Step 1 - Set up Event Type
Before actually creating the event, you need to make sure an Event Type exists with:
The event features you want (e.g., are people going to attend online, via phone, or at a physical location?)
A registration process set to RSVP Only.
To do so, refer to the Event Types article and follow its guidance to create or update an Event Type.
NOTE: Event Types can only be created by Super Admins. If you don't have the proper access, please contact your Super Admin staff and request their help completing this step.
Step 2 - Create the event
With an appropriate Event Type verified or created, you're ready to create the event. The main thing to consider here is whether you're creating the event at the site or community level. If you're a Super Admin, you can use create both; if you're a Community Admin, you can only create an event for your community.
Complete the applicable sub-step below:
Sub-step 1A - Site-level event
NOTE: Only Super Admins can create site-level events.
If creating an event not associated to a specific community (and therefore, not exclusive to its members):
Navigate to either the Upcoming Events or Manage Events page (accessible from the Events menu on your site's navigation menu, by default).
TIP: You can also begin this process in the Admin interface via the Events > List page.
Click Add Event.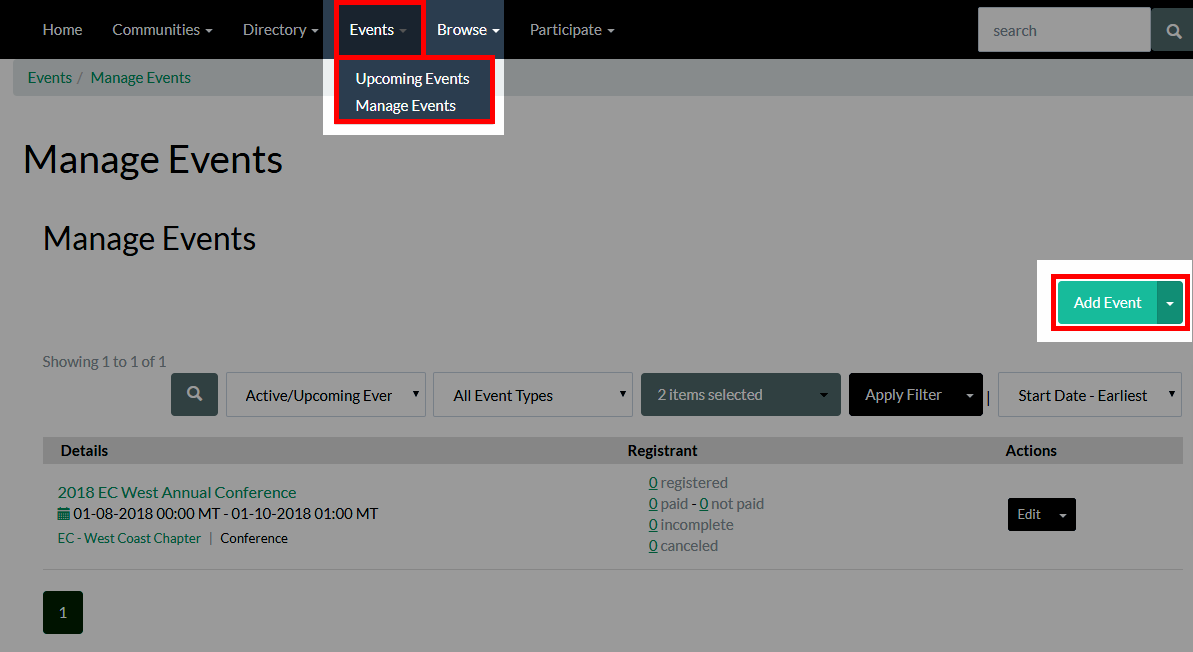 Sub-step 1B - Community-specific event
NOTE: This is the process Community Admins must follow.
If creating an event for a specific community (and therefore, exclusive to its members):
Navigate to your community's home page.
Click Settings > Manage Events.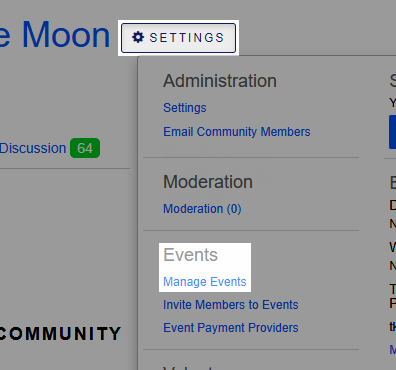 Step 2 - Complete the Add Event form
Configure the event, as desired. Each available field is described in the table below. Click Save when you're finished to create the event.
Field
Description
Details
Title
Give your event an appropriate title.
Event Type
Select the RSVP Only Event Type you want to use.
Community

If you want to make this event available only to a specific community's members, select it here. Otherwise, it will be a public event available to everyone.

NOTE: When creating an event from a community, that community is pre-selected here.

Display in events list?

Decide how/if you want to display this event on the Upcoming Events page. You have three options:

Do not display the event at all
Display the event until its end date, and then hide it
Always display the event (never hide it)

Display in search results?

Decide how/if you want this event to be searchable. You have three options:

Do not display the event at all
Display the event until its end date, and then hide it
Always display the event (never hide it)

Description
Provide all relevant information about your event attendees will need to know. This description appears on the event's Details page.
Optional link for an external website with more details about this event
If there's an external website containing information about this event you want to link to, enter its URL here.
Event Image
If there's an image or logo you want to display for the event, click Upload Image and browse for it. This image is used as a thumbnail on the Upcoming Events page and a 300px image on the event's Details page.


NOTE: The recommended dimensions for event images are 1200 (w) x 600 (h) pixels.

Maximum number of registrants?
By default, event registration is unlimited, but if you have a need to limit it (e.g., venue capacity, etc.), you can set the maximum number of registrations here.
Number of event credits?
If applicable, enter the number of event credits attendees will earn by attending this event.
Date & Time
Start/End

Select the event's date and start/end time.

NOTE: Depending on the Event Type's configuration, you may be able to select a date range (i.e., multi-day event).

Timezone
Select the event's time zone.
Allow Repeating Events
Toggle Yes to allow repeating events for this Event Type. This feature is ideal for events your organization hosts on a daily, weekly or monthly basis, like meetings, meetups, webinars, etc, reducing the number of events you need to create to account for these reoccurring items.

When creating or editing an event, you'll be able to toggle the associated Repeating Event? option to configure when and how the event repeats.



TIP: See Repeating Events to learn more.

Location
How will people attend this event?

The options available here are determined by the Event Type. Three choices are possible (you can select more than one, if applicable for your event):

Physical Address - If selected, provide the venue name, address, city, and zip code.
Conference Call - If selected, provide the applicable dial-in instructions.
Online - If selected, provide the applicable login instructions and conference web address/URL.

Country
Select the country where the event is taking place.

Contact Information

Provide the event's point of contact information, if applicable.

NOTE: If you're the point of contact, you can click Insert My Contact Information to have the system pull this information from your profile (as long as you've filled it out).