As a Higher Logic Thrive Marketing Professional Admin user, you should visit the System Settings page to configure some behind-the-scenes settings for your account. The page has several sections in which you can configure various types of settings for target groups and email messages.
To manage your System Settings:
Access the Admin interface.
Navigate to Settings > System Settings.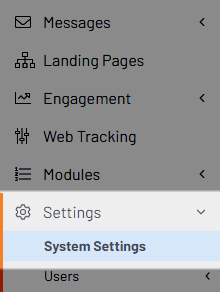 The configuration sections are individually described below.
Information

You can specify unique identifying information for your account. The classification will be used by Higher Logic to give you better perspective on how your email results compare with those of other users. The classification allows the system to use bench-marking data from organizations in similar industries in order to provide more accurate comparisons.
In this section:
Assign a unique name to your account.
Click the dropdown to choose the classification that best matches your account.
Check the boxes to set whether Text-only, HTML, or both types of email messages can be sent to you contacts.
NOTE: Text-only messages might be necessary for contacts whose email server blocks HTML messages. If this option isn't chosen, messages to them will be blank.
Configure more settings or scroll to the bottom and click Update.
Target Group Automatic Cleanup

Use this section to manage unused target groups. If a target group hasn't been used in the period that you define, it will be automatically deleted from your account. This helps to keep your account organized with only the lists that you're actively using.
In this section:
Check Active to enable the feature and expand the section.
Define a (days/months/years) threshold for unused target groups.
Use the dropdown to choose which types of target groups to delete. This gives you the ability to save some unused groups while deleting others.
NOTE: Deleted target groups can be "undeleted".
Specify the email addresses (one per line) of users you'd like to be notified when a deletion occurs.
Configure more settings or scroll to the bottom and click Update.
Personalization Cache

In this section:
Check the box to enable Personalization Cache in your integration.
When enabled, personalization fields will display as table columns in your account, so you'll have plenty of options when you want to add subscriber data to your mailings.
Configure more settings or scroll to the bottom and click Update.
Default Email Information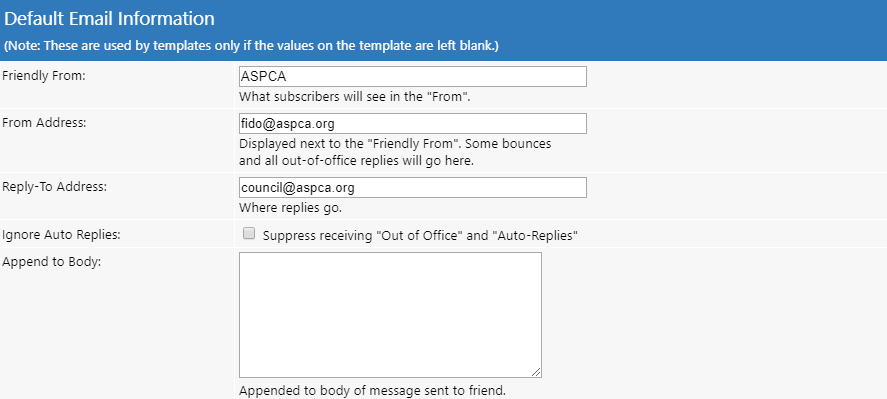 You can set default values to be used by templates if the value in a template is blank.
In this section:
Specify default values for Friendly From, From Address, and Reply-To Address. These values will be used when creating a new template, but they can be edited per template in the Template Designer and per mailing in the Mailing Designer.
Friendly From is what subscribers will see in the "From" field of your email messages so this should be something recognizable (such as your association name or a familiar point of contact).
All replies will be sent to the Reply-To Address.
Set the Ignore Auto Replies option to suppress out-of-office and other automatic replies from your contacts.
NOTE: This does not prevent the receiving mail server sending error messages and bounce responses.
Specify text to be appended to the body of your message.
Configure more settings or scroll to the bottom and click Update.
Mail is Sent From the Following IP Addresses

This section is informational only. The two IP addresses are:
Main IP - the originating IP address of your production email messages
Test Mailing IP - the originating IP address of your test email messages
Because your internal spam filter will give more scrutiny to email messages coming from your organization to your organization, we recommend having your IT department add both of these IP addresses to your IP address allowlist to ensure you receive all your internal email messages.
Review your configuration settings and click Update.