Only when your campaign has a valid flow, and has been fully tested, should you activate and begin adding contacts. The various activation options enable you to control how and when your contacts are added into a campaign.
To activate a campaign that is still In Progress:
Navigate to the Activate tab of your campaign.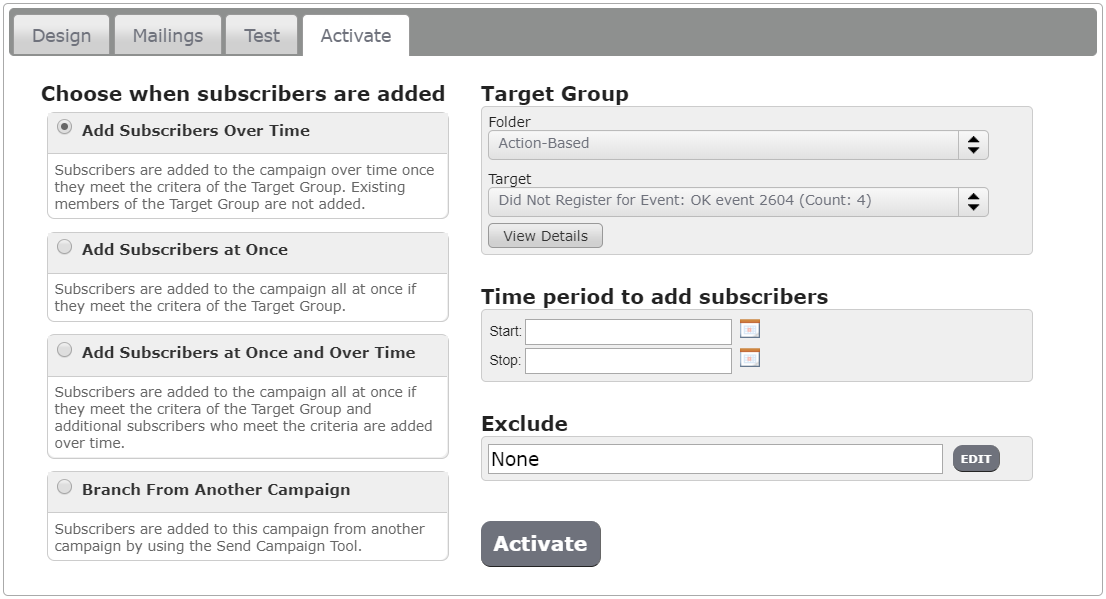 Select an activation option, as described below.
Field
Description
Add Subscribers Over Time

Contacts who meet the criteria of the selected Target Group are continuously added to the campaign over time.

NOTE: This option does not add people already in the Target Group associated with the campaign; it only adds new contacts added to the campaign from that Target group, from the start date you select until the end date you select.

This option is most useful for dynamic target groups from an integrated database or with action based target groups.

Add Subscribers at Once

Once the Target Group has been selected, all of the contacts belonging to it will be immediately added on the selected start date for the campaign. New contacts who are added to the Target Group after the start date will not be added to the campaign.

This is an appropriate option for an event with a fixed list of invitees. It's also appropriate for messages supporting something occurring very soon where there may not be an opportunity for a longer term campaign.

Add Subscribers at Once and Over Time

This is a combination of the previous two, as it:

Adds existing members of the selected Target Group to the campaign immediately on the campaign's start date.
As new contacts are added to the Target Group, they are also added to the campaign.

Branch from Another Campaign
This allows you to add contacts from a different campaign into this one. This is accomplished by using the Campaign step in the calling campaign.
If you chose Add Subscribers Over Time, Add Subscribers at Once, or Add Subscribers Once and Over Time, you'll then select the Target Group from which you want to pull/add contacts to the campaign. You also must select the date you want the contacts to be added on and the date you to stop adding contacts into the campaign.
Click Activate. The system will now automatically add the appropriate contacts to the campaign and ensure they go through each step of the campaign accordingly. All that's left to do on your end is check the reporting metrics from time to time.
You can also exclude contacts from your campaign at this point. See How to Exclude Contacts to learn how.