An @mention is a way of calling attention to another user. In Higher Logic Thrive Community (Thrive Community), an @mention is a link to a user's profile.
If enabled, users can @mention other users in various locations across your Thrive Community site, including:
Announcements
Blogs
Comments
Discussion posts
Events
Glossary terms
Library Entries
Volunteer Opportunities
NOTE: @mention functionality is compatible with Chrome, Firefox, Edge, IE 11, Safari, and the mobile view of the website. It's also available in the mobile app.
TIP: The headings in this article refer to @mentions as "at-mentions" in order to ensure the functionality of the in-article links on the right side of the page.
How do mentions work?
Initiate the @mention by typing "@" and then start typing the user's name. As you type, a list of suggested users will appear.
NOTE: Users who are opted out of the Directory will not appear in the suggestions, and profile privacy settings are respected.
Select the desired user from the list of suggestions and the @mention will become a hyperlink to the selected user's profile.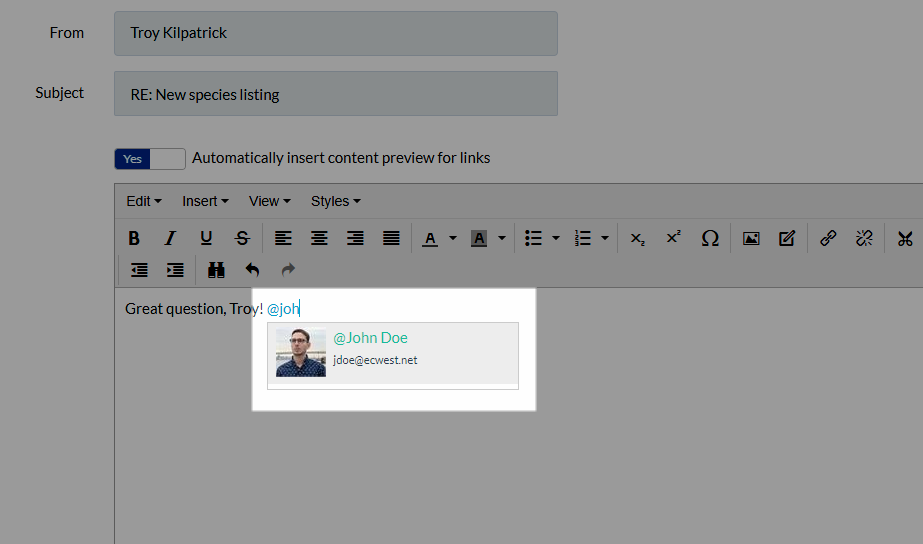 What happens after I mention someone?
When a user is @mentioned, they'll receive an email notification letting them know (as long as they can access the associated content). For example, if Eric is reading a thread about community management and thinks his colleague, John Doe, would be interested in participating in the thread, he could @mention John in a discussion reply. John would then receive an email notification that he was mentioned in Eric's discussion post, along with a link to the post so he can easily participate.
These notifications are sent to a user's profile Inbox (from your profile, click My Inbox to access it).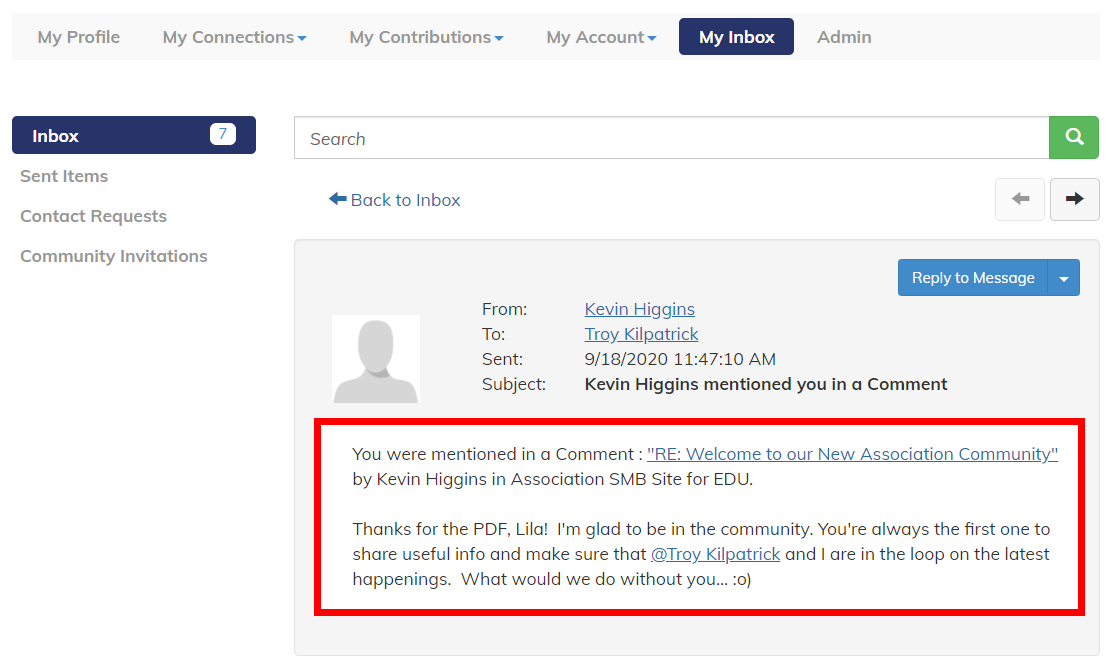 Other users can click John's @mention in the discussion post to view his profile.
NOTE:
1. An @mentioned user can remove the @mention link to their profile by hovering their cursor over the @mention and clicking Remove Reference in the pop-up.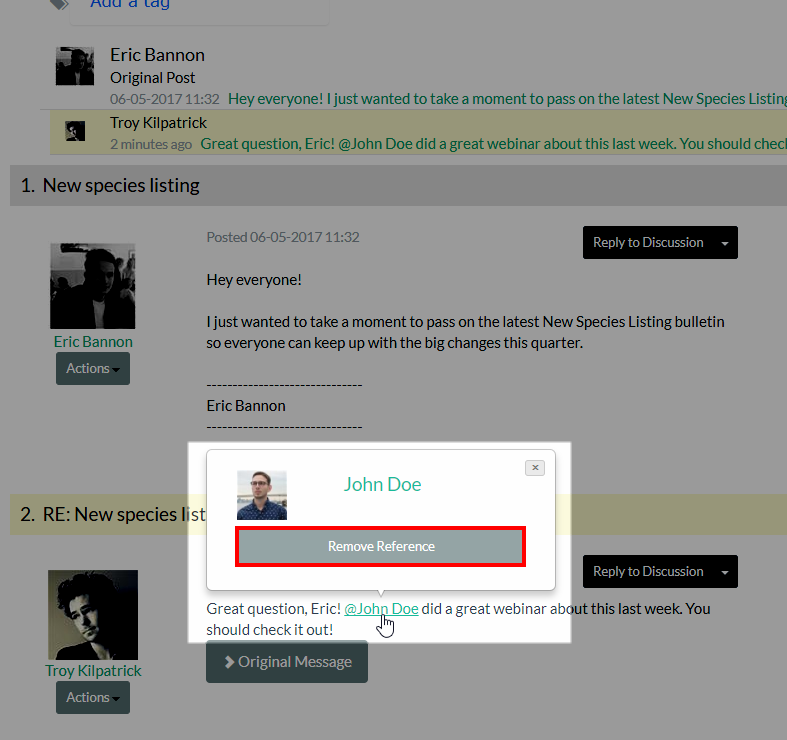 2. If a user is @mentioned within content they don't have access to view, they will not receive an email notification.
Can I enable/disable mentions functionality?
The @mentions feature is enabled, by default
Super Admins cannot enable/disable this feature
However, if you'd like @mentions disabled on your Thrive Community site, create a case.
How to update the mentions email template
IMPORTANT: The information in this section is applicable to Super Admins only.
As mentioned above, users receive an email notification when they're @mentioned (as long as they can access the associated content). If needed, Super Admins can customize the @mention email template. To do so:
In the Admin Toolbar, click Admin.

Navigate to Email > Email Management > Email Templates.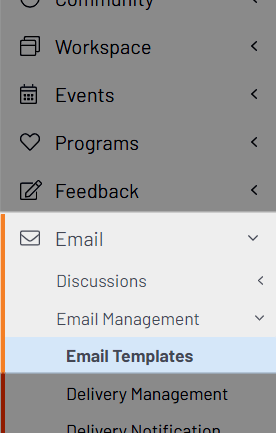 Select Comment Notification from the Category menu.
Click the Edit button associated to the @Mention Notification template and make your desired changes.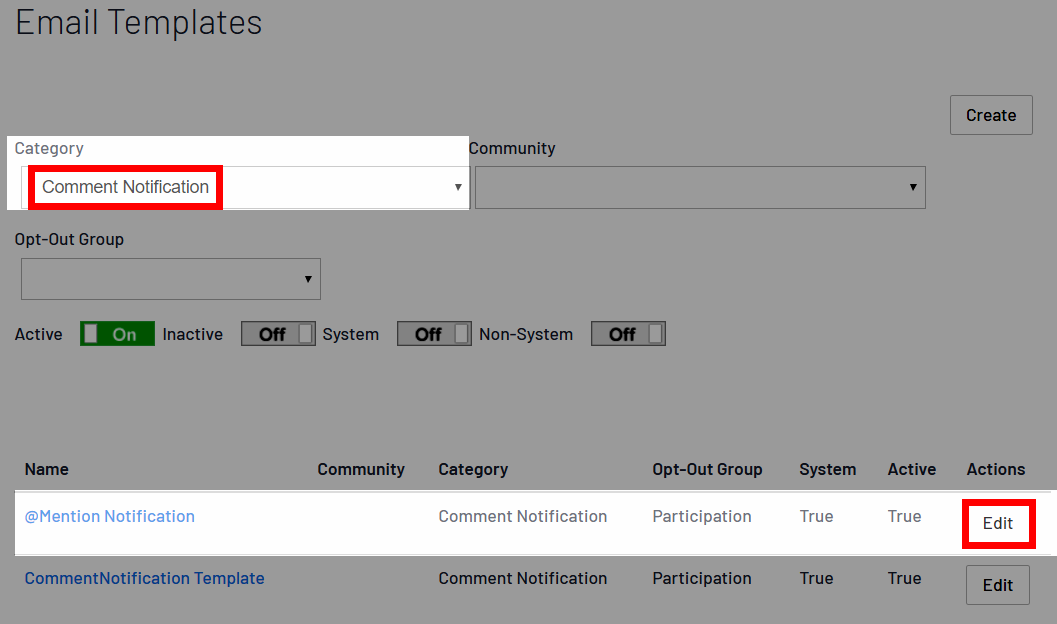 How to update the mention hyperlink color
IMPORTANT: The information in this section is not applicable to customers whose community site is based on the Community Essentials model.
Want to update the @mention hyperlink color to coincide with your organization's color schema?
In the Admin Toolbar, click Site Options > Site Setup (right click for a new tab).

Click the Theme Editor tab.
Click the Edit button associated to the Theme your Thrive Community site is using.

On the Color Picker tab, click Misc.
Scroll down toward the bottom of the page and update the @mentions Link Color and @mentions Hover Color attributes to your desired color.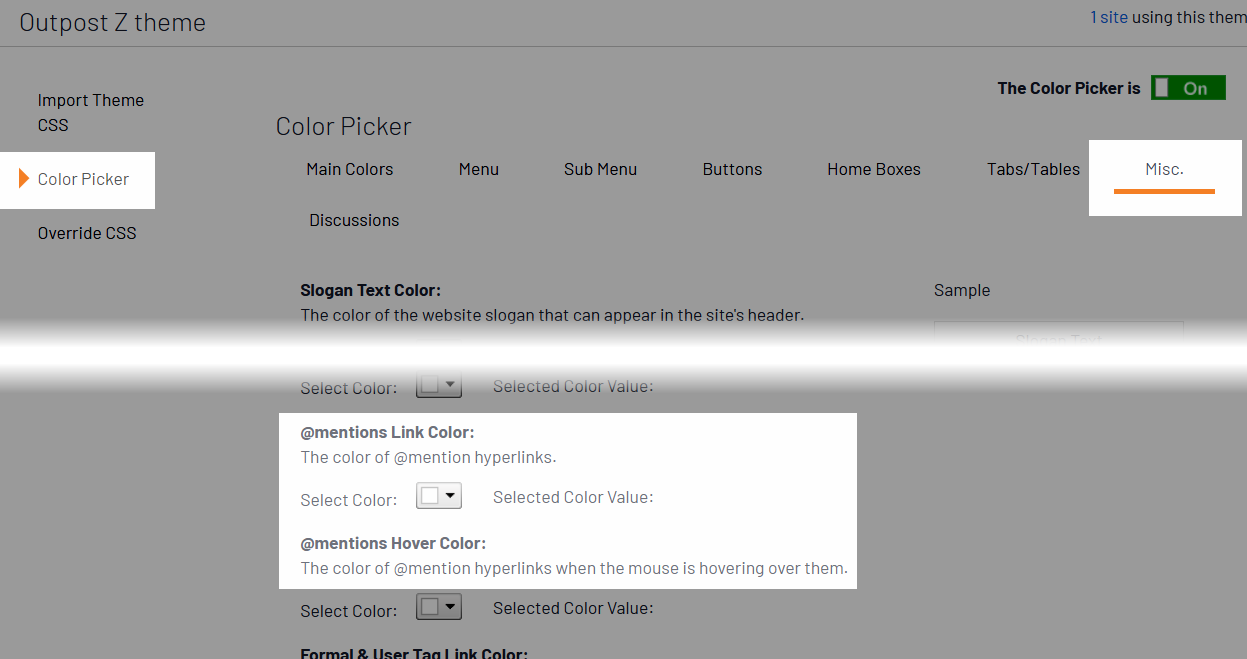 Integration write-backs
If your Thrive Community is associated with a third-party integrated database, some @mention activities in your Community can be written to that database during the standard activity-sync process.
Navigate to Settings > External Content > Activity Sync in the Admin interface in order to manage writeback activities on the Subscriptions tab.
To learn about the activity-sync process, see Member Activity Sync.
Related articles