Interest Target Groups let you manage your contacts according to their interest preferences (see Interest Fields). An Interest Target Group is automatically created when you create an Interest on the Profile Fields page or during the contact upload process. Interest Target Groups can also be created manually.
You should use Interest Target Groups to group contacts into lists that represent a certain area of interest for your audience or into lists that represent a certain type of message that the contacts in the group should receive. These lists can act as distribution lists for messages or they can be built in as opt-in/opt-out groups that allow you to manage which types of messages the contacts receive.
In this article, you'll learn the two common ways to build Interest Target Groups:
Manually build the Target Group
Assign an Interest Target Group during contact upload
Manually create an Interest Target Group
Access the Admin interface.
Navigate to Contacts > Groups.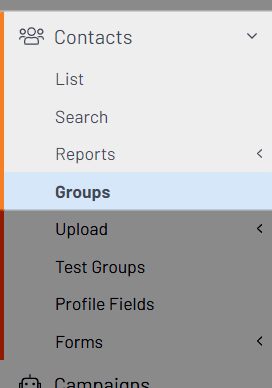 Click Create.
Select Interests from the menu, followed by Create in the pop-up.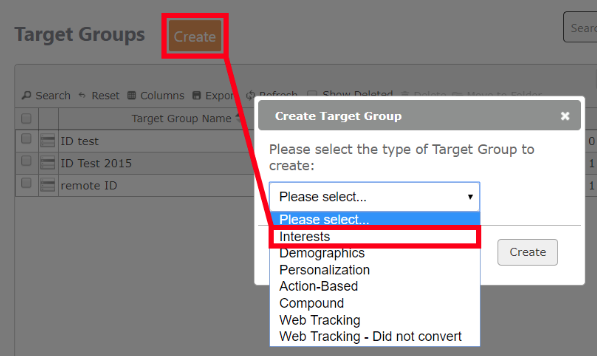 In the Add Interest pop-up:
Enter a name for your Interest.
Click the Target Group Folder and select a folder to store the Target Group. If the existing folders don't meet your needs, you can click Edit and create a new folder.
Optionally, enter a description for the Interest.
Click Save to create your new Interest Target Group in the selected folder.
Assign an Interest during contact upload
Access the Admin interface.
Navigate to Contacts > Upload > Contacts.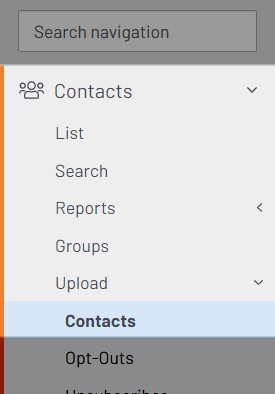 Continue through the upload steps to Step 3 - Select Interests. For help with this process, refer to the Step 3 - Select interests section of this article.
Highlight an Interest from the Available Interests list and click Select >> to move it into the Selected Interests list. (Similarly, highlight an Interest from the Selected Interests list and click << Remove to remove it.)
If you need to create a new Interest, you can do so right from this dialog:
Enter a name in the Create new interest field.
Click the Select Folder menu to select a folder to store it.
Click Add to create the Interest.
A confirmation pop-up opens. Click OK to confirm. The new Interest appears in the Selected Interests menu (the Target Group is created automatically).
Click Upload.