Much like Facebook or LinkedIn, each user on the Higher Logic platform has their own profile, where they can perform a number of actions like managing their personal information, updating their profile picture, configuring privacy settings and email preferences, and more.
Watch the video
Set up Your Profile & Privacy Settings
How to access your profile
To access your profile, click your user portal at the top-right, followed by Profile.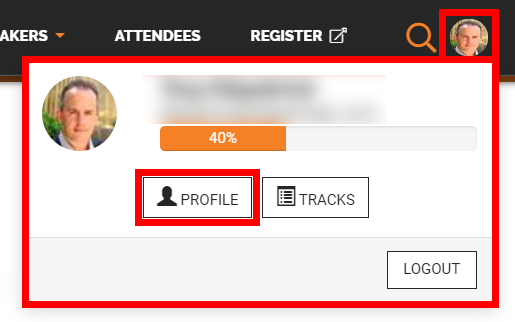 Available profile tabs
Your profile's available content areas and various account options are divided into the tabs highlighted in the image below. In this article, we're going to focus on the My Profile tab; the remaining tabs are discussed in their respective articles in this section.

Profile overview
Your My Profile tab is where you can share any information about yourself with fellow members. The types of demographic information you can provide is dictated by site staff, but generally you can:
Write a personal bio,
list your education history,
and provide your job history.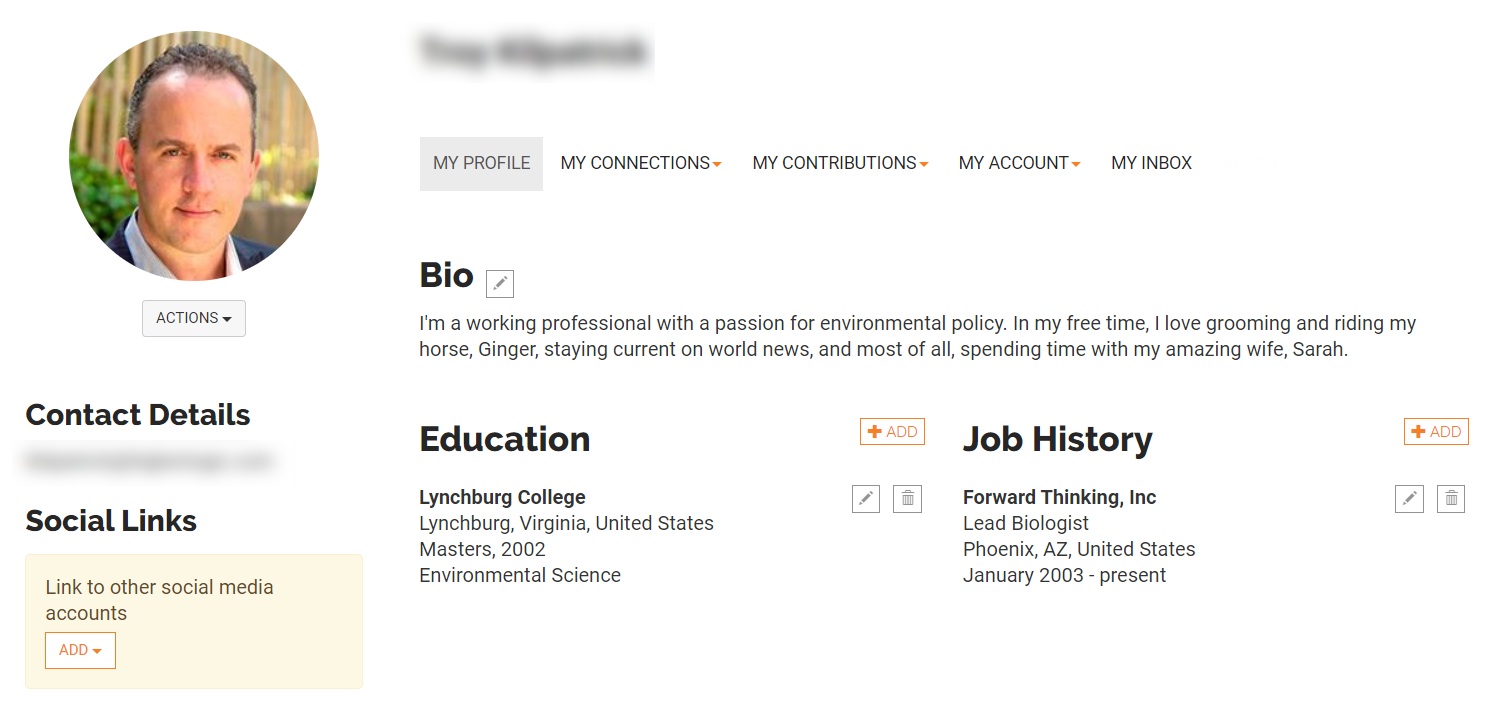 The area to the left shows your profile picture (if you've uploaded one), the contact information you've added (this is optional), and any links to your profiles on other social-networking sites you belong to, like Facebook or LinkedIn (again, this is optional).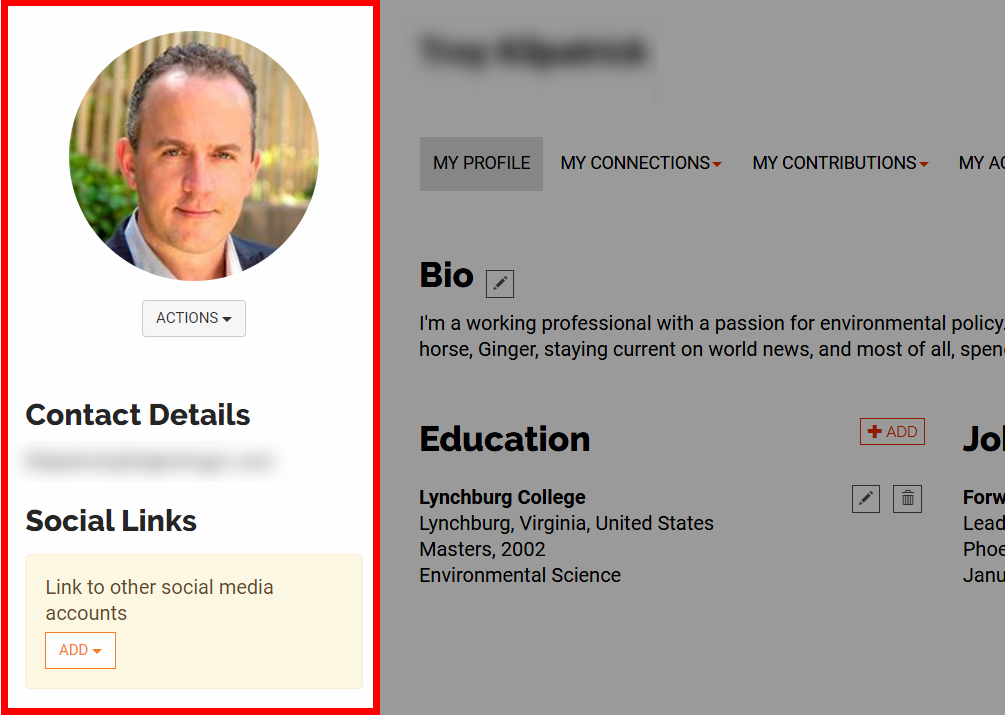 Update your profile info
When viewing your profile for the first time, these personal information fields will be empty. The process to add or update them is easy:
For empty fields (e.g., the Education area below), just click the ADD button, enter your information in the resulting form, and click SAVE.
For existing information (e.g., the Job History area below), click the pencil icon to edit or trash icon to delete.
For the Education and Job History areas, you can add additional entries if, for example, you have multiple higher education degrees or recent jobs you want to list. Just click the

+

ADD button and complete the form.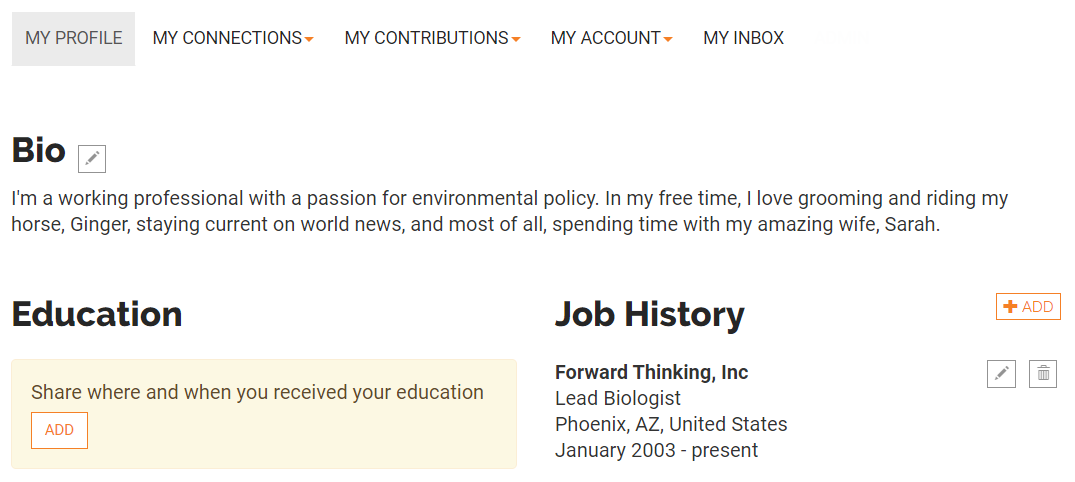 Profile picture
See Add a Profile Picture to learn more.
Social links
If you want to share one of your social accounts with other registrants:
Click the ADD button and select an option from the list.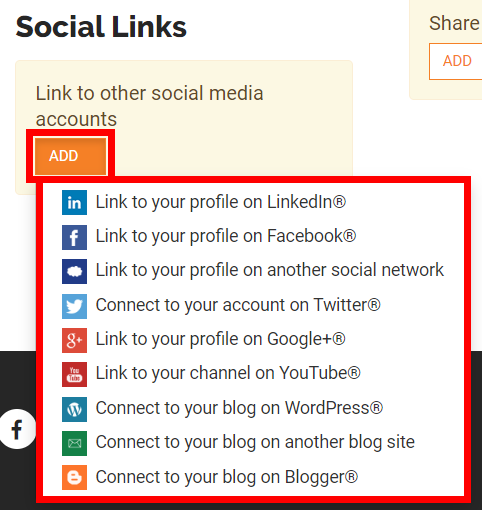 You'll be prompted to enter the full URL to your chosen platform account. For example, enter http://www.linkedin.com/in/johndoe, not just johndoe. The dialog walks you through this process.
Click SAVE to add the link to your chosen account to your profile page.
If you want to share multiple accounts, just repeat this process for each.
Related articles