NOTE: This article references "Real Magnet" - a previous name of the Higher Logic Thrive Marketing Enterprise (Thrive Marketing Enterprise) product.
You can add and manage the domains of various Email Service Providers (ESPs) so that email activity across these domains can be tracked in your account.
To access your account's email domains list:
Access the Admin interface.
Navigate to Messages > Analytics > Domain Tracking.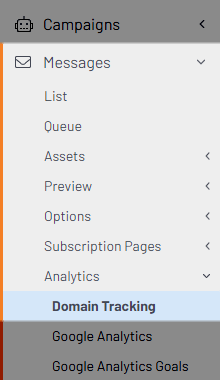 Use this page to add and manage email domains for your account. All email activity will be tracked for the domains that are selected.
The page has two sections: Real Magnet Default Domains and Custom Domains.
Real Magnet Default Domains - the better-known and more frequently used email-service domains. These are preloaded as a convenience.
Custom Domains - the email-service domains that an admin has added to your account. These are the "private domains" (see Private Domains) with which your account exchanges email activity. Their listing here implies that they are approved domains.
Add a domain
To add an email domain:
Type a valid domain in the field and click Go.
The page refreshes and the domain displays in alphabetical order in the Custom Domains list; its Default box is checked.
Default Domains

This section lists the more common "public" domains. These cannot be deleted from the list, but you can uncheck a domain's Default box to no longer track email activity for the domain.
Others is what appears for any email sent to a domain that is not in the list.
Custom Domains

This section lists all the domains that have been added by an admin in your account. These "private" domains could belong to organizations with which you have frequent email contact, and this enables you to track and report on that email activity.
To suspend email-tracking activity, uncheck a domain's Default check box.
To remove a domain that you no longer want to track, click the X and click Delete at the prompt.
The page refreshes and the domain no longer appears in the list.
Related articles
The Deliverability section of our knowledge base has related information, including: