As an administrator, you can perform a number of actions to manage the questions and answers users post to your community discussions, including editing, moderating, and deleting them. These management tools ensure you have complete control over the content posted in each community.
Edit questions/answers
To edit one of your questions or answers (or those of other users, if you're an admin), simply navigate to it and select Edit from its ellipsis (...) menu. The Content Editor displays directly on the page, allowing you to make your changes directly on the page without navigating away.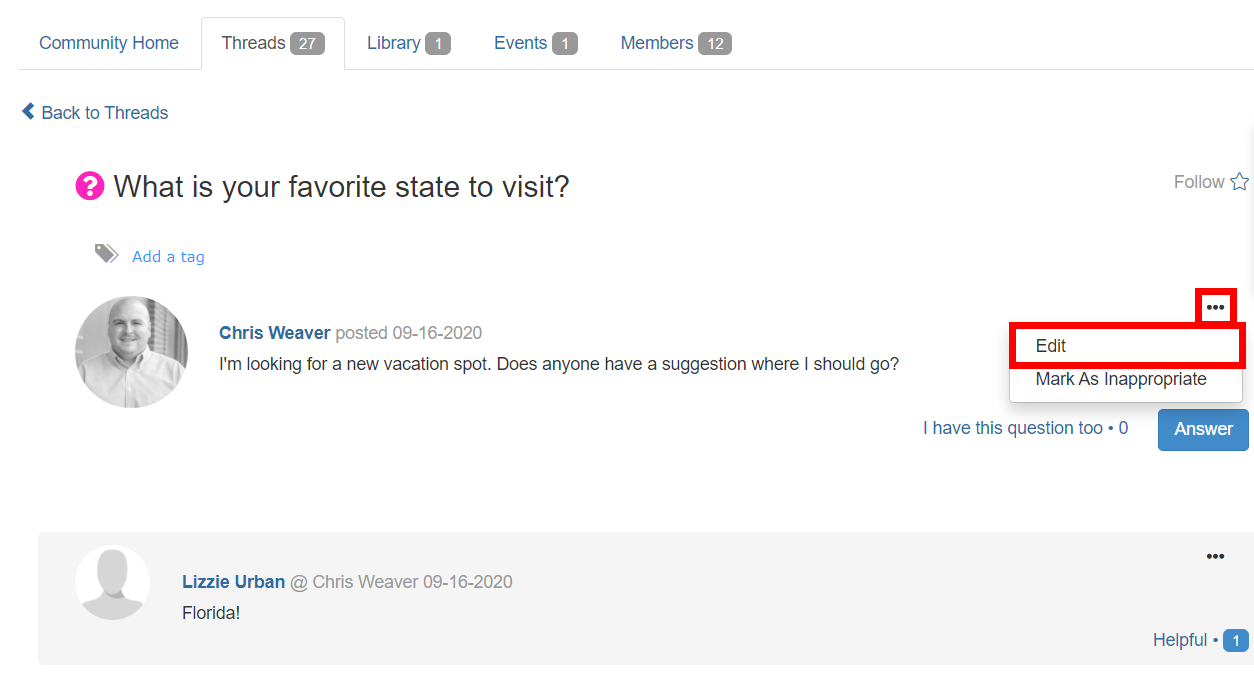 Moderate questions/answers
If more control is desired over the content being posted to a community, Community and Super Admins can set a community to Full Moderation to have all new questions and answers placed in a queue requiring admin approval before it's viewable by others.
See How to Moderate Discussions to learn more about moderation and how to enable it.
Alternatively, rather than having all new content automatically sent to the queue for approval, you can also set the community to Self Moderation; this surfaces the Mark as Inappropriate option for each question or answer, available in its ellipsis (...) menu.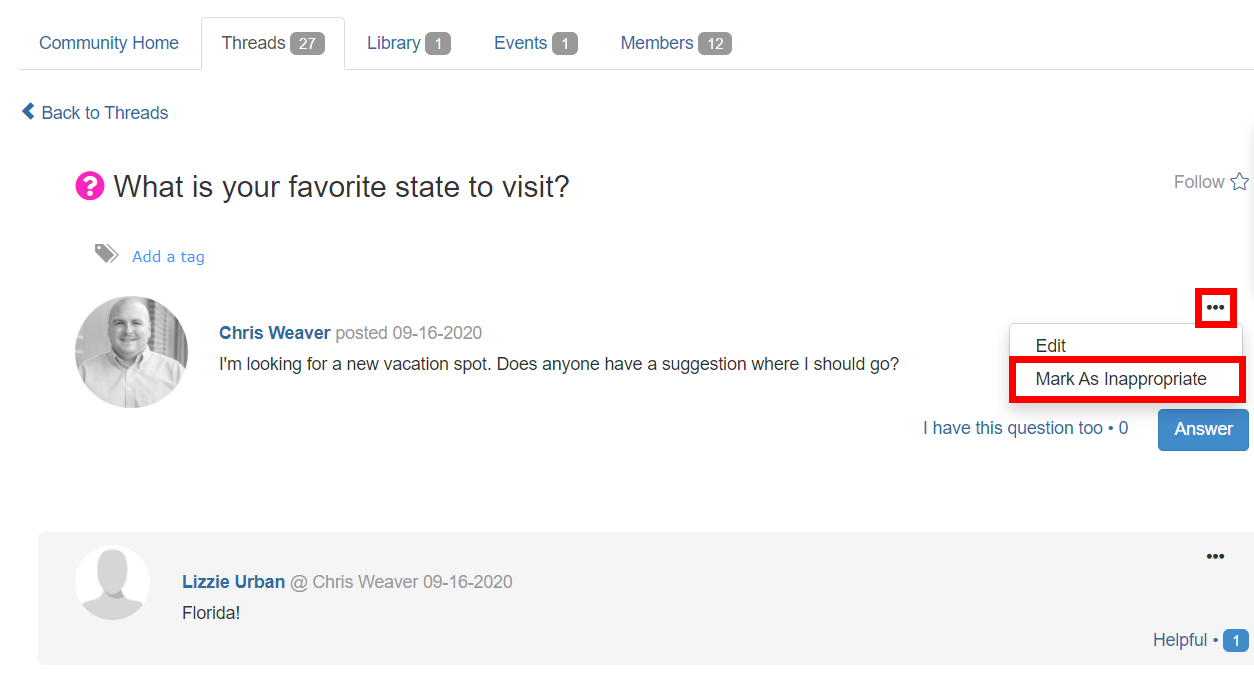 This option is available to all members, both admins and non-admins alike, enabling everyone to help moderate a community's content. Upon selecting it, the content is sent to the moderation queue where an admin can decide whether to approve the moderation request to keep it in moderation or reject it to add it back to the discussion.
Close & re-open question threads
Super Admins, Community Admins, and Community Moderators can close and re-open question threads. When a thread is closed, it is still visible to users, but they cannot add an answer.
The Show Close Thread Option parameter is not enabled by default, so you have to enable it on the View Contributions widget for Q&A, as shown.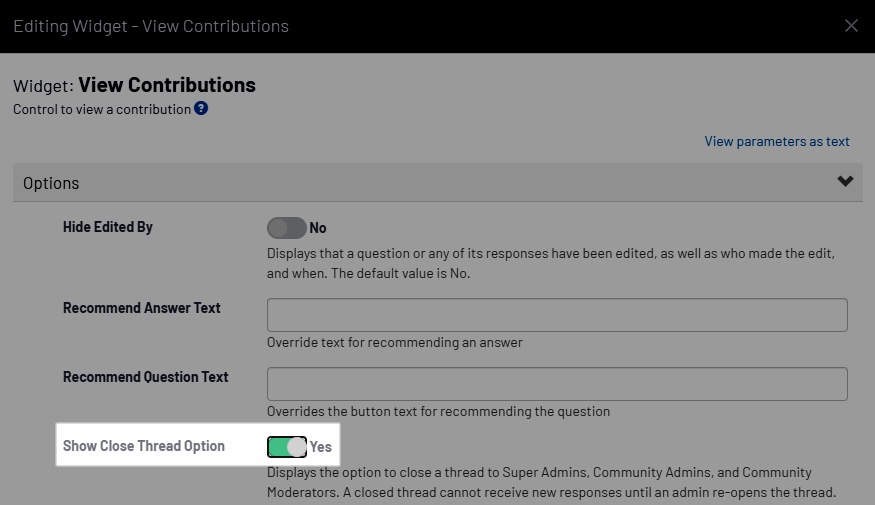 When the feature is toggled on, admins will see a Close Thread option in each question's ellipsis (...) menu. If selected:
The question thread will not accept new answers;
A message displays, indicating that the thread has been closed by an admin;
The thread displays a lock icon next to the star ("you are following") icon on the community's Threads tab;
The question thread and it's pre-Close answers remain visible; and
The ellipsis menu option is now Re-open Thread, as shown below.
NOTE: If a closed thread is re-opened, the answer functionality is fully restored.
Delete questions/answers
While every question and answer can be deleted, a question can only be deleted if it doesn't have any replies. This means that, to delete a question, you must first delete all of its replies.
To illustrate this, let's look at an example. As you can see in the image below, we cannot delete the question because it has two answers.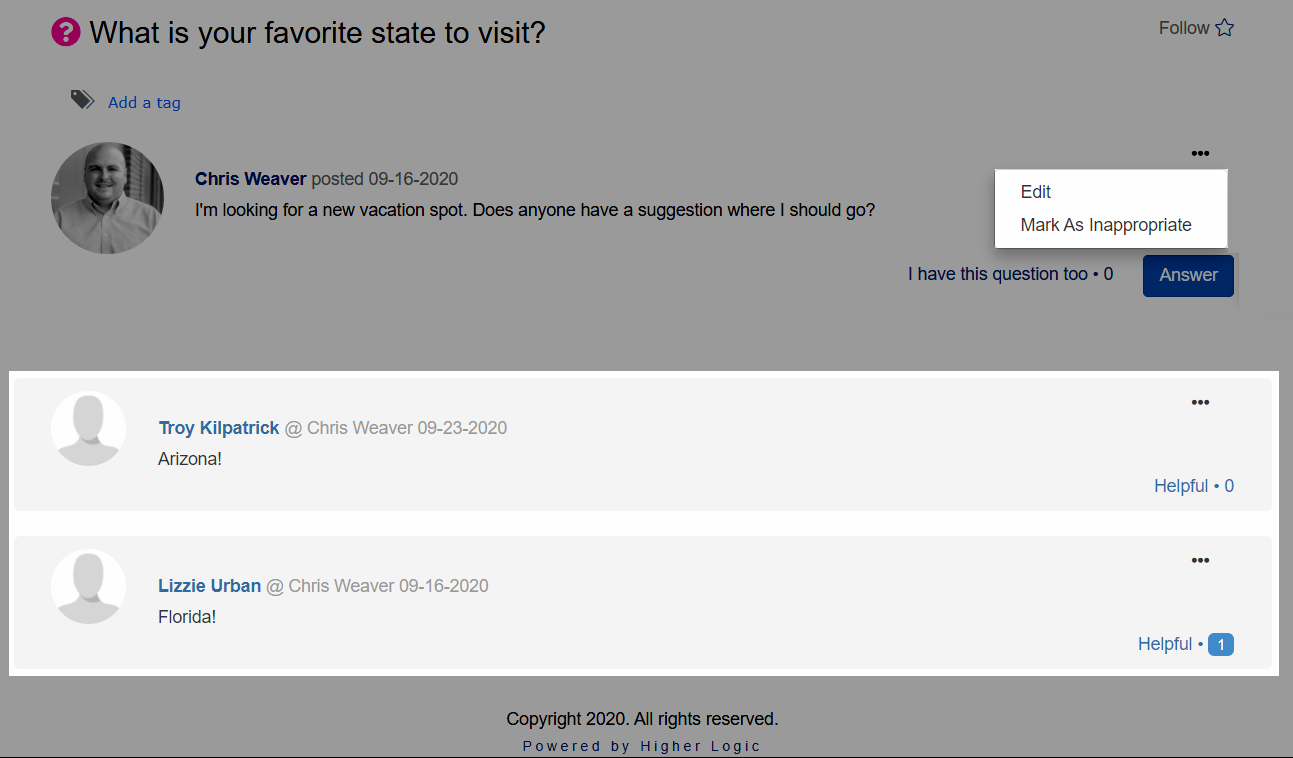 Once those answers are removed, we can now delete the question. To do so, select Delete in the ellipsis (...) menu, followed by Delete in the confirmation pop-up.

Filter Questions
For communities with multiple thread types (general discussion and question), you can filter to a specific type using the menu above the list.

With Questions selected, an additional filter menu appears enabling you to filter questions with the following criteria:
All Questions
Questions with Best Answer
Question with Answers
Questions without Answers
Use these filters to quickly find, for example, all the questions in your community that need to be answered.

Mark Best Answer
When someone asks a question, there's generally a reply that offers the best answer. To help promote this content, Super Admins, Community Admins, Community Moderators and the thread's original poster to mark one of the answers as the best answer by selecting Mark As Best Answer from its ellipsis (...) menu.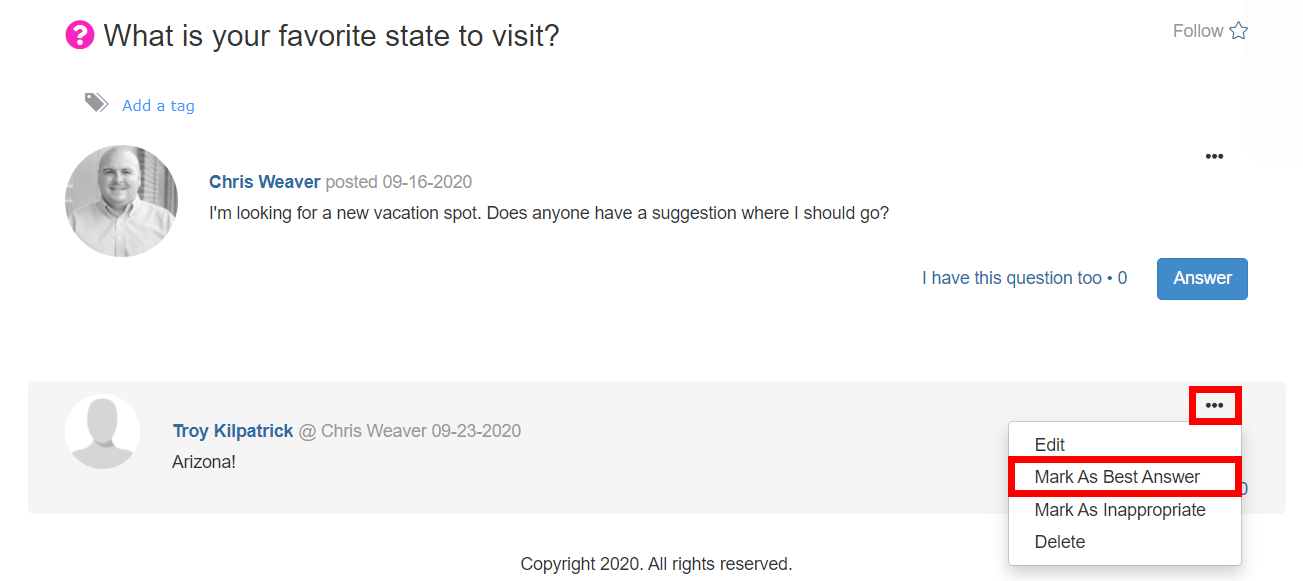 NOTE: You can clear a best answer at any time by selecting Unmark Best Answer from the menu. Only one answer can be flagged as the Best Answer at a time.
The answer is then visually highlighted to indicate this, ensuring other users know. In instances where multiple answers are available, flagging one as the best answer automatically pins it to the top of the list.
In addition, the Jump to Best Answer link appears at the top of the page, allowing you to quickly view the best answer. This is especially helpful for questions with a lot of text.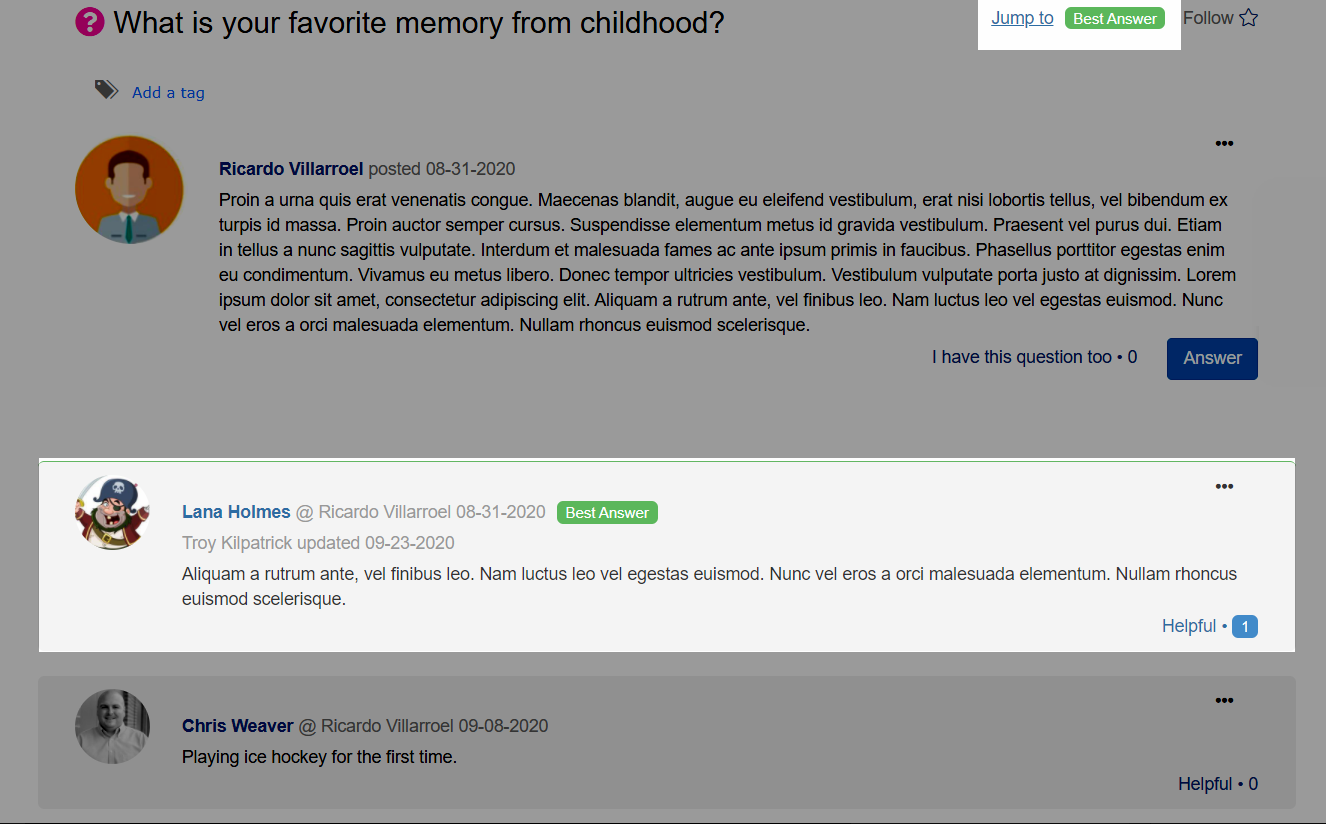 Dedicated widget
The Q&A thread has a dedicated widget, the Latest Q&A widget. This widget:
provides easy access to the most recent Q&A posts and
can be configured to display on a site or a community home page.
See Best-practice Feed widgets in Widgets - Vehicles for Dynamic Content for more information.
Related articles