IMPORTANT: Q&A is available on the Community Essentials for Customers model; Q&A is not available on the Community Essentials for Members model.
By default, a community's discussion allows for one type of post: an Open-ended Discussion, which are posts meant for starting a conversation with fellow members. However, Super Admins can enable another type of post: a Question to be answered, which, as the name implies, focus posts to specific questions your members have.
We know the need of each community is unique, which is why you can control the thread type(s) available on a community-by-community basis. For example, perhaps the purpose of one of your communities is to offer members a place to have their questions answered, while another community's members may just want to have conversations with one another; if so, you can enable the thread type that meets each community's need, or offer both.
NOTE: See Discussions Overview to learn more about these thread types.
Watch the video
Step 1 - Enable at Community Type level
Whether a community supports the Question to be answered thread type is controlled at the Community Type level. Because of this, you'll likely want to have a Community Type for each thread type, as well as one that supports both. Of course, this depends on the needs of your communities and their members.
With that said, let's learn how to configure a Community Type to control the thread type(s) available.
Access the Admin interface.
Navigate to Community > Communities > Types.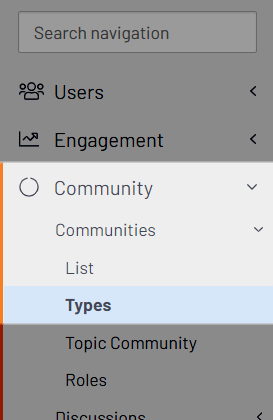 Edit or create a new Community Type (click the (+) button to create or select an existing Type followed by Edit to edit).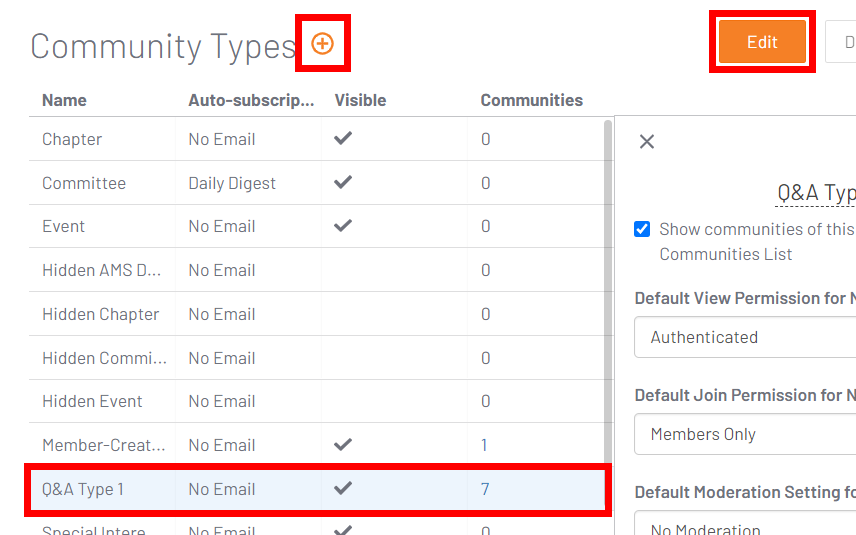 In the Features section of the resulting pop-up is where you control the thread types that will be available to communities using this Community Type. Check the boxes applicable to your needs.
Click Save at the bottom of the pop-up to apply your changes.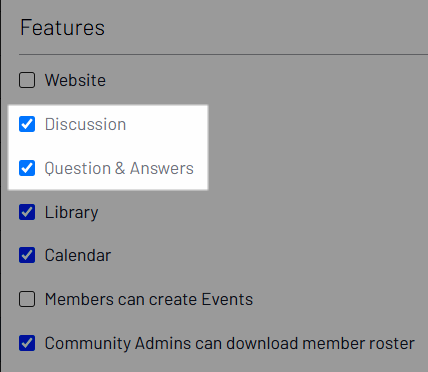 Step 2 - Enable at individual community level
Once enabled at the Community Type level, you can now enable Questions & Answers for each individual community belonging to this Community Type.
On the front end, navigate to a community.
Click Settings > Settings.

Check the Questions & Answers box.
Scroll down and click Save to add the Questions & Answers thread type to the community.
Repeat this step for any additional communities you want to have this thread type.