Question threads offer members a place to ask questions and help others by answering theirs. What's more, you can participate both online and via email.
Post a question online
Watch the video
Read the steps
To post online, navigate to the desired community and:
NOTE: You must be a member of a community to post to it, unless it's a public community.
Click the Questions tab (if the community has both the Discussion and Question thread types, this tab will be called Threads).
Click Ask a Question.

On the resulting page, ask your question in the displayed Content Editor.
NOTE: If the community has both the Discussion and Question thread types, you'll need to "focus" your thread as a question during this step.
Field
Description
Subject
Provide a clear subject so users know what your question is about.
Automatically insert content preview for links

If you paste a link to a web page in the editor, the system attempts to capture a relevant image and promotional text for that web page. This is then used by the editor to create a preview for the content in your message.

If you don't want to use this feature, you have two options:

You can click the remove preview link within the preview to remove it from your post.
You can toggle this option to NO to disable the generation of previews altogether (this preference is saved by the system, and you'll need to enable this to re-enable content previews).

Text field

Write your question here, along with any formatting, images, videos.

TIP: See Content Editor to learn more about its features.

Attachments

If you'd like to include attachments with your question, click Add Attachment and browse for your file(s) via the available options.

NOTE: Files attached via this method are automatically added to the community's Resource Library.
When finished, you have a few options: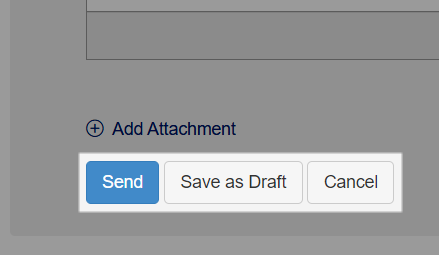 Click Send to post your question. Any community members who subscribe to receive digests and/or real-time emails will also receive your question via email.
NOTE: If the community is moderated, an administrator will need to approve your Question before it posts.
Click Save as Draft to save your question as a draft you can finish later. As an additional safety net, your work is also automatically saved as a draft any time you're idle for 10 seconds.
NOTE: See Schedule & Draft to learn more about scheduling and drafting contributions.
Post via email
Watch the video
Read the steps
If you're subscribed to a community, you'll receive email notifications about new posts per your subscription type (e.g., Real Time, Daily Digest). It's from these emails, like the one below, that you can participate in a variety of ways.
Real-time notifications
When receiving real-time notifications, you can reply to the email in your email application or client to respond. Your answer will be posted online in the community just like if you responded online, and other members will receive an email notification as well.
Digests
With digests, you cannot respond via email but you can click a thread to view it online (where you can respond) or click the links highlighted in the image below to view the question and its answers or initiate a post in the thread online.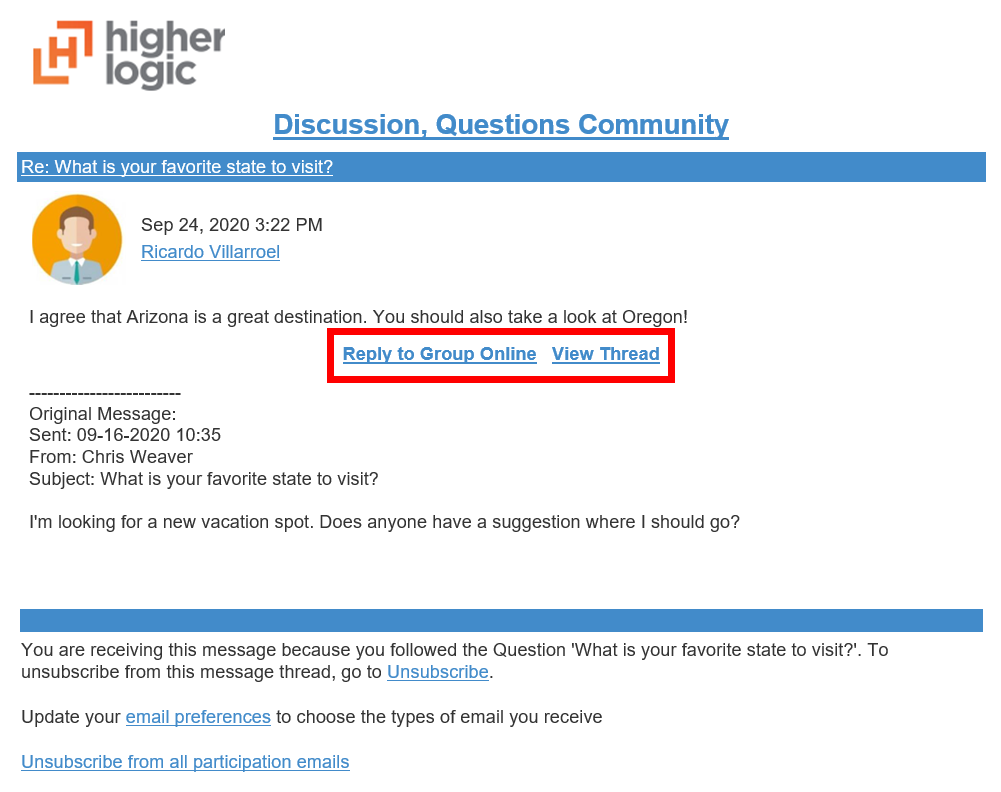 NOTE: The default subscription email template configuration is shown and discussed below, so the available buttons and links in your emails may be different. Super Admins can update these templates on the Admin > Communities > Digest Configuration > Discussion Template page. See Manage Your Digest Email Templates for more information.
NOTE: Refer to the How to Subscribe to Discussions page to learn more about Discussion subscriptions and how to manage them.
Real-time participation emails
If you're opted-in to real-time participation emails, you'll be notified via email when someone:
replies to one of your questions
leaves a comment on one of your blog articles, library uploads, or ideation submissions.
These participation emails ensure you're immediately aware of the latest developments related to the content you've contributed.
See Real-time Participation Emails to learn more about this feature, including how to manually follow content and unsubscribe from participation emails.
Edit a question/answer you've posted
Whether you've posted your own question or replied to someone's, you're free to edit your questions and answers at any time. To do so, navigate to one of your questions or answers and select Edit from the ellipsis (...) menu to the right.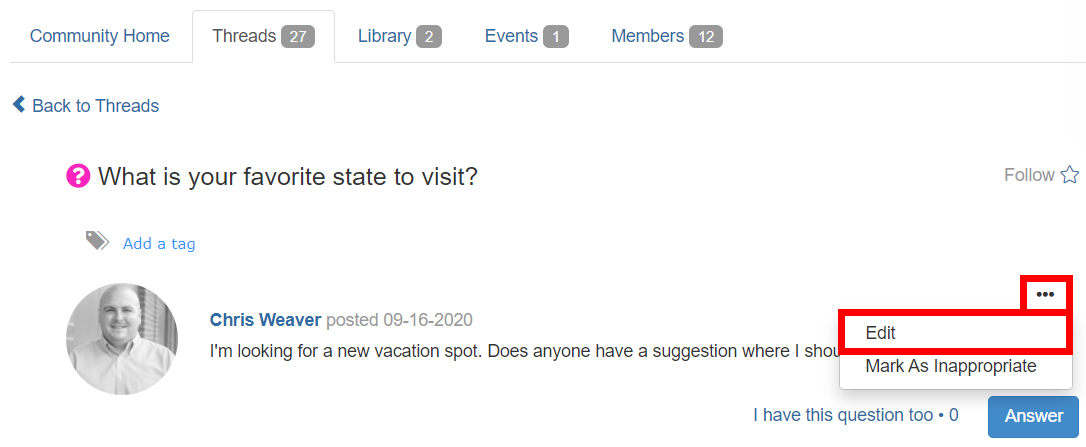 You can also access all of your posts (and all your other contributions) right from your profile. Just click My Contributions > List of Contributions.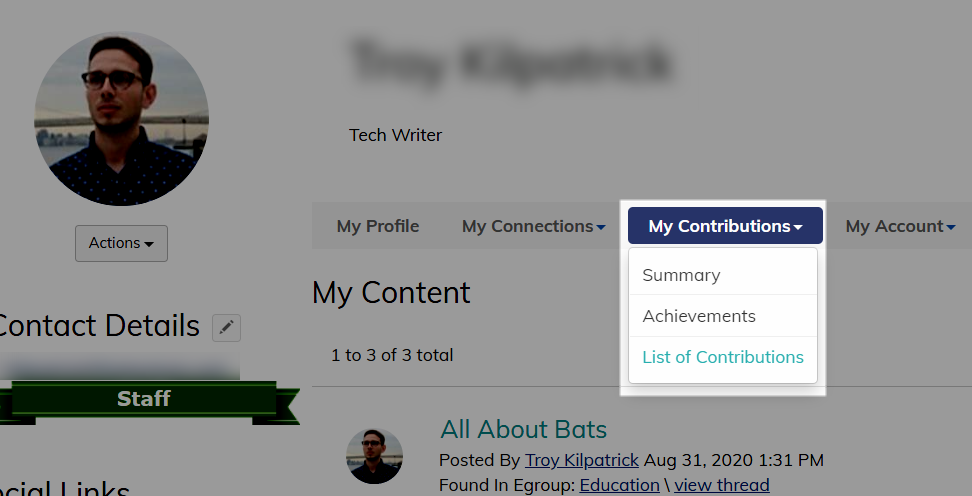 Answer a question
If you read a question posed by another community member and can answer it, click Answer.

The Content Editor will display directly on the page, allowing you to answer inline without navigating away. By default, you'll use the Basic editor, with a limited set of options. Click the ellipsis (...) button to expand the Basic Plus editor with additional formatting options.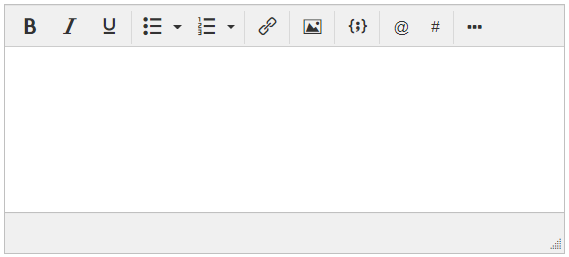 Mark a post as the Best Answer
When someone asks a question, there's generally a reply that offers the best answer. To help promote this content, Super Admins, Community Admins, Community Moderators, and the thread's original poster to mark one of the answers as the best answer by selecting Mark As Best Answer from its ellipsis (...) menu.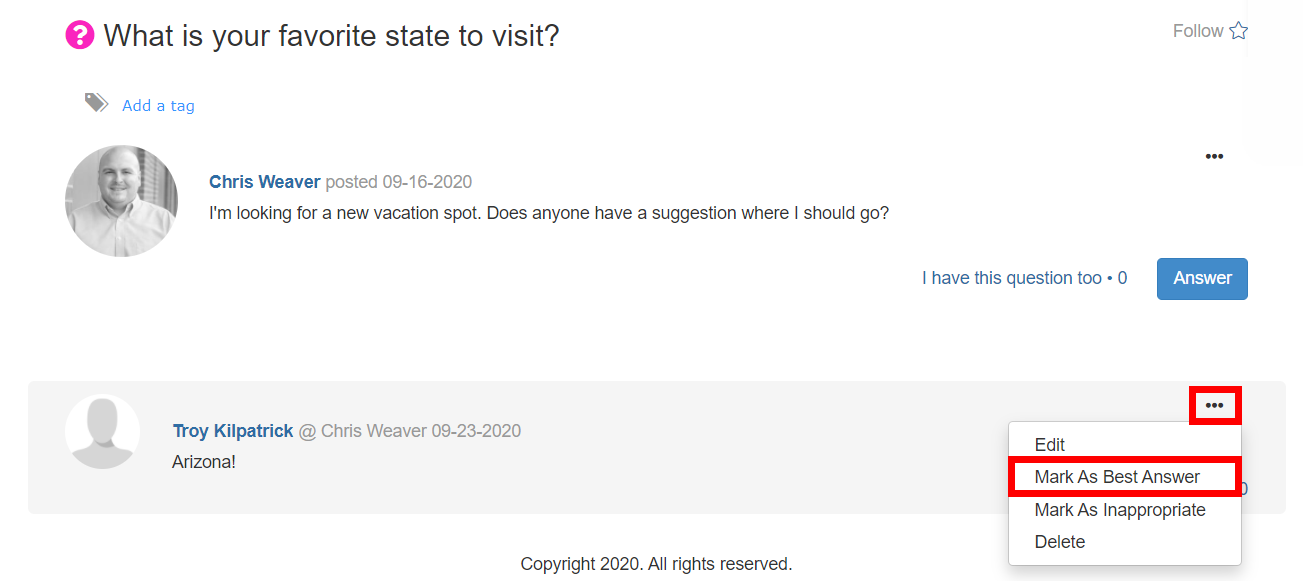 NOTE: You can clear a best answer at any time by selecting Unmark Best Answer from the menu. Only one answer can be flagged as the Best Answer at a time.
The answer is then visually highlighted to indicate this, ensuring other users know. In instances where multiple answers are available, flagging one as the best answer automatically pins it to the top of the list.
In addition, the Jump to Best Answer link appears at the top of the page, allowing you to quickly view the best answer. This is especially helpful for questions with a lot of text.