The Higher Logic Admin interfaces feature a Resource Center that has several modules that serve as an access point to a variety of helpful content and links. Let's look at how to access Resource Center and then dive into its modules.
Resource Center basics
Resource Center is both product-specific and admin-specific. This means that when you're logged in to the Admin interface, Resource Center knows who you are and which product you're managing—and serves up content based on these factors.
For example:
The Product Updates and Quickstart Guides modules present content to you that is specific to your product only. You won't get updates about other Higher Logic products!
The Knowledge Base module only presents content that is relevant to your product.
NOTE: If you have a "joint tenant" (a Community product and a Marketing product), knowledge base modules for both products will be presented.
Dynamic content
Resource Center is dynamic in that content will be added and removed so that it remains as "fresh" as possible.
TIP: This is largely applicable to the Quickstart Guides and Product Updates modules. The links in the Virtual Events module, for example, will seldom change, but the information on the pages that are linked might change.
NOTE: If you have a "joint tenant" (a Community product and a Marketing product), content for both products will be presented.
Access Resource Center
When you are in any Higher Logic admin interface, Resource Center is loaded and waiting.
To open Resource Center:
Click the icon in the upper right of any Admin page.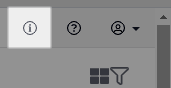 Resource Center opens in the upper right of the page.
NOTE: Resource Center is anchored in the upper right; it cannot be repositioned. To see more of the admin page, click the X or the

icon to hide Resource Center.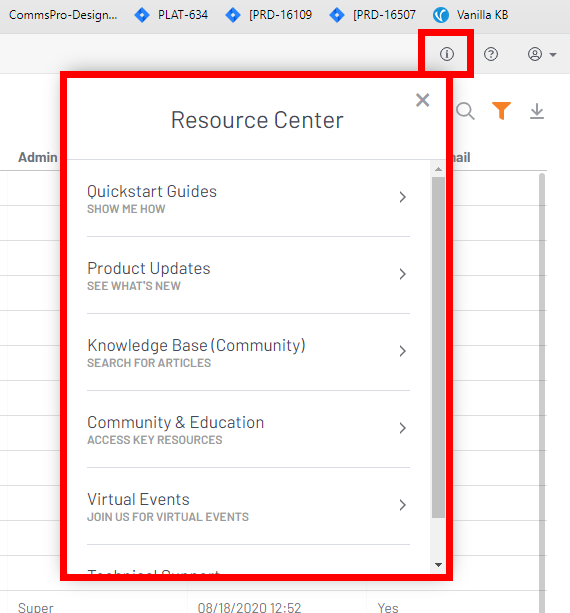 New-content bubble
Resource Center also uses your login to let you know when there's new, unviewed content.
The

icon displays a new-content bubble with a cumulative count of new content items.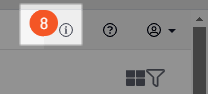 Any modules that have new content also display their own module-specific new-content bubble.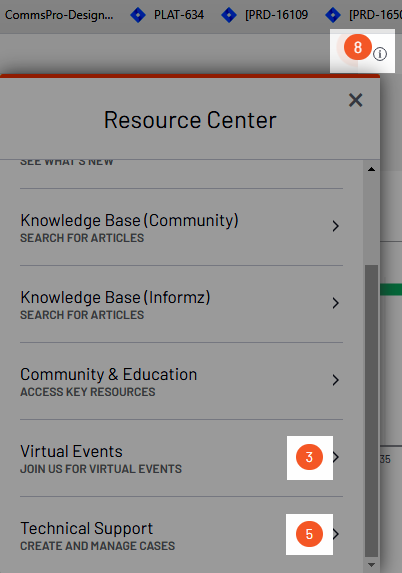 As you access each of these modules, the cumulative count decreases and each module-specific bubble disappears.
After you've accessed all of the modules with new content, the cumulative count bubble disappears.
When we add content to Resource Center, the new-content bubbles once again display to let you know that there's fresh content for you.
Modules
Resource Center is essentially a hub through which you can access a variety of information that is relevant to your Higher Logic experience. Resource Center hosts a collection of modules, each of which presents information in a unique way.
For example, you could learn how to manage Users by:
reading articles via the Knowledge Base module, or
doing a self-guided "how-to" tour in Quickstart Guides, or
doing both!
How you chose to consume the information is up to you.
TIP: We recommend that you make the most of the Quickstart Guides, Product Updates, and Knowledge Base modules. This trio will be the most useful, and we encourage you to familiarize yourself with them and be sure to access them when new content is indicated.
Module
Description
Quickstart Guides

This module features in-product, click-thru "guides" of an area, page, new feature, or task. Click through the steps at your own pace.

NOTE: If you close or dismiss a guide without completing it, your progress is indicated below the guide (note the "Step 4 of 14" under Engagement Benchmark Score), but you will restart the guide at step 1.




Resource Center also displays a progress bar of your total completion percent at the bottom of the module. This progress bar accounts for all guides that are available to you.

Product Updates

This module is where we inform you of new features and other product changes.

The module might have multiple entries, but each will have:

the release date,
a title,
a description of the feature or change, and
a link to the associated knowledge base article.

Knowledge Base

This module hosts our knowledge base content. The module:

is Admin-page dependent, so it serves up content that is specific to the current page;
has a Search function that loads results based on your search criteria; and
loads full articles for on-the-spot learning.

When an article displays, click the external link icon to open a new tab and view the full article in the knowledge base.



Community & Education

This module provides easy access to two important learning resources:

HUG

This is our Higher Logic Users Group, a community built for you. It's a thriving marketplace of questions, discussions, product announcements, and more, as well as a portal to our other education and training offerings.

Higher Logic Academy

Higher Logic Academy is a growing collection of free courses that make it easy for you to learn more about your product.

We are dedicated to your ongoing learning and education, and offer the following learning methods:

Virtual instructor-led training
Custom private training
On-demand E-learning videos
Webinars

Virtual Events

This module is your gateway to two of our live, virtual learning events:

HUG Connect - Your opportunity to join facilitated, interactive peer-to-peer sessions to learn and share with your peers (and us).
Live Academy training - Your direct link to our virtual, instructor-led training calendar, where you can choose which topics you'd like to dive into, right from our training experts.

Technical Support

This module is a portal to several helpful technical resources:

Known Issues - These are issues that may be experienced by multiple customers. We've highlighted them to assure you that we're aware of them and are working to resolve them, and/or provide workarounds to prevent disruption to your day-to-day workflow.
Create a Case - If all else fails, use this link to create a case with our Support team.
View your Cases - If you've submitted one or more Cases, click this to view them and their current status.
Check Product Status - Use this link to view the up-to-the-minute operational status of our products. In addition, you can view the calendar for our upcoming scheduled maintenance.
Email Customer Support - Direct links to email each of our product-specific Support teams.
In-app Help
In addition to Resource Center, don't forget to also check out and use our in-app Help.
NOTE: The in-app Help content is distinct from Resource Center, but like Resource Center, it is specific to the page you're on.
To access in-app Help:
Click the question mark (?) icon in the upper right of any Admin page.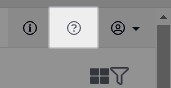 The in-app Help panel expands on the right side of the page.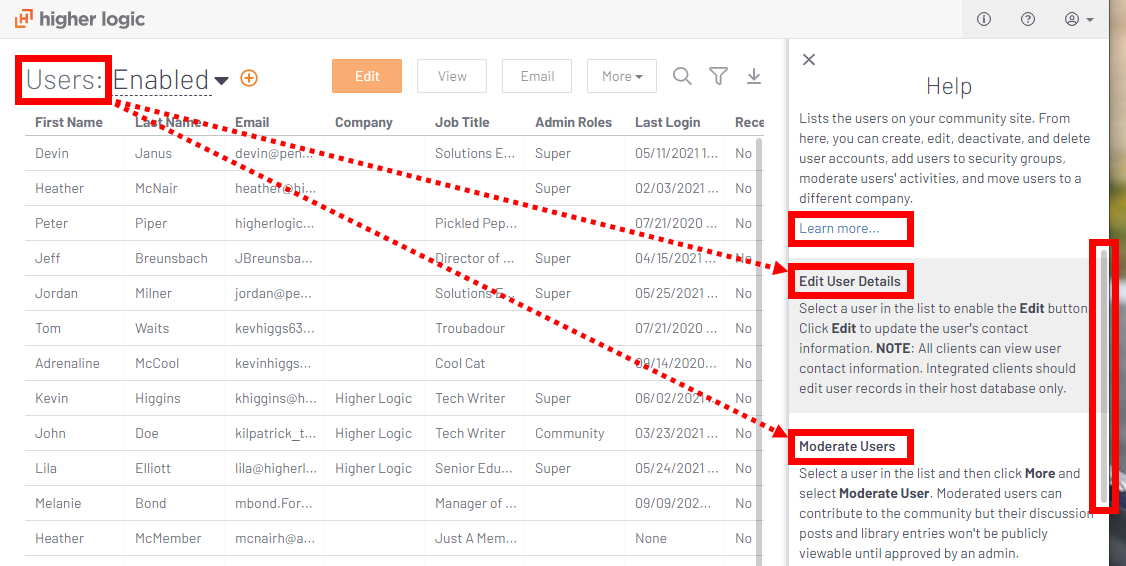 In-app Help:
is specific to the current page,
has Learn more... links to knowledge base articles,
describes the tasks that you can perform on the page, and
has a scroll bar if there is additional Help content.
Click the X or the question mark (?) icon to close the Help panel.