GETTING STARTED
There are a few things you should do to set up and start using your site.
To guide you, we have compiled this series of articles to help you get started!

« Previous Topic | Next Topic »
In this article...
Libraries are key to your community experience and that of your users. Through your community Library, users can share a variety of file types (including multimedia) that other users can then download, comment on, and recommend.
Files are directly uploaded to what are called Library Entries, and are then available for download by other users; further, multimedia entries can be viewed right on the page and even embedded on other web pages.
NOTE: Libraries are typically associated to a community; however, stand-alone Libraries can be created.
Access Library Entries
Library Entries can be accessed several ways. The Entries that you'll see are dependent on:
community-specific "view" settings,
your permissions and memberships, and
which Library (an individual community or entire community site) you access.
Single community Library
If you navigate to an individual community and click the Library tab, you'll see only that community's Entries.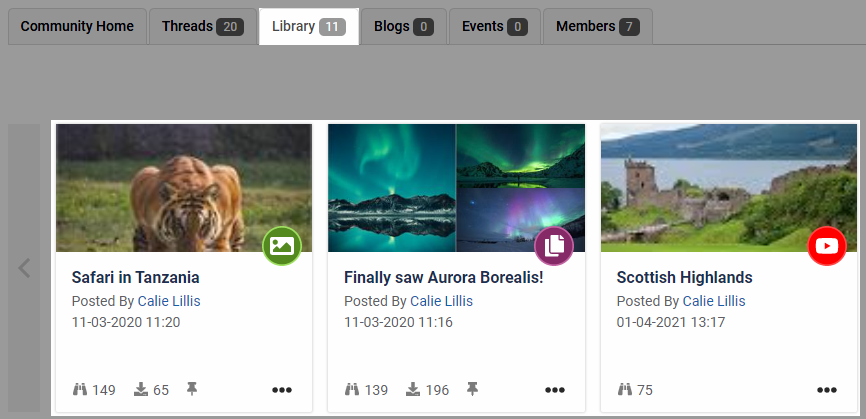 All available Library Entries
If you navigate to the Library Entries page, you'll see all community Entries that are not restricted by permissions.
NOTE: The path to the Library Entries page can be customized (i.e., relabeled) in each community site. The path (Browse > Library Entries) shown below is the default Higher Logic path.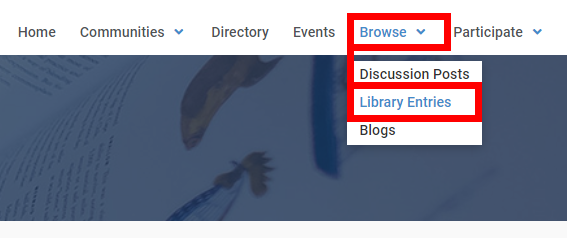 The image below shows the Library Entries page. Note that, because this is not an individual community, the Entry's host community is a clickable link in the Featured Card Row and the listing.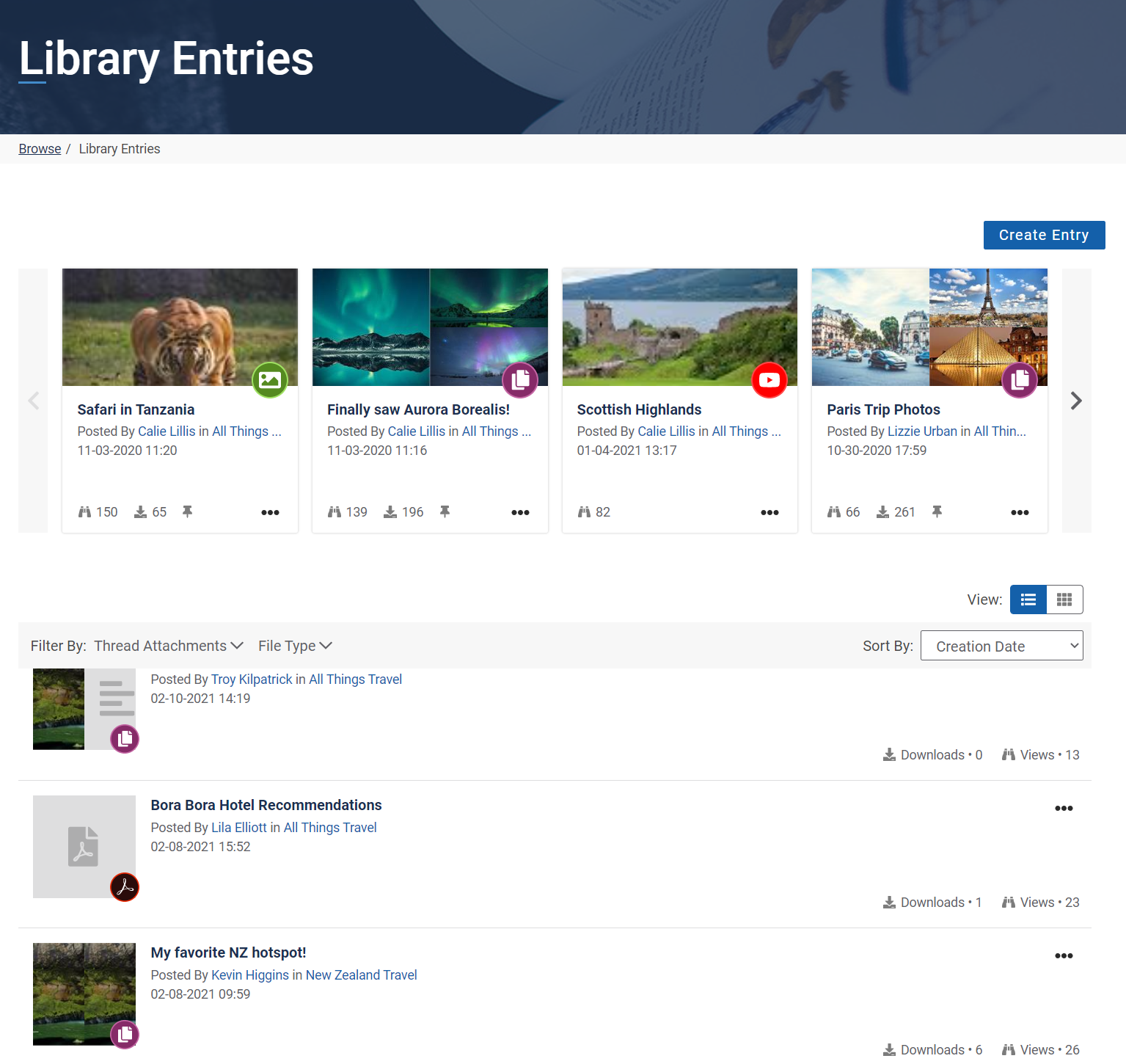 Library Entries page sections
The Library Entries page has several sections that enable you to manage the Entries, get information about them, and customize the page's display.
TIP: Check out Library Entries page walkthrough for detailed explanations of these sections and how to use them.
Featured Card Row - Entries display in a "carousel" at the top of the page. Click the arrows to scroll through the Entries.
Details Panel - This flyout panel appears when you click an Entry. It has information about that Entry, sections for comments and links, and a dedicated ellipsis menu to take actions on that Entry.
Library Entries Views - You can display Entries in the Row, Card, or Admin view.
Filter and Sort - Use these options to refine which Entries display in the list.
TIP: Use these options in conjunction with one another to refine large lists.
Ellipsis (...) menus - There are several ellipsis (...) menus on the page; click to access the options.
Folders Panel - Open the panel to display the Library folders. Choose a folder to see its Entries.
Related articles
Be sure to visit the Library Entries section of our knowledge base to learn how to:
Manage Library Entries and their folders,
Move Library Entries, and
Comment on and recommend them.
===============================================================