You can grant and remove various types of administrator access, each giving the associated user additional access and management privileges that are necessary to fulfill a specific administrative role in your organization.
Super - Super Admins have the highest level of access to a Higher Logic site: They can do everything Site and Community admins can do but they also have access to a host of Super-Admin only tools and functionality, all accessible from the Admin interface.
Community - Community Admins can update their community's join and view permissions, add and remove Community Admin access, add new members, restrict and remove current members, run reports, email members, moderate Discussion and Library items, manage community events, manage any community Volunteer Opportunities, and more.
Site - Site Admins can update their site's layout, apply a Theme, upload site imagery, set up advertisements, manage their Volunteer program, use the CMS to edit, create, and remove pages and content, and more.
NOTE: See Admin Access Overview for a more comprehensive list of features, tools, and access available to each admin type.
Manage Site Admins
Access the Admin interface.
Navigate to Pages > Sites > List.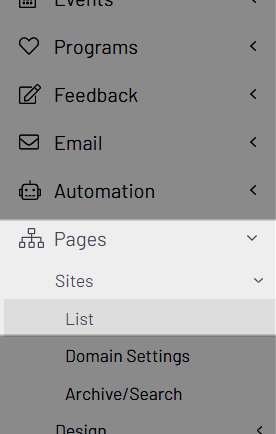 On the Site List tab, all of your community sites are listed. To manage who has Site Admin access to a site, click its associated Add / Edit button. In the resulting dialog, you can:
Click Remove to remove a user's Site Admin access to the site.
Enter a user's email address in the available text field and click Go to give them access.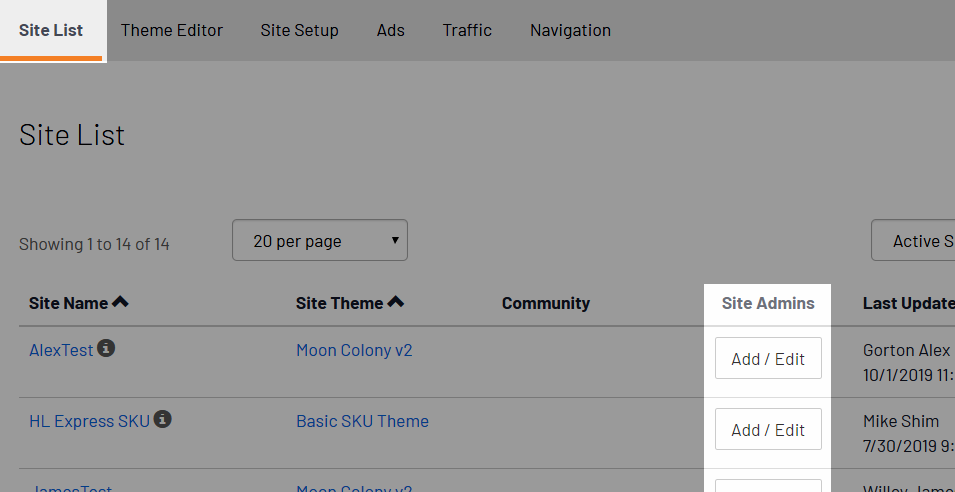 Manage Community Admins
In the desired community:
Click Settings.
Click Members.
Click the Edit Roles button associated to the desired user.
Check the box for Community Admin. (Uncheck the box to remove the permission.)
Manage Super Admins
NOTE: Super Admins have unlimited rights to create new content, modify and delete existing content, and update the settings for your main site, any Microsites, and your communities. Because of this, we recommend only granting this level of access to a small number of users whom you can trust.
Access the Admin interface.
Navigate to Users > Admins.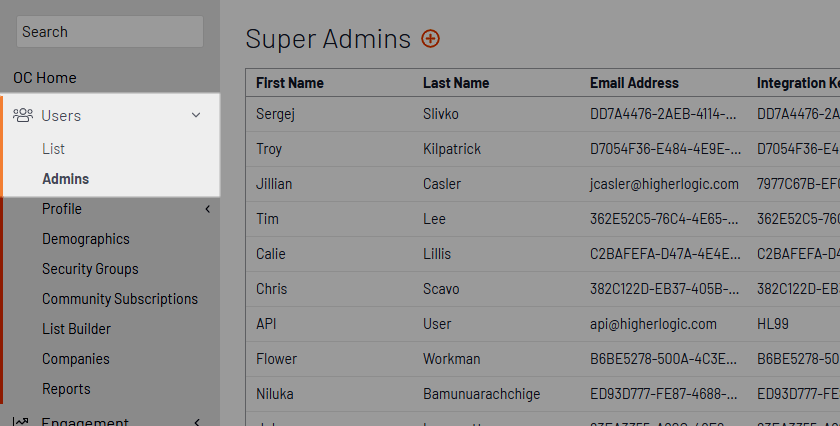 This is where you can give members Super Admin access and revoke access from current Super Admins.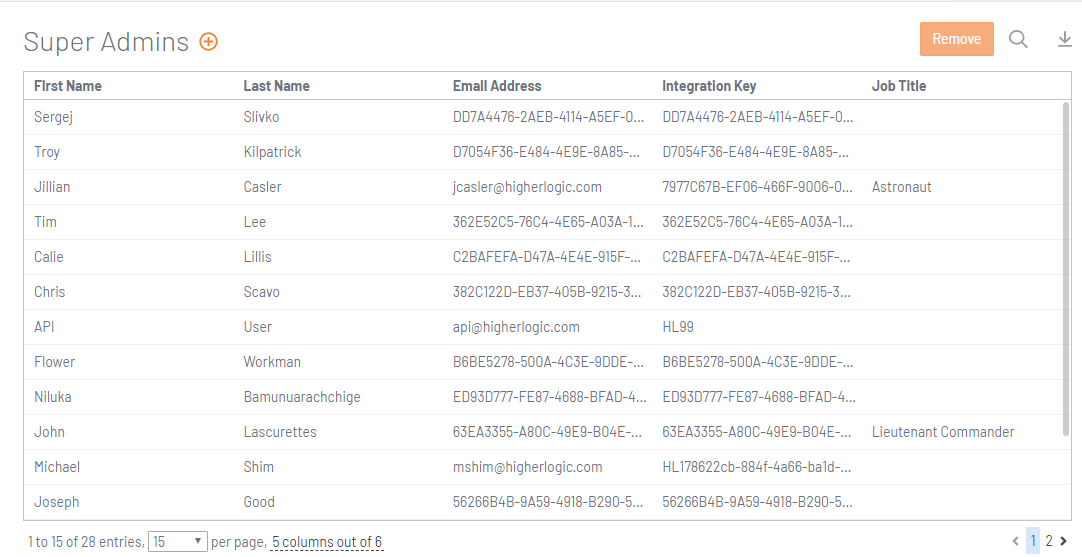 To grant access, click the plus sign to the right of the page title, enter the desired user's email address in the resulting dialog, and click Add.
To remove a current Super Admin's access, select them in the list and click Remove.
NOTE: You can grant access to multiple users at once by entering their email addresses in a comma-separated list.