To view all of your site's community and stand-alone libraries:
NOTE: Libraries associated to a discussion inherit their moderation setting and view permission from that discussion. If you want to change these settings for a community library, you must edit its associated discussion. See Discussion List to learn how.

For stand-alone libraries, you can modify these settings directly on this page.
In the Admin Toolbar, click Admin.

Navigate to Community > Libraries.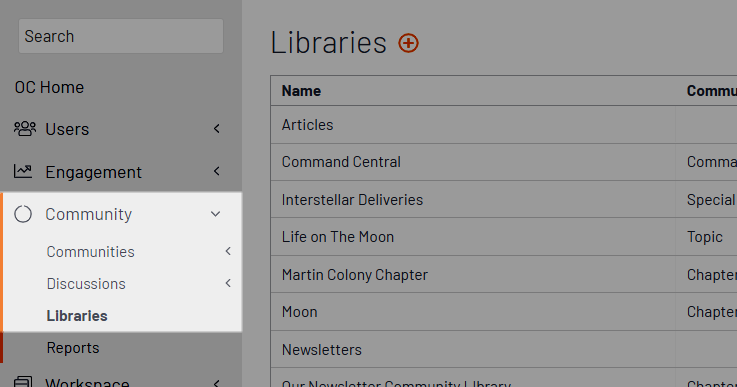 Update a library's details and collaboration setting
While most of a library's settings are inherited from its associated discussion, you can update a library's name, description, and collaboration setting on this page. To do so:
Select a library in the list.
In the expanded Preview Panel:
Click its title at the top to edit.
Update the description in the Library Description field.
Check/uncheck the box to enable/disable collaborative work. See How to Upload Multiple Versions of a File to learn more.
Click Save to finalize your changes.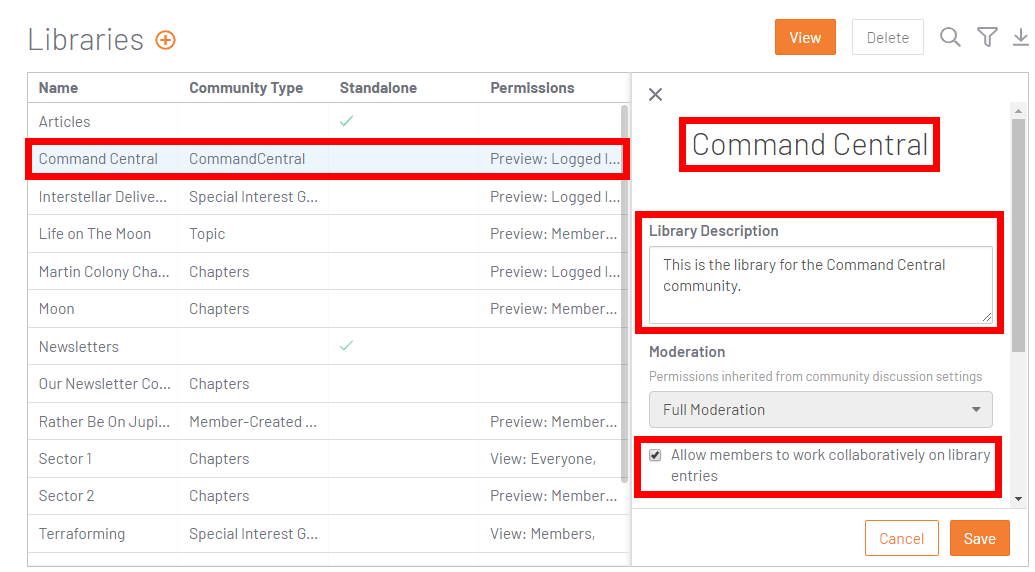 Create Stand-alone Libraries
While not typically needed or recommended, you can create a stand-alone Library that isn't associated to a community.
NOTE: Stand-alone libraries are indicated by a checkmark in the Standalone column. Only stand-alone Libraries can be deleted on this page.
To do so:
Click the plus sign to the right of the page title.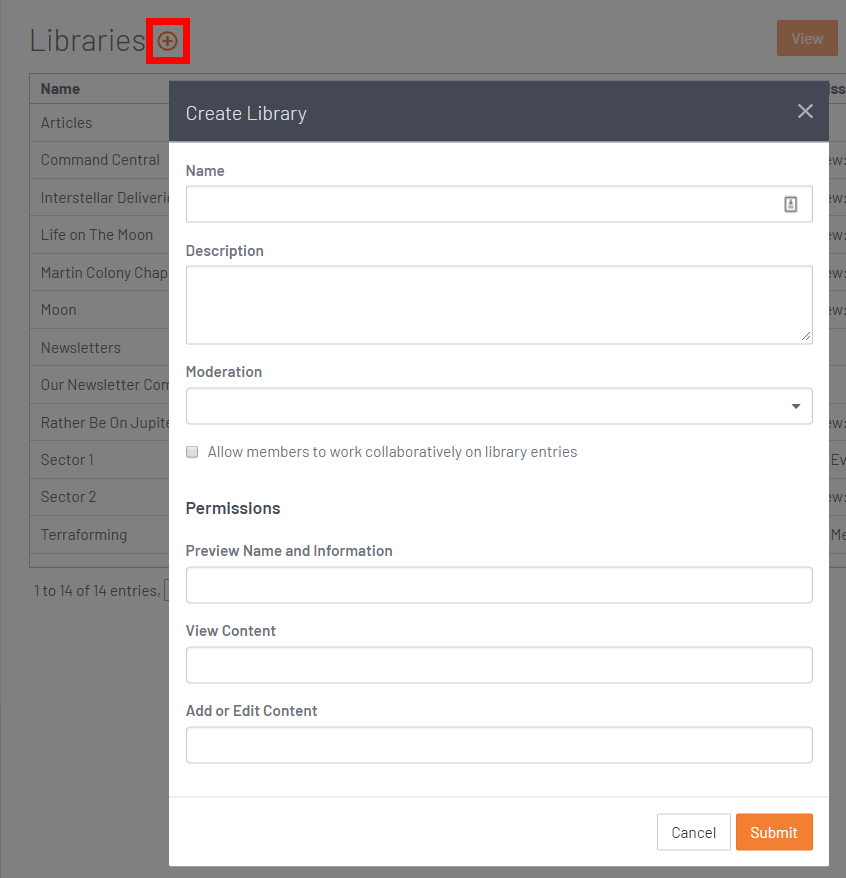 Complete the resulting dialog to configure the stand-alone library.
Field
Description
Name
The library's title.
Description
The library's description.
Moderation Type
Three options enable you to control the Library's Moderation setting:

Full Moderation - All new files are queued in Moderation and require admin approval before posting to the Library.
No Moderation - Files don't require admin approval and are added to the Library immediately.
Self Moderation - All new files do not require admin approval and are added to the Library immediately; however, all users who have access to the Library for this community can moderate a file using the Mark As Inappropriate option on the file page. The user will then be prompted to give a reason for marking the content as inappropriate. At this point, the content is removed and an Admin can then approve the moderation request to keep it in moderation or reject it to add it back to the community.

Collaboration
Controls whether users can collaborate on Library entries. See How to Upload Multiple Versions of a File to learn more.

NOTE: This must be turned on in order to enable permissions via Security Groups in the next section.

Permissions
Three areas allow you to control which Security Groups can:

View the library's name and information
View the library's files
Can upload or edit files
Click Submit to create the stand-alone library.