Higher Logic Thrive Marketing Professional (Thrive Marketing Professional) offers a variety of features and reports, message targeting and personalizing, and reporting insights. You can use these to create a communications relationship with your constituents, and then maintain and improve it over time.
Watch the video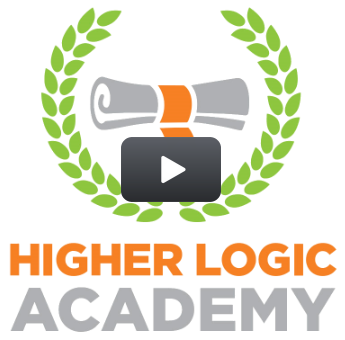 Before you begin...
Your Thrive Marketing Professional account should be created within a week of signing your contract. Your dedicated login URL and user credentials will be emailed to you after a discovery call with your Implementation Project Manager.
TIP: Add your dedicated login URL as a favorite/bookmark in your browser.
The preferred browser for Thrive Marketing Professional is Google Chrome. See a list of our supported browsers.
During your initial login:

Change your password to ensure that it is secure (and only you know it).
Set the time zone. This ensures that when you schedule a mailing to be sent, it goes when you expect.

Familiarize yourself with and take advantage of the free trainings and webinars that Thrive Marketing Professional offers.
If you've purchased an integrated solution with your AMS, you can still send mailings from Thrive Marketing Professional prior to the integration setup. Distribution lists can be uploaded to Thrive Marketing Professional. See Subscriber Upload for more information.
Our Support Center contains a number of resources to help you gain insight about our tools and features. If you want to learn how something works, or if you run into any trouble along the way, the product knowledge base is a great place to start.
When making the switch to Thrive Marketing Professional from a previous Email Service Provider (ESP), be sure to set yourself up for a successful transition.
Higher Logic understands that each customer brings a unique set of eMarketing goals, challenges, and initiatives, and we realize that the focus points for getting started with Thrive Marketing Professional may be different for each customer. Whether you're looking to just get into your account and start sending mailings or taking the time to build a foundation of campaigns to support your marketing automation efforts, we're here to help you be successful.
While the path you take with Thrive Marketing Professional will be unique to your organization, the following actions are important for every organization to get up and running.
Log in to Thrive Marketing Professional
After your Implementation Kickoff and Discovery call, log in to your account and take a few moments to look around and become familiar with the interface, layout, and tools.
TIP: To create additional user logins, see Create & Manage Authorized Users.
Create a HUG account & explore the site
The HUG is our online community where you can ask questions, learn from the successes of others, and network with other Thrive Marketing Professional users. HUG is also where you can register for live webinars and in-person trainings, as well as download recordings of previous webinar trainings.
TIP: To access all of this great content, create a HUG user account.
Learn at your own pace
With your new HUG user account, you can leverage a variety of training materials and follow the Academy Training Path to learn about Thrive Marketing Professional at your own pace with recorded webinars & video tutorials!
Establish sender authentication
Sender authentication validates the pathway that your Thrive Marketing Professional mailings are being sent from, which helps to ensure that your messages reach the inboxes of your subscribers. We recommend that you set up sender authentication before you send mailings from your account.
After your sending domain has been configured on our mail server, you'll receive an email with instructions on how to set up sender authentication for your domain. If you'll be sending mailings from multiple domains, provide the additional domains to your Thrive Marketing Professional contact so they can be configured on our mail server.
NOTE: In addition to sender authentication, we encourage you to use additional deliverability best practices, like uploading your unsubscribe/suppression lists to Thrive Marketing Professional and IP warming to build your sender reputation. Review our Deliverability Overview guide for details.
Prepare to send your first mailing
After you have logged in to your account, set up sender authentication, and attended training, you'll be on your way to sending your first mailing. Here are a few things to consider when preparing to send:
Design your templates and create your mailings
Upload your subscribers into Thrive Marketing Professional. Subscriber lists can be uploaded directly to Thrive Marketing Professional (see Subscriber Upload) or sent from your AMS through your Integration.
Use IP warming with your initial mailings to establish your sender reputation; see Deliverability Best Practices to learn more.
Set up your integration (if applicable)
If you've purchased a database integration, your Implementation Specialist will provide details on the next steps in setting up the integration. If there are actions for you to complete to facilitate the integration, Higher Logic will provide a setup guide, which covers common questions regarding the integration, outline roles and responsibilities, and provides the integration setup steps. Pass this guide along to your technical team, as applicable.