This article explains how Community Admins and Super Admins can manage events.
Access Events - Community Admin
Navigate to your community's home page.
Click Settings > Manage Events.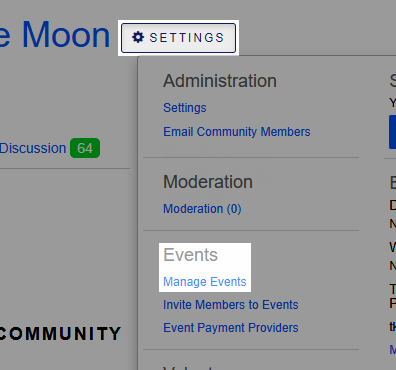 Access Events - Super Admin
TIP: If you need to manage a specific community's events, you can follow the step above; otherwise, access the page below to manage all of the events for your community site.
Access the Admin interface.
Navigate to Events > List.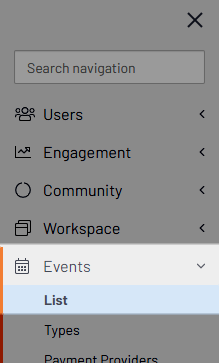 NOTE: While accessed in different areas, both pages provide the same functionality; therefore, the features discussed in the rest of the article apply to both Community Admins and Super Admins.
Manage Events page overview
As stated earlier, the Manage Events page for a community lists only the events for that community; the Manage Events page accessed via the Admin interface (Super Admin only) lists all of your organization's events.
From either page, you can:
Create and edit events
View an event's details, including its registration breakdown
Search for an event and filter the list for easier event management
Perform several management actions, like canceling, copying, and deleting events, sending event invitations, defining event pricing, and managing an event's registrant roster.
Create an event
The complexity of event-creation is highly dependent on the type of event being created. For example, creating a monthly webinar that only requires attendees to RSVP requires far less configuration than a multi-day event with a full agenda (e.g., sessions, registration add-ons, etc.).
Much of the complexity is determined by the Event Type, which you'll need to select during event creation. Event Types largely control the features and settings that can be configured; you can think of them as templates that dictate which building blocks are available, with the most important being the registration process. As such, you'll need an applicable Event Type created before creating an event.
Supported registration processes
Event Manager supports five registration processes:
Search & filter
Let's take a look at how to quickly find an event using the Search and Filter options.
Search
Click the magnifying glass icon above the list.
Enter your single word or phrase in the resulting search field and click Go.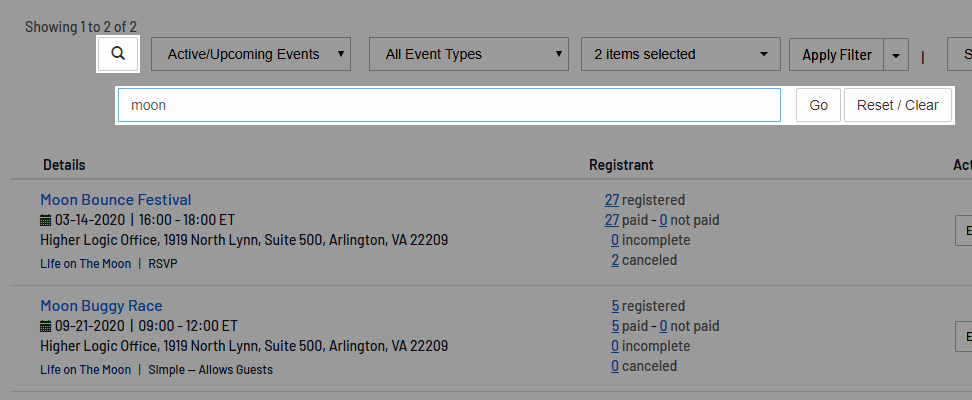 TIP: To clear your search and restore the original list, click Reset/Clear.
Filter
Above the list are several drop-down menus you can use to filter the events displayed.

Discussed from left to right, filters include:
TIP: You can select multiple filters, mixing them to help display the exact events you want to manage. Also, be sure to click the Apply Filter button after selecting one or more filters to apply them and update the list.

To clear your filters and restore the original list, select Reset from the dropdown to the right of the Apply Filter button.



General event filter
Use the first menu to filter the events list by: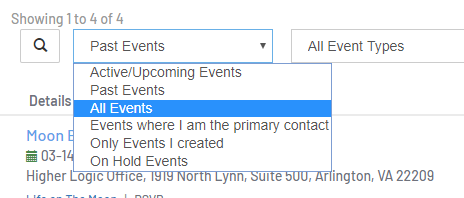 Active/Upcoming Events
Past Events
All Events
Events where I am the primary contact
Only Events I Created
On Hold Events
Event Types filter
Use the second menu to filter the events list by any of your existing Event Types (you can only select one):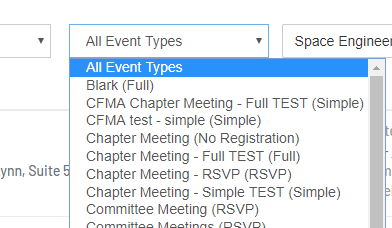 Community filter
Use the first menu to filter the events list by all communities, events not associated to a community, and/or one or more specific communities (you can select multiple options, with selected options indicated by a checkmark).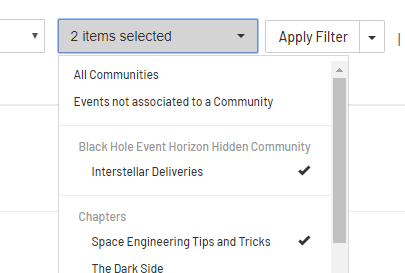 Sorting filter
On the right side of the page is a menu providing an additional way to filter your events: by sorting them. Selecting one of these options immediately updates the list.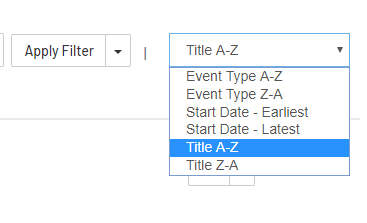 You can sort the events list by:
Event Type A-Z
Event Type Z-A
Start Date - Earliest
Start Date - Latest
Title A-Z
Title Z-A