The Watch Words page is where you create a list of words that are deemed offensive, profane, or in some way incendiary, and then manage how these words will be handled in your community.

When a watch-words list is established, it will automatically scan for those words in the following types of user-created content.
Discussion threads
Q&A threads (checks title and body of questions; checks body of answers)
Library Entries (checks titles and descriptions)
Blog posts
Ideation posts
The Watch Words management options are:
Moderate - An occurrence of a watch word will trigger an alert to an Admin who will have to review the context of the word and then allow or reject it.
Replace - An occurrence of a watch word will be automatically replaced with four asterisks (****), without the need for Admin review or action. This option does not trigger any type of notification to an Admin; also, after being replaced, there is no way to see what the offending word was.
NOTE: Watch Words are single words with no spaces, numerals, hyphens, or special characters.
Access your Watch Words
To access your Watch Words list:
In the Admin Toolbar, click Admin.

Navigate to Community > Moderation > Watch Words.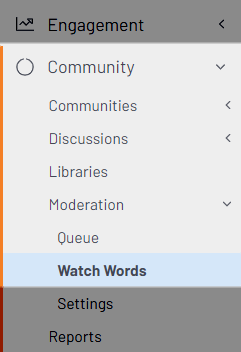 Use this page to add and delete Watch Words, as well as manage their actions and download a copy of your current word list.
Add Watch Words
Click the plus sign to the right of the page title.
In the resulting dialog, choose whether to:
add a few words on the Add Manually tab
or add a long list of words on the Bulk Add tab.
NOTE: On both tabs, you choose which action (moderate or replace) will be automatically applied to those words when they are added.
Bulk Add
In the upper section, choose whether to:
Upload your own single-column .csv file that has the Watch Words listed in the first column and no other data OR
use the Higher Logic-supplied pre-populated list (download a sample to review).
NOTE: If you use your own file, the first column must either: not be labeled OR be labeled WatchWords.
In the lower section, choose whether to:
Moderate the incoming list of words (the default) OR
Replace the words with ****.
NOTE: If you are adding a lot of Watch Words and want to moderate some but replace others, run an upload for each Action.
Click Save.
An on-screen message will confirm the upload and indicate the number of words uploaded and, if any "rejects," that number as well as the reason. Review the list to verify the addition.
Add Manually
You can add up to 10 Watch Words per "add" action. The system will alert you if there are duplicate words or blank fields.
Type a word in the field.
Optionally, click + Add to include more words. (Click – to remove a word or simply type over it.)
Choose an Action.
Click Save.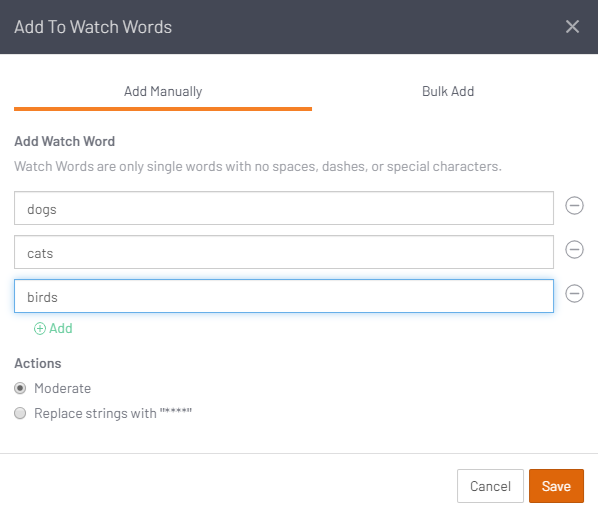 The words will be added and the selected action will be applied. Review the list to verify the addition.
NOTE: If you are adding multiple Watch Words via this method and want to moderate some but replace other, you must do separate "add" operations for each Action.
Manage Watch Words
You can edit (i.e., change the action) and delete Watch Words as your needs change and to make sure that the list is configured to suit your account's needs. Further, these actions can be done individually or in groups.
Manage individual Watch Words
Click a watch word to select it.
In the resulting Preview Panel, you can choose a different action to the word. Click Save to apply.
Click Delete, followed by Delete again in the confirmation prompt, to delete the word.

Manage multiple Watch Words
Use your device's multi-select combination (Ctrl+click [PC] or Cmd+click [Mac]) to select multiple Watch Words at once. To select an unbroken sequence of Watch Words: on PC and Mac, use Shift+click.
Click Edit, choose an action in the Edit dialog, and click Save to update the action for all selected words.
Click Delete, followed by Delete again in the confirmation prompt, to delete the selected words.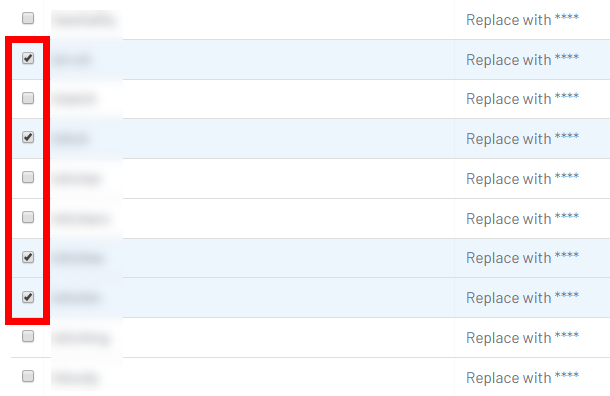 TIP: Use the check box in the header row as a Select All/Deselect All button. Select All includes the full list of displayed Watch Words.
TIP: After multi-selecting but before acting on the selected Watch Words, you can add and deselect Watch Words via the check boxes to their left. For example, if you've selected the entire list page for deletion and then decide to keep three of the words, just uncheck their boxes and proceed.
Manage your Watch Words list
TIP: Click a column header to sort on that column. Click the column header again to reverse the sort order.
Search
Use the Search feature to quickly locate Watch Words. You can search on as few as one letter; the search is not case sensitive.
Click the magnifying glass icon to expand the search field.
Type letters to query both columns of all records.

The list will automatically update with each typed letter to display all (visible and hidden) matching records.
TIP: If you have a long list of Watch Words and they have different actions, search on the action (e.g., mod or rep) and the list will automatically group them.
TIP: Click the X to clear the search field to restore the original list.
Filter
Use the Filter feature to locate Watch Words by Action.
Click the filter icon.
Choose an action from the dropdown and click Apply.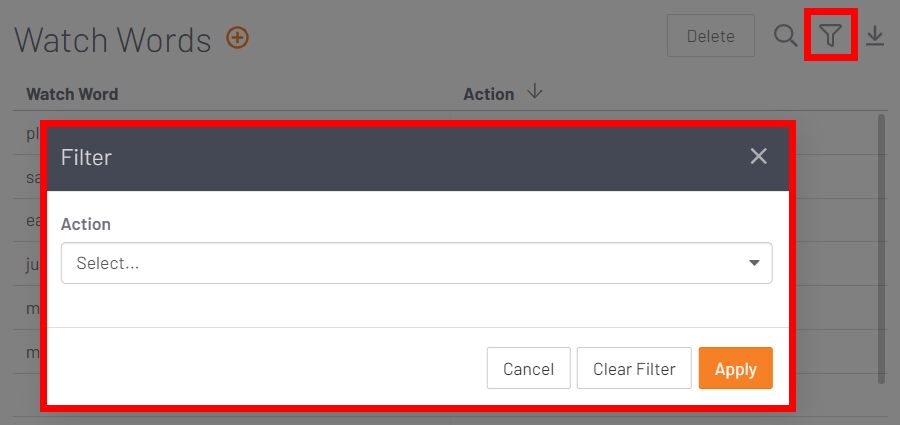 The list will automatically update to display only those Watch Words with that action applied.
NOTE: When a filter is applied to the list, the filter icon will be solid orange.
To clear the filter and restore the original list:
Click the filter icon.
Click Clear Filter and then click Apply.
Download the list
You can download a list (.csv file) of your current Watch Words.
Click the download icon.
The result depends on your computer/browser settings:
The file will either download directly in your browser
OR you'll be able to choose where to store the file (and rename it, if desired).

Related articles