The Higher Logic Customer Support Team is your point of contact for questions, supplementary resources, and support-related issues. We encourage you to create a case with the Team when you have an issue that you are unable to resolve.
Create a Case links
There are a number of ways to create a case for the Customer Support Team.
In-product links
In Online Community, Marketing Automation Enterprise (MA Enterprise), and Marketing Automation Professional (MA Professional), there is a Support Center link under Support in the left navigation menu.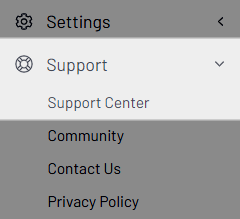 Other links
NOTE: All of these links open the Support Center dashboard in a new tab, so that you don't lose work or get redirected from a knowledge base article.
Create a ticket
When you click a create a case link, the Support Center dashboard opens in a new tab.
To create a ticket:
Hover over + Add in the upper left.
Select Ticket.
Work through the text fields and dropdown options in the left panel.
TIP: See Customer Support severity levels for guidance on what to select for the Priority dropdown.
Complete the Subject and Public reply fields as described below in Ticket information.
Ticket information
When you create a ticket, include as much information as possible so that the Customer Support Team can quickly assess the issue to better help you. Below are a few things that can help us help you.
Summarize - Provide a clear and concise summary of the issue in the Subject line.
Describe - Use the Public reply section to provide details about the issue. Some information to include:
Location of the Issue (a link to the page where the issue is occurring, pagecode, control name)
Issue Summary (one sentence, if possible)
Browser (list any browsers in which the issue is present)
Steps to Replicate (what you were doing up to when the issue occurred)
Other Relevant Information (list any URLs, test/temporary credentials, and other details that will help us to replicate the issue)
These are some examples of helpful information. We encourage the inclusion of any additional information that you think might be useful in diagnosing and correcting the issue.
TIP: Feel free to copy-and-paste the above items into the ticket and then provide the relevant details.