When logging in to your Higher Logic Informz account, you'll be prompted to validate your IP address any time your IP address changes.
Your IP address will change if, for example, you typically work in an office but then work remotely or if you access the internet via public Wi-Fi.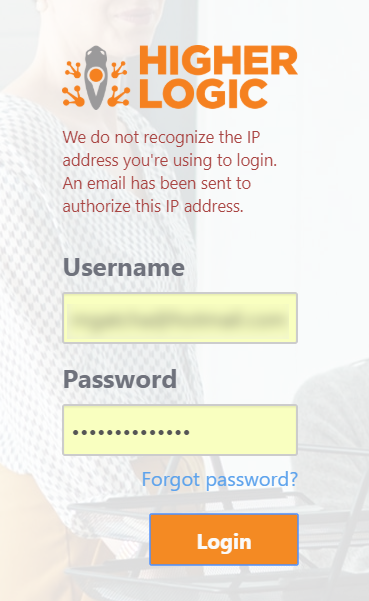 When this occurs, an email containing a validation link will be sent to your account email address typically within 1—2 minutes.
NOTE: Automated messages often get categorized as spam, so be sure to check your inbox Spam/Junk folder. If it hasn't arrived within 15 minutes, contact InformzSupport@higherlogic.com.
To validate your IP address:
Access the email inbox associated to your Informz account and open the validation message.
Click the provided link to validate your IP address with Informz. This also takes you to the Informz login screen.

Enter your credentials and log in.
NOTE: Five incorrect login attempts will lock you out of your account. Keep in mind that after the first unsuccessful attempt, no additional on-screen indication is displayed, so be careful to not continue submitting incorrect credentials. If you get locked out, you will have to either wait 30 minutes to try again OR contact InformzSupport@higherlogic.com to have your account unlocked.

If you do not remember your credentials, click the Forgot password? link and follow the prompts. See Reset Your Password to learn more about this process.