GETTING STARTED
There are a few things you should do to set up and start using your site.
To guide you, we have compiled this series of articles to help you get started!

« Previous Topic | Next Topic »
In this article...
This article presents an overview of the admin-configuration areas of your site. It also provides instructions on how to:
use the search and filter features to speed up your work,
add and remove columns to customize what displays on a list page,
multi-select database records to perform "bulk" actions, and
access different lists from a main list page.
NOTE: This interface is available only to Super Admins.
Access the Admin interface
In the Admin Toolbar, click Admin.

Dashboard
The Dashboard displays charts that provide at-a-glance metrics to understand community engagement over time. You can select which charts to display and even pin your favorite ones to the top of the Dashboard for quick access to the data you need.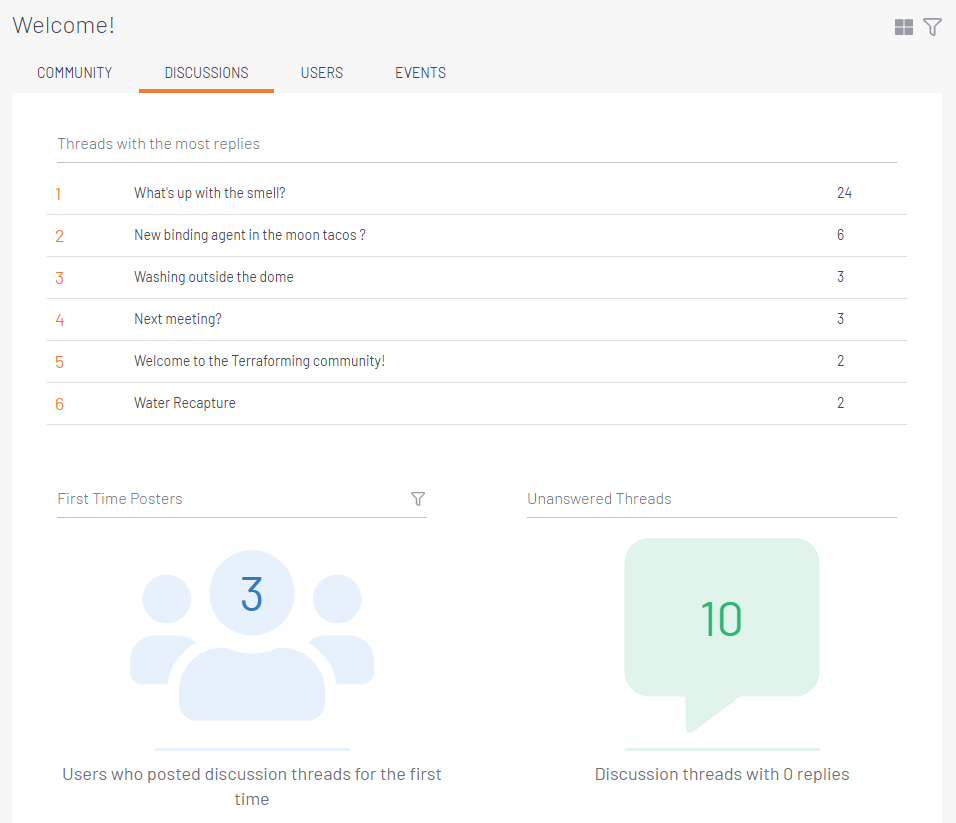 TIP: The Dashboard is customizable per individual admin.
See Community Admin Dashboard to learn more.
Navigation
Use the Navigation panel to navigate the interface. It provides a streamlined and intuitive user experience.
TIP: If your organization also has either Higher Logic Thrive Marketing Professional or Higher Logic Thrive Marketing Enterprise, each product is represented by a tab at the top of the panel.
Navigation Panel
Features
The orientation is vertical, rather than horizontal, for mobile optimization.


Click the X to collapse the panel to optimize web page real estate.
To display a collapsed panel, click the menu icon (three horizontal bars).


You can search by menu terms to filter the navigation panel.


Type at least three characters to trigger the search.



Items with a < have sub-sections, as shown.


A black border indicates which area you are in.

Blue shading indicates which page of that area is loaded.
List pages
Many admin pages have a list structure. These list pages make it easy to find and manage your content.

Let's take a look at some of the features available on these list page.
Search
Click the magnifying glass to display the search field. The search feature queries a set of available columns that have been heavily indexed so that results are presented fast. The searchable columns are the text fields within a given list.

The list will automatically update with each typed character and display all records (visible and hidden) that contain a match. Click the X to clear the search field to restore the original list.
Filter
Many list pages feature a filter, enabling multiple fields to be combined using an "AND" operator for a more focused search.

Columns
List pages include multiple columns that can be displayed or hidden making it easy to locate the content you're looking for. The number of columns per list page will vary, depending on the page's content.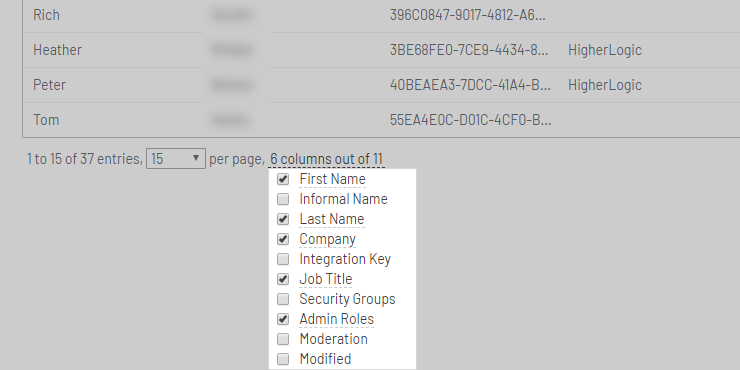 Multi-select
Many list pages support multi-selection. In these lists, you can perform bulk actions for efficient multi-item management.

Select multiple contacts
The key used to multi-select rows is device-dependent.
To select multiple, non-sequential rows: click a row, press and hold the Ctrl (Windows) or command (Mac) key, and then select each of the other rows you want to manage.
To select multiple, sequential rows: click a row, press and hold the Shift (PC and Mac) key, and then click the last row in the sequence that you want to capture.
TIP: After multi-selecting but BEFORE acting on the selected contacts, you can add and deselect contacts via the check boxes to their left.
Multi-list pages
On many list pages, there is a down arrow to the right of the page title. This indicates that there are other lists with related content. For example, the Users List page defaults to the list of your Enabled users. Click the dropdown to access lists of Deactivated, Pending Approval, and Rejected users.

Preview Panel
A Preview Panel is available on many list pages. Upon clicking an item in the list, the panel opens and provides an at-a-glance view of key data and metrics.
Dots under a field value indicate that the data can be edited.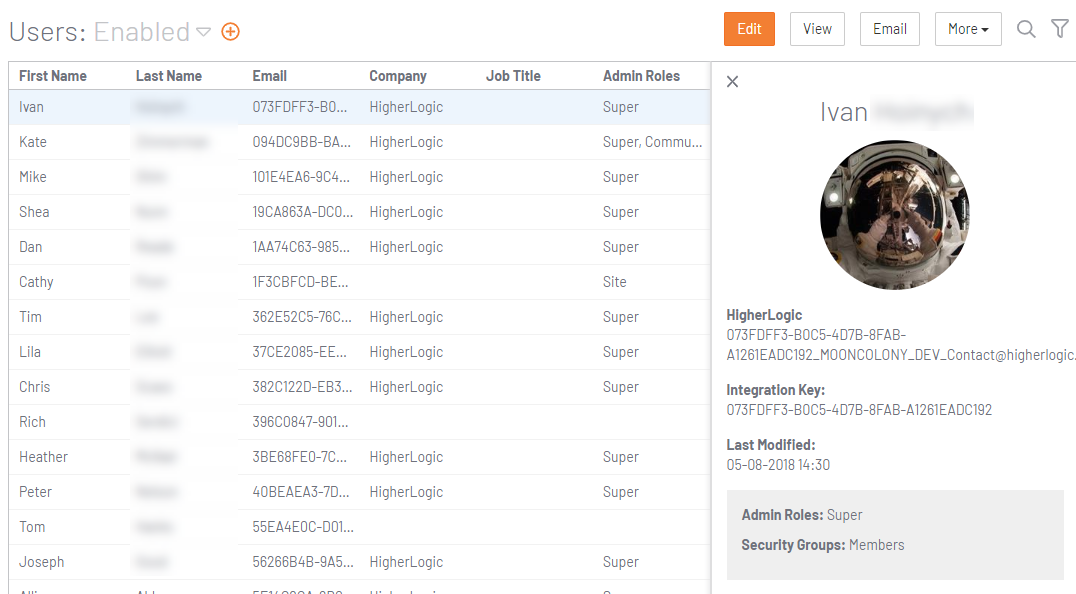 Resource Center
Click the

in the upper-right corner to expand the Resource Center. This in-app resource provides:
Quickstart Guides for guided product training,
product updates to stay current on new software updates,
our knowledge base at your fingertips,
and more.
See Resource Center Overview to learn more.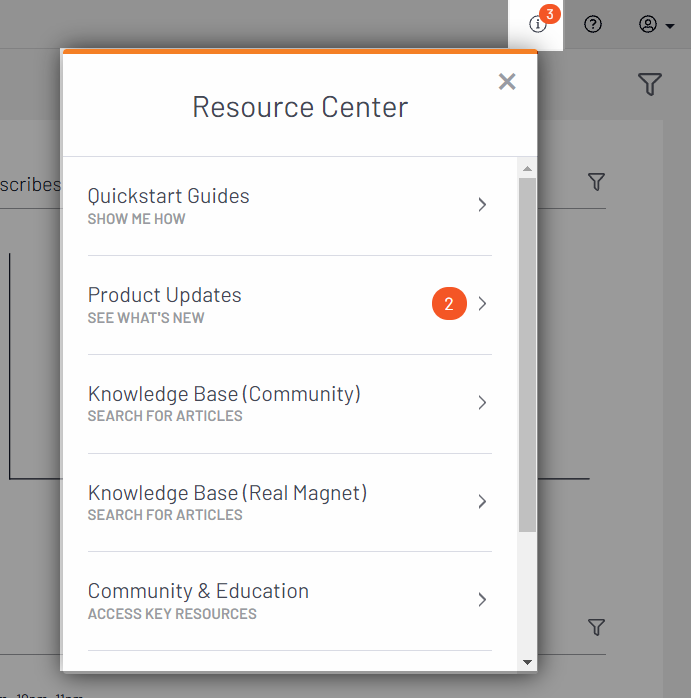 On-Page Help
Click the

icon in the upper-right corner to expand the Help Panel. Page-specific topics provide information and instructions that are unique to the current page. Many topics include a Learn more… link you can click to view more in-depth information in our product knowledge base. For pages that don't yet have specific help topics, a set of default topics are presented.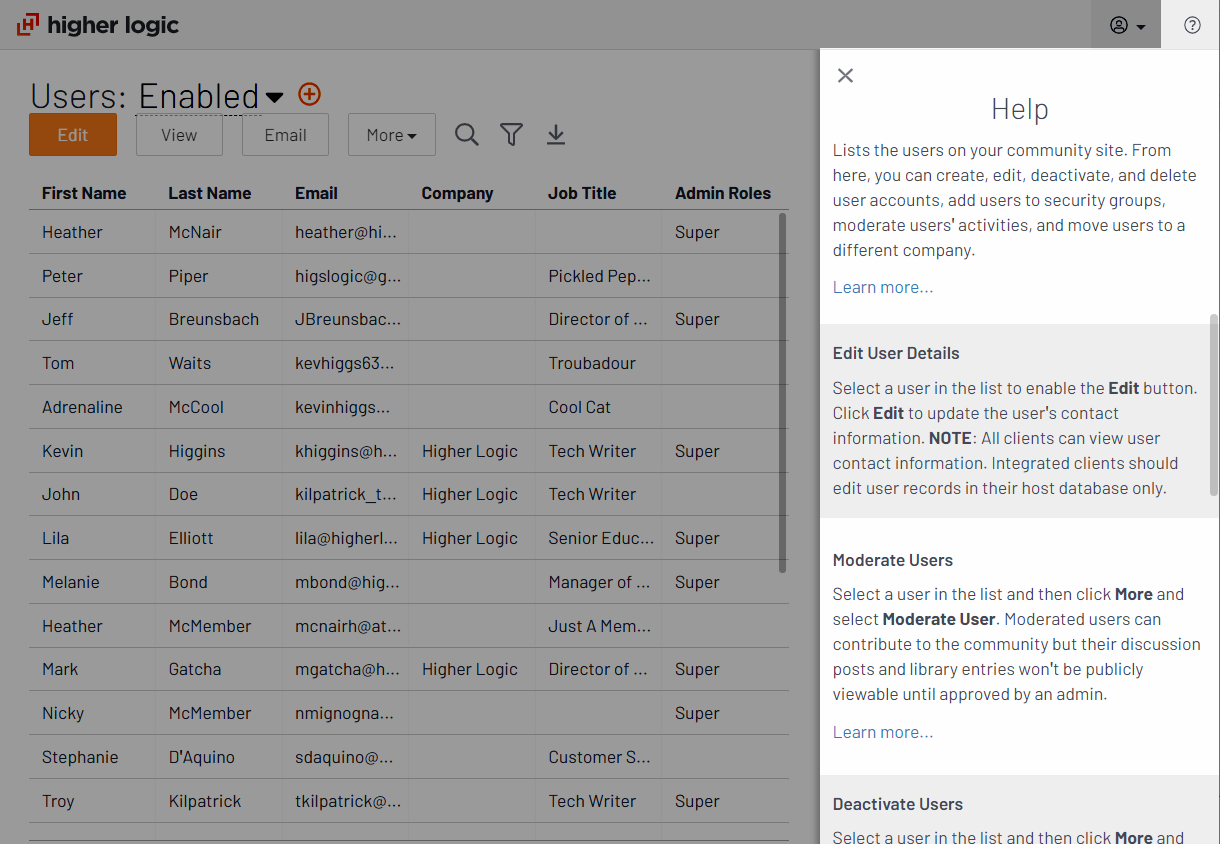 Users List
The Users List page enables admins to manage user contact information and permissions.
WARNING: If your site is integrated with a CRM/AMS, do not create or edit user records on this page. The records of your site members are managed in your CRM/AMS database, which is the authoritative records database for your account. Additions and user-record edits must be performed in your CRM/AMS database only.

Communities List
The Communities List page is a one-stop shop to view and manage each of the communities across your site. From here, you can:
View high-level details about each community, like its View and Join permissions, moderation setting, and available features (e.g., discussions, blogs, etc.).
Update a community's View/Join permissions and moderation setting (select a community to expand the Preview Panel).
Select a community followed by View to navigate to that community's Home page or Edit to jump to its Settings page where you can manage all of its details and settings.
NOTE: Accounts that have licensed nested communities and/or microsites can view their community "families" on this page.

Support options
The Navigation panel has a Support item with several options that simplify accessing some of our help and support resources. Click: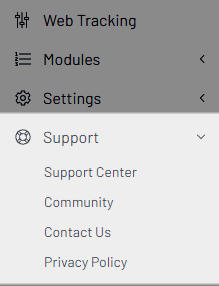 Support Center to manage your tickets and to create a case.
Community to visit our Higher Logic User Group (HUG) community.
Contact Us to open a knowledge base article with product-specific email addresses.
Privacy Policy to view Higher Logic's policies on the collection and use of personal data.
TIP: All of these links open the page in a new browser tab so that you retain your page in the admin interface.
===============================================================