If bots make it in to your Higher Logic community, you can leverage our built-in moderation tools to prevent them from posting inappropriate content.
In this article, you'll learn about a few of the moderation tools available to you, as well as how to enable them.
Moderate first-time contributors
One of the best ways to prevent bots from contributing content freely across your site is to enable the moderate first-time contributors feature. What this does is automatically send all content contributed by new accounts to moderation, where it can then be reviewed by an admin and either rejected or approved. Only after a specific number of contributions (controlled by you) are approved will the account be able to contribute freely without being moderated.
Result - All new bot accounts will fall under this first-time contributor umbrella, ensuring their content is always moderated and kept out of the community.
In the Admin Toolbar, click Admin.

Navigate to Community > Moderation > Settings.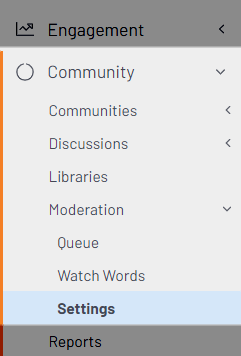 Check the Moderate first-time contributors box.
(Optional) You'll also notice a number (highlighted in the image below) that represents the number of contributions that must be approved by an admin before the account can contribute content without it going to moderation. This defaults to 1, but you can change it if you'd like.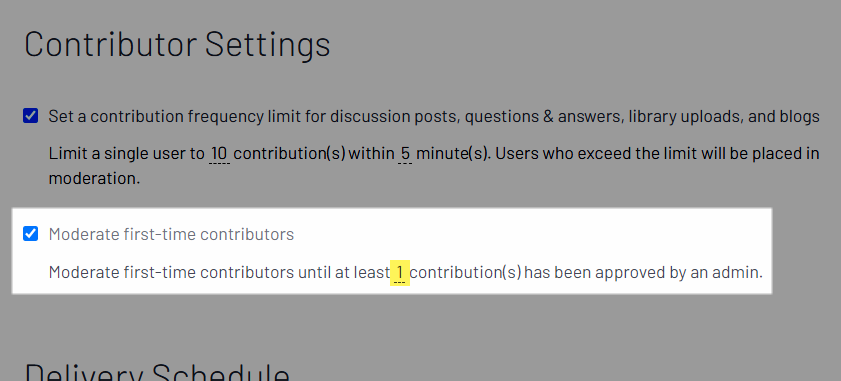 Enable community-based moderation
Another way to prevent bots from posting content is to apply a moderation setting on a community-by-community basis, allowing you to lock down all of your communities or perhaps just a select few.
You can choose two moderation methods:
Self Moderation - New content does not require admin approval and is immediately available in the community. However, all admins and community members can send content to moderation by using the Mark As Inappropriate option. The member will be prompted to give a reason for marking the content as inappropriate. At this point, the content is removed and an admin can then approve the moderation request to keep the content in moderation or reject it to add the content back to the community.
Full Moderation - ALL new content is queued in moderation and requires admin approval before being available in the community.
To apply a moderation setting to a community:
Navigate to one of your communities.
Click Settings to the right of the community name.
In the Admin-settings panel, click Settings.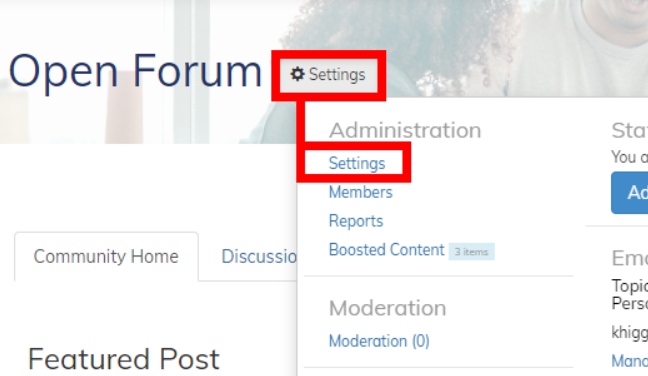 Click the Moderation Setting dropdown and select either Self Moderation or Full Moderation.
At the bottom of the page, click Save to apply your moderation setting.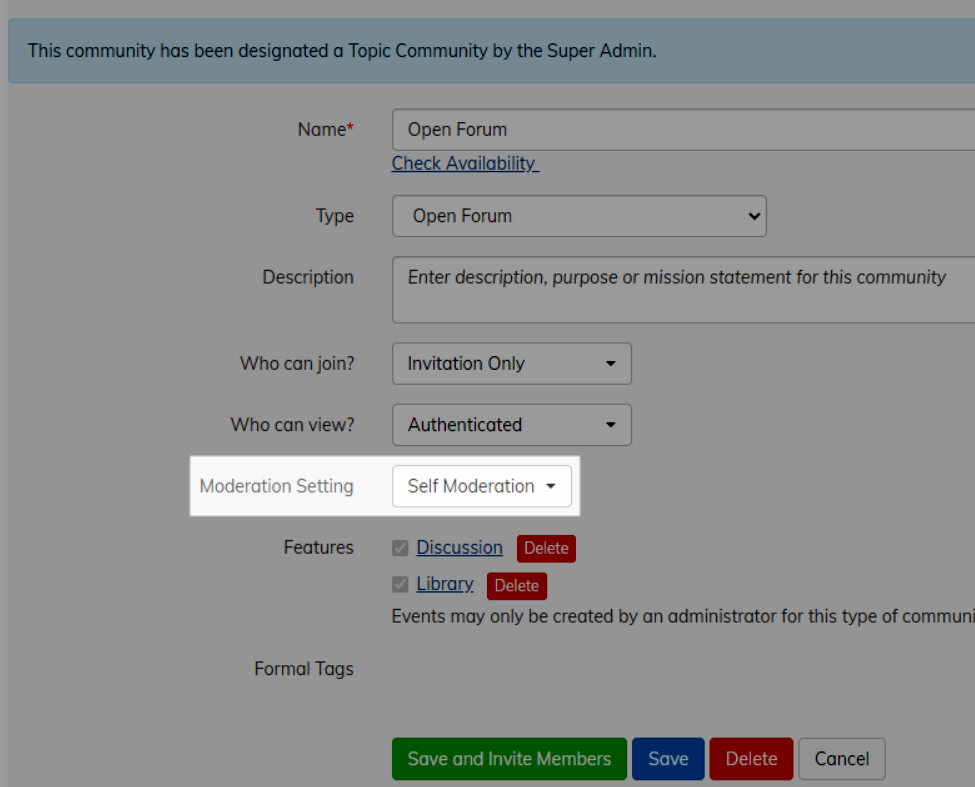 Set moderation notifications
Super Admins, Community Admins, Community Moderators, and anyone else who should be notified can receive email notifications when new user-created content hits the Moderation Queue. This helps put in place a system that ensures all new moderated content across your communities is promptly reviewed, and in the case of bots, rejected.
View your Moderation Queue
While moderation is an effective way to prohibit bots from contributing content, depending on the setting you employ, it may also affect your legitimate members. Because of this, you'll want to closely monitor your site and/or individual community Moderation Queues to ensure member content is promptly approved and made available.
Reject in bulk
If you're receiving a lot of spam content in moderation, you can reject items in bulk to clear out your queue as efficiently as possible.
In the Admin Toolbar, click Admin.

Navigate to Community > Moderation > Queue.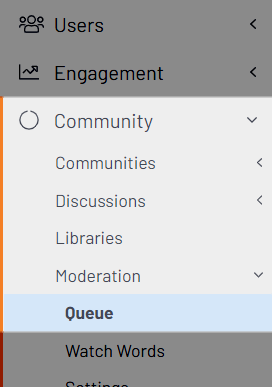 Check all the boxes associated to the content you want to reject.
Click the Reject button at the top right, above the list.
Provide a reason for the rejection in the confirmation popup, followed by Reject.

TIP: Below the list, check which columns you have enabled. If your community is heavily moderated, we recommend enabling all of them to make it easier to discern spam content.