GETTING STARTED
There are a few things you should do to set up and start using your site.
To guide you, we have compiled this series of articles to help you get started!

« Previous Topic | Next Topic »
In this article...
Much like Facebook and LinkedIn, your Higher Logic account includes a profile, where you can perform a number of actions like:
viewing your profile information,
updating your profile picture,
configuring privacy settings and email preferences,
and more.
How to access your profile
To access your profile, click your user portal at the top-right, followed by Profile.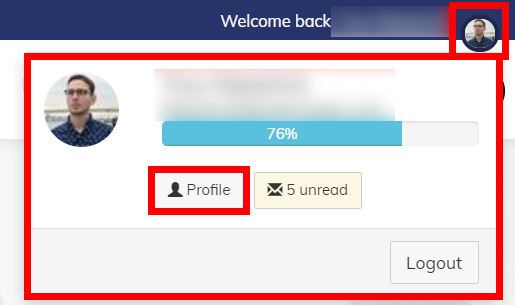 Available profile options
Your profile's available content areas and various account options are divided into the tabs/menus highlighted in the image below.
My Profile
My Connections
My Contributions
My Account
My Inbox

NOTE: An additional tab, called Admin, is available only to Super Admins. See Administrative Profile Details & Actions to learn more.
Let's take a look at each of these tabs/menus in a little more detail.
My Profile
This is your primary profile, where you can share any information about yourself you'd like to your fellow community members. Profiles are customizable, so what you see may be different, but generally you can:
Upload a profile picture
Provide your contact details, including your social networks
Write a personal bio
List your education history
Provide your job history
You may even have additional profile areas to fill out: If administrative staff have created custom demographics for your site's user profiles, they'll be located at the bottom of the page.
NOTE: See Profile Types Overview to learn more.
My Connections
To make it easy to view and message your contacts (people you've chosen to connect with), these personal connections are accessible from the My Connections menu. Included are four pages: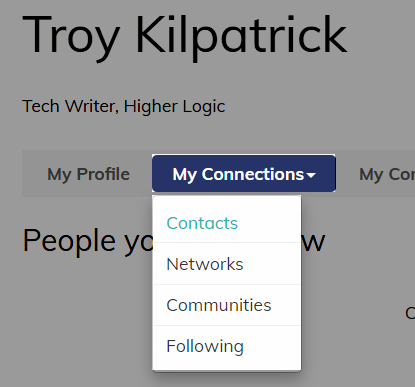 Contacts - Here, you can see each user you've connected with, either by sending invitations they've accepted or by accepting theirs.
Networks - Users who share a characteristic in common, such as living in the same state or sharing a previous or current employer are automatically grouped in a common list called a network. On your Networks page, you can view the networks you belong to, along with the total number of users in each. Clicking a network's Members button allows you to view everyone belong to it, allowing you to easily connect with others you already share a commonality with.
Communities - This page lists each community you belong to, making it easy to quickly access them.
Following - This page lists all of the content you've followed across your community, providing a one-stop shop for you to quickly jump to the content you're interested in.
NOTE: See View Your Connections to learn more.
My Contributions
The pages in this menu make it easy for you to view and access every piece of content you've contributed.

Summary - This page provides a breakdown of your earned achievements and points, along with a graph providing a breakdown of all the content you've contributed, color-coded by type. You can click the graph and its index to see the associated content.
Achievements - This page lists your earned Badges and Ribbons to you and others who visit your profile. In essence, it's a "trophy case" for those who engage in gamification, and helps to promote additional incentive to continue contributing by also showing Badges and Ribbons you've not yet earned.
List of Contributions - This page shows all of your contributed content in a single, scrollable list.
NOTE: See View Your Contributions to learn more.
My Account
From the My Account section of your profile, you can manage a number of important settings and preferences.

Privacy Settings - While site staff set the default privacy settings for your profile information, you can update them at any time, giving you complete freedom over what personal information you want visible to other users viewing your profile.
Email Preferences - This is where you set the email address where you'd like to receive email communications from across your site. In addition, you can control what email messages you want to receive at this address by toggling the various email categories to YES or NO.
NOTE: You will always receive these messages in your account profile inbox, regardless of these settings: Opting-out only controls whether a category's associated messages are sent to your listed email address.
Community Notifications - On this page, you can manage your community subscriptions, establish notification overrides, and create Consolidated Digests.
Discussion Signature - Here, you can use the available variables to create your default Discussion signature that will be added to the bottom of each of your Discussion posts.
NOTE: See Manage Your Account Preferences to learn more.
My Inbox
Your private inbox stores all of the messages you've received from other members, as well as the notifications you've received from various system-generated prompts, like when an admin impersonates you, another user has commented on one of your uploaded files or blog articles, someone has replied to one of your Discussion posts, etc.

Inbox overview
Let's take a look at four important features of your inbox (refer to the image below):
Your inbox is divided into these four categories, helping to segment your messages and make finding specific types easier (the Inbox tab shows all messages, including contact requests and community invitations).
The search bar enables you to quickly locate specific types of messages or all messages from a specific person, or of a specific title. It's especially useful if you have a large number of messages in your inbox.
Here, you can mark messages as read or unread and delete selected messages (if you want to delete all messages at once, check the ALL box to select them all).
Click Compose to create a message to send to the private inbox of another user. Note that you can only send a private message to a single user at a time.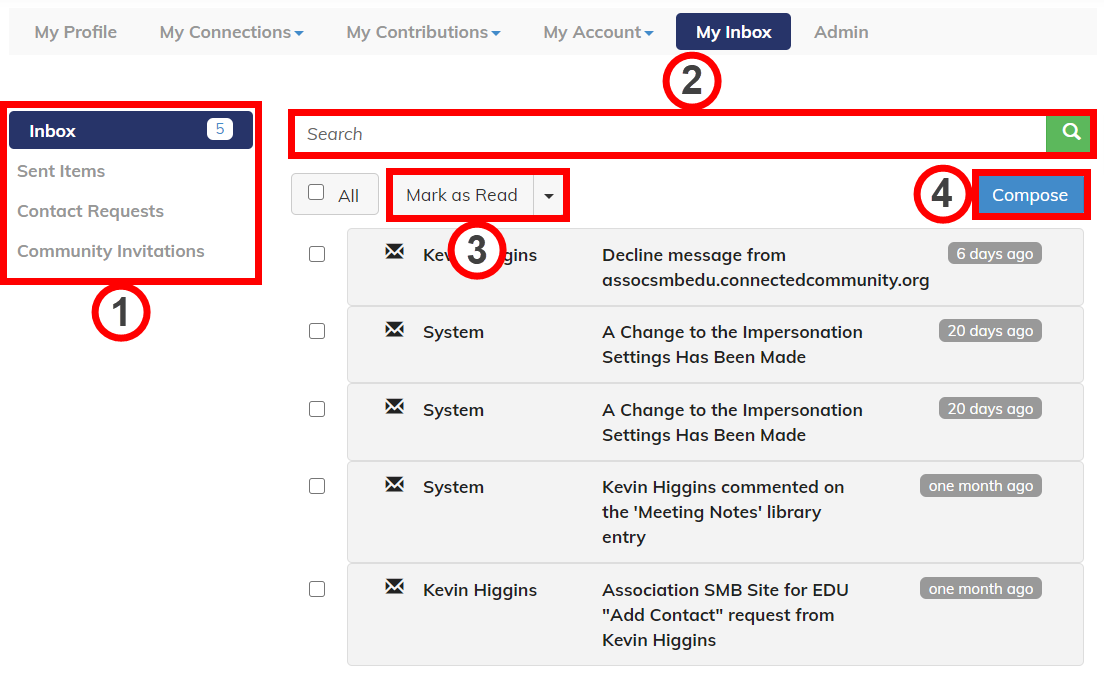 NOTE: See Access Your Inbox to learn more.
===============================================================