NOTE: This article is meant for Community and Super Admins, and focuses on how to create and manage Request to Join communities.

If you're an end user wanting to learn how to join this type of community, see How to Join a Request to Join Community.
Your Higher Logic site likely comprises numerous individual communities, each intended for a specific audience, product offering, topic, etc. An important aspect of each community is how membership is obtained, which is controlled by its join permission.
To learn more about each join permission, see Understand Community Permissions.
While some communities are more open, only requiring users to be logged in to join, others may feature additional "barriers to entry" to limit who can join, making them more private.
NOTE: All communities, regardless of join permission, require users to have created an account and be logged in to join.
One such private community type is the Request to Join community, where membership is obtained as follows:
To join this type of community, users must manually submit a request
A Community Admin or Super Admin can then either approve or reject these requests
Requests are managed per community, and placed in a queue for easy management
NOTE: Request to Join communities are intended for Higher Logic-managed communities, not AMS/CRM-managed communities.

For an overview explaining the difference between the two, see Understand How Communities Are Managed.
How to create a Request to Join community
A Request to Join community can be created from "scratch," or you can update any of your existing communities to this type at any time.
For a complete overview of creating and managing communities, see Create and Manage Your Communities.
This type of community is achieved simply by setting its join permission to Request to Join.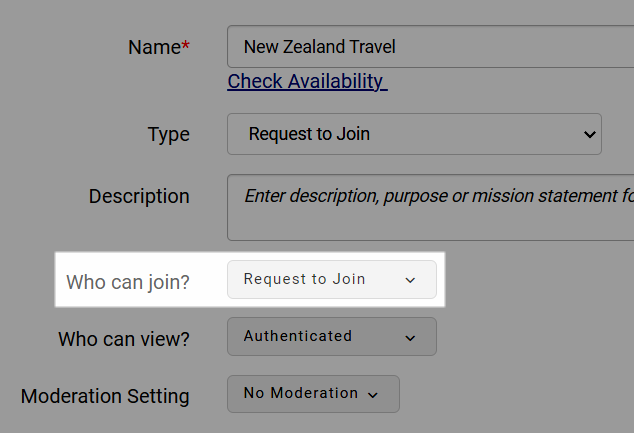 WARNING: When updating an existing community's join permission to Request to Join, any pending invitations will be permanently lost.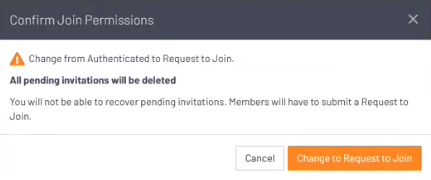 Similarly, if switching a Request to Join community to a different join permission, any pending requests will be permanently lost. In this scenario, you should let the impacted users know the process has changed, and how they can join the community.



All Request to Join communities are indicated as such on the "all communities" page, as shown below.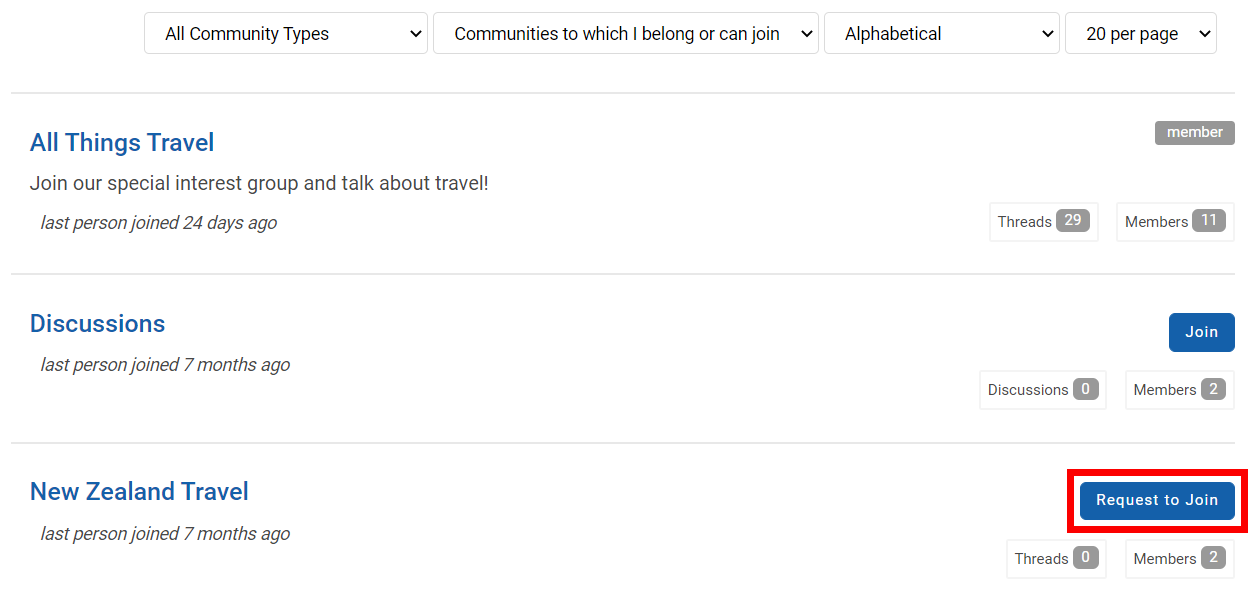 Community Type
If you plan to have many Request to Join communities, you may find it helpful to have a Community Type dedicated to this join permission. While not required, it is recommended from an organizational perspective to group specific types of communities by Community Types.
To learn more about Community Types, see Community Types.
How to manage requests
Let's take a look at how to manage the join requests you'll be receiving with this type of community. Similarly to how moderated content works, join requests are placed in a queue that Community Admins and Super Admins can manage to either approve or reject them.
As you can imagine, keeping a close eye on this queue is critical to ensuring users are granted membership on a timely basis, which in turn ensures community engagement can grow and thrive.
As shown below, a community's Settings menu displays a number indicator letting you know when new requests are in the queue. To access this queue:
Click Settings > Members.
On the resulting page, navigate to the Requests tab. You'll see a list of all pending requests, including each requestee's name, email address, message stating why they should be allowed to join, and submission date.
Click Approve or Reject to grant or deny a user access.

Notes about approving and rejecting requests
Upon approving or rejecting a request, the user will receive an email notification in both their profile inbox and their personal email letting them know they've been approved or rejected.
When rejecting a request, you must include a message explaining why. You can keep this message internal only OR check the box shown below to include it in the rejection notification the user will receive.


The Rejected queue
Each request that is rejected is stored in the Rejected queue for historical purposes, giving all Community Admins and Super Admins the ability to see details about all rejected requests, including the user, the request date, the admin who rejected the request, and their reason.

Request to Join email templates
As mentioned earlier, email notifications are sent to a user's profile inbox and the personal email address they've set to receive community emails. Users receive these notifications when:
they submit a request to join,
and when their request is approved or rejected.
Each of these events has an associated email template you can update, if the default message is not to your liking or you simply want a more organizationally branded or customized look or tone.
To update these email templates:
In the Admin Toolbar, click Admin.

Navigate to Email > Email Management > Email Templates.
Click the Category dropdown and select Community Messages.
The three Request to Join email templates are Request to Join Approved, Request to Join Pending, and Request to Join Rejected. Click the Edit buttons to the right to update these templates.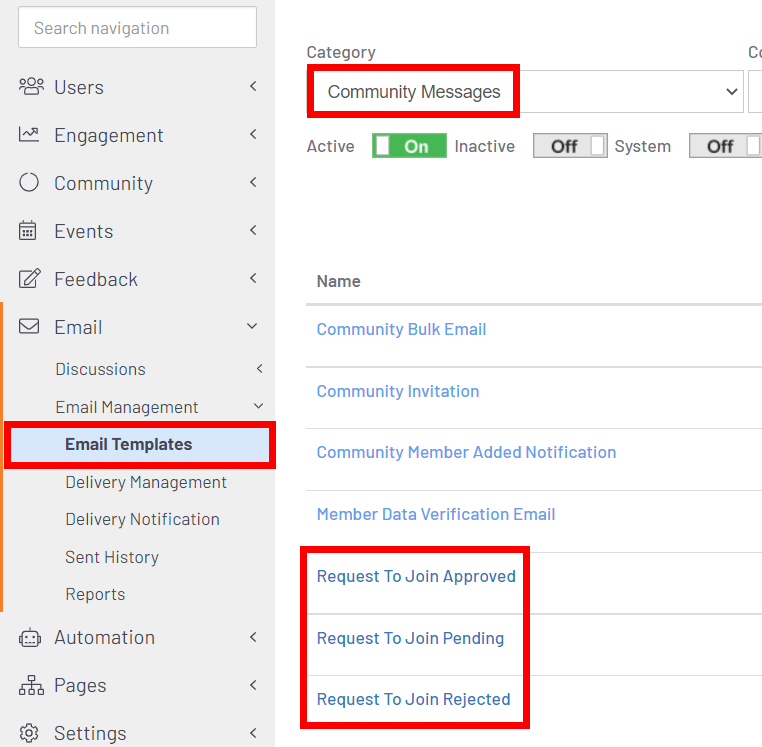 What about community invitations?
When a community's join permissions is set to Request to Join, Community Admins and Super Admins can no longer invite users to join. This is intentional, as the purpose of this type of community is for users to manually go through the process of requesting to join.
As you can see below, the Add or Invite Others button is not available in the Settings menu for the Request to Join community.

NOTE: While the ability to invite is unavailable, Community Admins and Super Admins can still add users to Request to Join communities, both manually and via Automation Rules.

To do so manually, click Settings > Members. On the Members tab, click Add Member and complete the process.