Landing Pages are a great way to use Higher Logic Thrive Marketing Professional (Thrive Marketing Professional) to update your subscribers' email preferences in your integration database. This is called Integrated Preference Management (IPM) and it simplifies preference management and email targeting. You can use landing pages to solicit information from subscribers about which types of emails they do and do not want to receive, and then Thrive Marketing Professional will automatically update your integration database with those preferences.
This works by including "interests" from the integration database on an Thrive Marketing Professional landing page, where they are known as "remote interests." Subscribers' responses (their "preferences" for the interests) are recorded in Thrive Marketing Professional and reported to the integration database.
Supported integrations
The following Thrive Marketing Professional integrations support IPM:
NOTE: IPM for these integrations will work only if a landing page hyperlink is used because the link ensures the connection between Thrive Marketing Professional and the subscriber data in the host AMS database.
Before you begin...
Always make sure you know which interests you want to include on your landing page ahead of time. This is especially pertinent for remote interests because they are visible only to integration-based subscribers; non-integration subscribers who view your landing page cannot see these remote interests. Therefore, if you only include remote interests, your landing page will appear blank to non-integration subscribers.
To view your available interests, navigate to Subscribers > Profile Fields and select the folder that corresponds to your integration.

Add Remote Interests to a Landing Page
Let's take a look at how to add remote interests to your landing pages.
Navigate to Landing Pages and do one of the following:
Click Create to select a new landing page form.
Hover over the Menu icon and select Edit to modify an existing landing page.
On the Design tab, open the Items menu and click Interests.
The interests combination list opens where you can select interests to add to your landing page. Click an interest to add it to the group. This can be a combination of Thrive Marketing Professional interests and remote interests.
Click Add to Page to add your interest group to the landing page.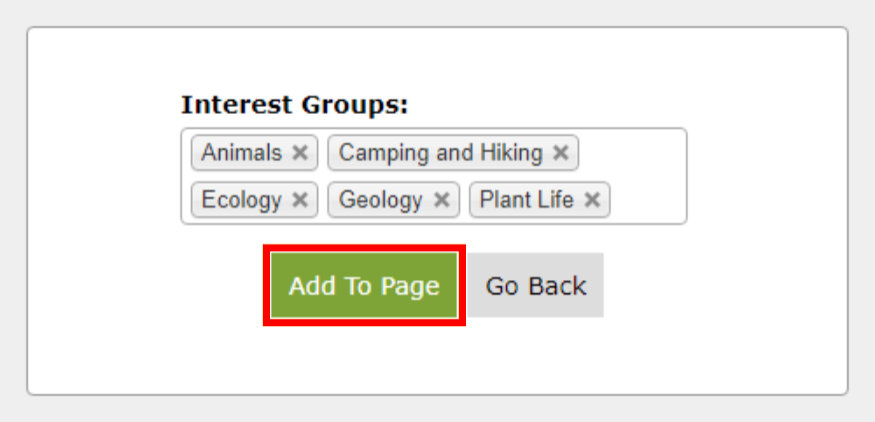 Your selected interests now appear on the landing page, as shown below.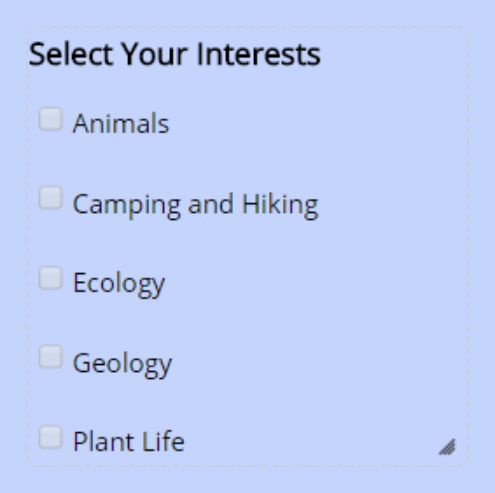 NOTE: Remote Interests (i.e., interests from your integration) will be visible only to that integration's subscribers.
Enable Auto-Fill
You can enable auto-fill so that a subscriber's information automatically populates the landing page.
Auto-fill works only when the landing page is linked in a message because it uses each subscriber's email address as its association with the AMS. This querying of the subscriber email address cannot occur if the landing page is posted to your website.
WARNING: Do not enable this option if there's a risk that the message with the landing page link will be forwarded by subscribers because each "Submit" click will overwrite the previous.
Click the Process tab of the landing page that you are designing.
Check the Enable Auto-fill check box under Auto-fill.

Click Save at the top of the page.
Preview your Landing Page
After you've saved your landing page, click the Activate tab to view your test options. You can test both the desktop and mobile versions of the landing page.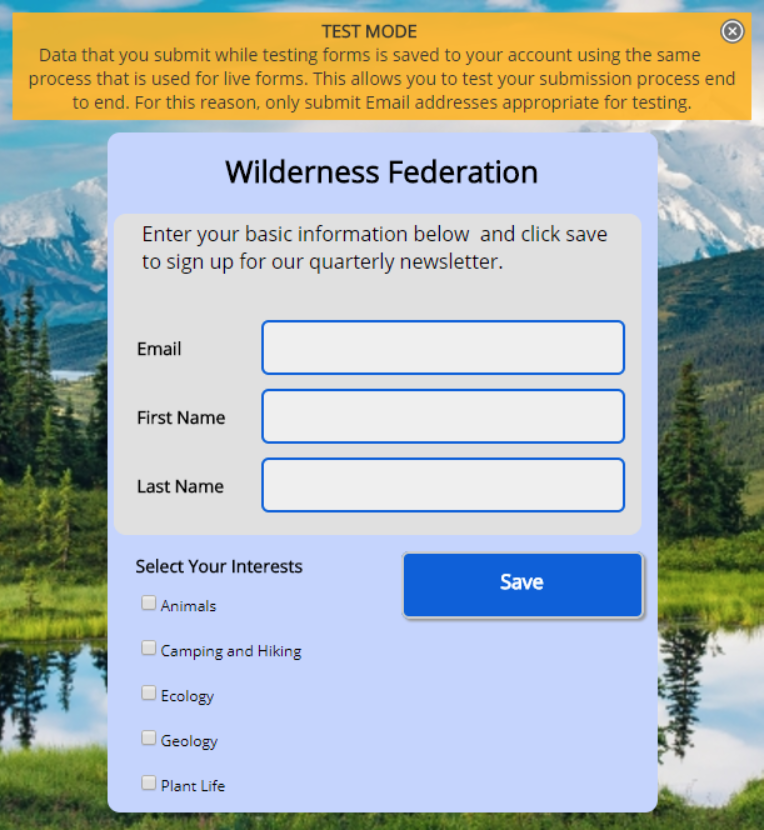 NOTE: Any information you enter and save is also saved in Thrive Marketing Professional (mimicking the "live" landing page). Only submit email addresses and profile data that are appropriate for testing.
Learn how to Test a Landing Page.
Integrated Vs. Non-Integrated Interests
Integration and non-integration interests can coexist on a landing page, but integration interests display for integration subscribers only. This means that if non-integration subscribers view a landing page that has only integration interests, they'll have no options to select.
How is my integration database updated?
With the information collected on a landing page:
iMIS - you'll receive data from the landing page immediately after subscribers submit their forms. It is then available in the iMIS UI or via a SQL view.
MemberSuite, netFORUM Enterprise 2014 and Later, Personify360 - you'll see data via a writeback from Thrive Marketing Professional. This writeback indicates whether subscribers have opted in or out of interests and it updates this information in your integration.
To view the status of writeback information for your integration:
Navigate to Admin > Setup > Bridge Configuration.
Click Writeback List.
In the Writeback Message Queue, if the status is Sent, the integration information has been updated.