Profile Fields are where you store attributes about your subscribers. These include free-form fields, called personal information, and picklists, called demographic categories. You can also create flags to indicate if a subscriber is a member of an interest group or an opt-out group.
Access Profile Fields
To view your account's Profile Fields, navigate to Subscribers > Profile Fields.
Field types
Profile Fields page
All of your Profile Fields are organized by type. To filter which field types are listed, select a type from the menu on the right.
Icon size
You can also change the size of the field icons using the two buttons highlighted below.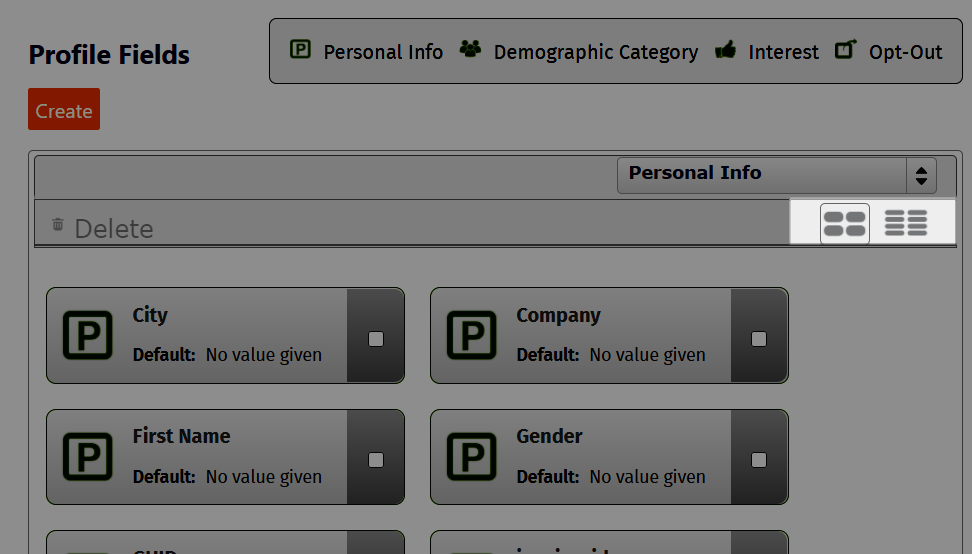 NOTE: The larger view will show you the default value for Personal Info and Demographics.
Multiple Pages
Each page shows a maximum of 500 fields. If you have more than 500, you'll be able to view these additional pages using the page numbers at the bottom of the page.
Interests on Landing Pages
If an Interest field has been added to a landing page and then gets unchecked here, that Interest will be automatically removed from all subsequent uses of that landing page. Recheck the interest to re-add it to the landing page.