Higher Logic Thrive Marketing Professional (Thrive Marketing Professional) wants to know:
How successful are your messages?
How do your messages perform when compared to similar organizations?
If you're not sure, you should check out our benchmarking feature.
Benchmarking is comparing your message activity results to those of similar organizations (in your industry) to see if your messages are performing according to your industry's standards. Benchmarking is also a great way to identify areas where you need to improve. While it's a good idea to compare your reporting results to your previous messages, benchmarking allows you to make sure that you are not falling behind your industry peers.
Let's look at how to identify your benchmark.
Set your classification
Before you see your industry benchmarks, you have to select your industry classification. This tells Thrive Marketing Professional which industry you belong to so that the appropriate benchmarking can be applied to your account.
To choose a classification:
Access the Admin interface.
Navigate to Settings > System Settings.
Click the Classification dropdown and make the most appropriate selection for your account.

Scroll down and click Update or complete the other sections on this page as described in System Settings.
View your benchmarking results
Navigate to Messages > Reports > Message Summary Reports.
Click the View Reports tab.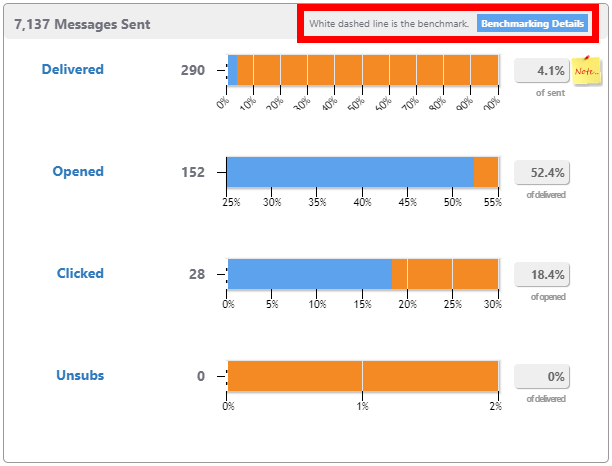 The bar graphs represent the performance of your Messages: Delivered, Opened, Clicked, and Unsubscribed.
The white dotted line on each graph represents your benchmarking. This is the average performance rate for these metrics for your industry.
Click Benchmarking Details above the graphs to open an overlay dialog that displays Thrive Marketing Professional benchmarks for your classification.
Related articles
Learn all about the Message Summary Reports.
Check out the Mailing Activity Report for metrics specific to each mailing.