Every time you send a transactional message, its metrics are recorded in a corresponding report: the Mailing Activity Report (MAR). Each MAR is specific to one mailing.
You can review the various metrics of the MAR to see key statistics, and you can share it with colleagues for review and discussion.
Access a Mailing Activity Report
Hover over the mailing's menu icon and select Reports > View Activity.
A report for the selected mailing is generated, with data organized in the following tabs:

Snapshot - A high-level view of all major benchmarks and statistics.
Key Metrics - Key statistics of the mailing. See Key Metrics Tab.
Details - Granular details about many different reporting options, ranging from deliveries to open rate to web tracking. See Details Tab.
Published Mailing - A view of the published mailing along with a "heat map" showing the mailing locations (e.g., links) that had the most user interactions. See Published Mailing Tab.
Options - Shows the meta-data (e.g., subject, dates, addresses) associated with the mailing.
NOTE: You should wait at least 24 hours before reviewing a MAR so that contacts have had a chance to interact with the transactional message.
Share report details
There are several ways to share report details with others in your organization:
Give login access
Share specific details
Export details
Give login access
With this method, an email will be sent with login instructions that will allow the recipient to access this one report for the next 90 days. They will be able to see details down to the contact level, but will not be able to make any modifications.
Click the Share button at the top right of the page.
In the dialog, enter one or more email addresses associated to the individuals you want to have login access to the report (one per line).
Provide an optional message to the recipients (e.g., explaining a little about the report).
If you want recipients to be able to access the Details tab of the report, check the associated box. This tab includes personal information about the people who have received the message, so be sure you're comfortable having this information available to the people with whom you're sharing the report.
Click Share.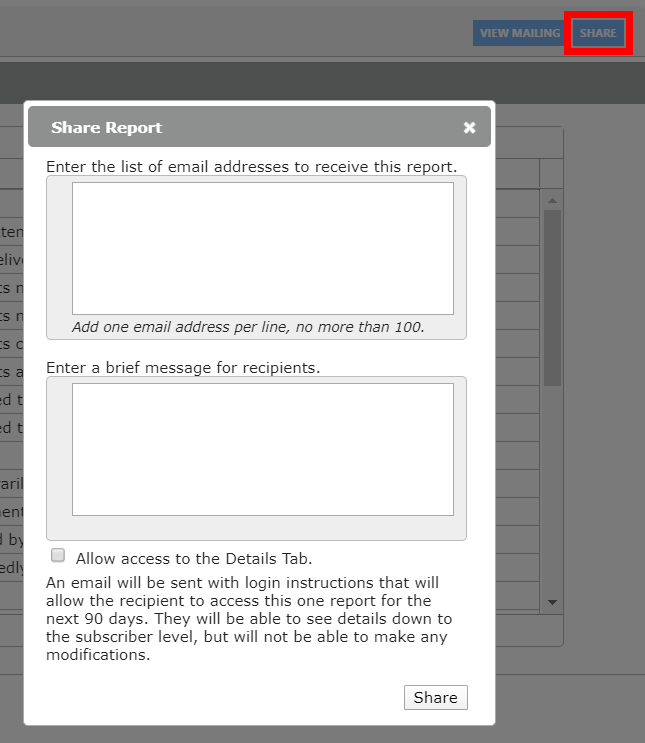 Share specific details
The pie graphs on the Snapshot tab include a button (shown below) you can click to share its details in a few ways:

By printing,
downloading the chart as an image file (.png or .jpg),
downloading the chart as a PDF,
and even downloading the chart as an SVG vector image.
Export the full report details to Excel
Table-based reports include an export option enabling you to save their data to an Excel spreadsheet, which can then easily be shared.