Every time you send a mailing, its metrics are recorded in a corresponding report: the Mailing Activity Report (MAR). Each MAR is specific to one mailing.
You can review the various metrics of the MAR to see key statistics, and you can share it with colleagues for review and discussion.
TIP: Also check out the Mailing Summary Report for a birds-eye view of all of your mailings.
Watch the video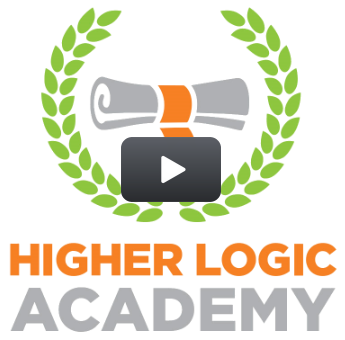 Access the Mailing Activity Report
New Admin Experience
Navigate to Messages > List.
Click the down arrow next to the page title at the top of the page and select Sent.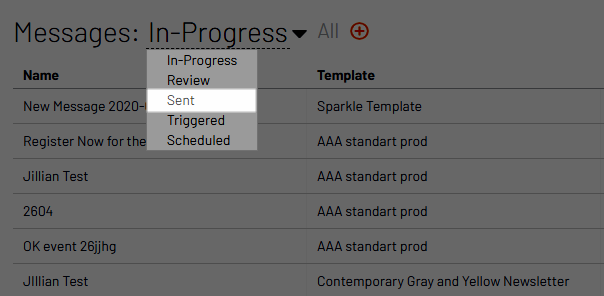 Click a message to select it, and then click Track.
Classic admin interface
You can access the Mailing Activity Report for each mailing in either of two ways:
On the Home page, in the Recently Sent Mailings area, click the name of a mailing
Navigate to Mailings > View page
Then...
Click the Sent tab and hover over the Menu icon immediately to the left of a mailing.
Select Report from the resulting list.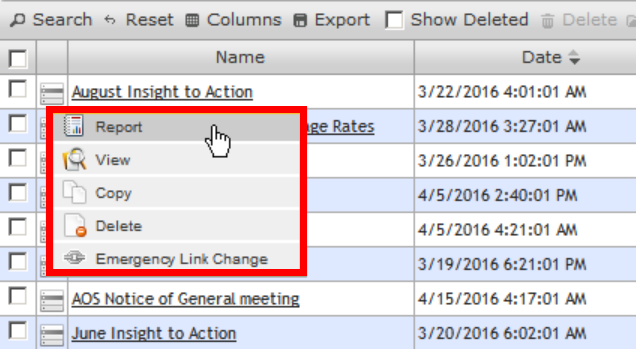 The Mailing Activity Report tabs
The following tabs are available in each report.

Snapshot - A high-level view of all major benchmarks and statistics.
Key Metrics - Key statistics of the mailing. See Key Metrics Tab.
Details - Granular details about many different reporting options, ranging from deliveries to open rate to web tracking. See Details Tab.
Published Mailing - A view of the published mailing along with a "heat map" showing the mailing locations (e.g., links) that had the most user interactions. See Published Mailing Tab.
Options - Shows the meta-data (e.g., subject, dates, addresses) associated with the mailing.
If you're new to mailings, you may be eager to see and review mailing metrics, but wait at least 24 hours before reviewing a MAR so that subscribers have had a chance to interact with the mailing.
Common features
The following features are common to all reports in the MAR.
Use the Search button to refine a list of results.
Click Reset to clear any filters you have applied and any criteria to restore the complete list.
Use the Columns button allows you to add and remove columns. All columns in the list view are sorted by column headers. These are customizable.
Click Export to export the top 5,000 rows of the report to Microsoft Excel.
NOTE: If the report exceeds 5,000 rows, the system displays a popup message with an Email the file button. Click the button to receive an email with the password-protected file. In the next popup, note the password.