This article details a current Known Issue. When the issue is resolved, the article will be archived.
TIP: See Known Issue Descriptions & Targets for Resolution for information about how Higher Logic classifies issues and the associated target-resolution times.
Description
The Users > Companies list does not load for some accounts with an extensive list of companies.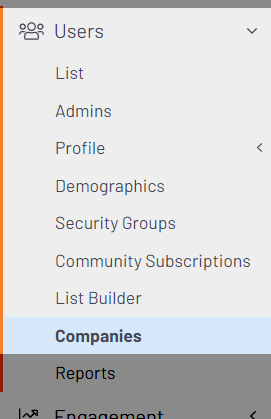 Workaround
The following steps are a proven workaround for this issue.
NOTE: This workaround is only applicable to customers who are integrated with an AMS/CRM.
Create a case and request that Higher Logic export your company list data.
Groom the exported data and update it in your AMS/CRM.
This updated company data is then synced from your AMS/CRM to your Higher Logic site.
Depending on how much data grooming you performed, this may even resolve the Companies list page load issue.
Resolution
Severity: Minor
Resolution: No immediate target timeline.
Reference ID: 4228