This article details a current Known Issue. When the issue is resolved, the article will be archived.
TIP: See Known Issue Descriptions & Targets for Resolution for information about how Higher Logic classifies issues and the associated target-resolution times.
Description
Users encounter an issue when they add code to embed a Marketo survey in a community page: the survey won't display unless an extra <form> tag gets added to the host page's source code.
On Higher Logic Thrive Community (Thrive Community) pages, the entire content area is enclosed within a <form> tag. When the Marketo survey code is added, it introduces an additional <form> tag which the browser interprets as an end tag (</form>) and, accordingly, ends the first <form>.
Expected Behavior - The Marketo survey code should be able to be added to the host page's source code without having to add any additional <form> tags.
NOTE: This issue also occurs when users try to add a link to their PayPal site.
NOTE: The Thrive Community Product team is committed to ensuring the best possible customer experience. The team has carefully reviewed this issue and has decided that a fix will not be worked on because a proven workaround is available.
Workaround
The following steps are a proven workaround for this issue.
Edit the page on which you want the survey to display and add an HTML widget to the page. (See Build Page Layout and Content.)
Click HTML to open the Source code dialog and add the following code.
IMPORTANT: Be sure to replace the two instances of <survey_host_page_URL> in the example with the name of your community.
<script src="https://<survey_host_page_URL>/js/forms2/js/forms2.min.js"></script>
<form></form><form id="mktoForm_3408"></form>
<script>MktoForms2.loadForm("//<survey_host_page_URL>", "544-MLV-234", 3408);</script>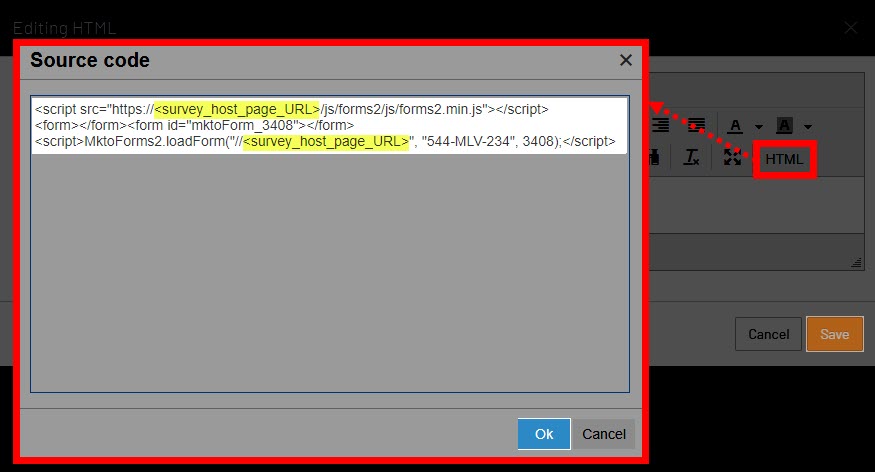 Click Ok and click Save.
Click Publish to make the page "live."
The survey will be embedded on the page.
Resolution
Severity: Minor
Resolution: Not prioritized for resolution due to a viable workaround.
Reference ID: 247335