In this article, you'll learn about the Items that you can add to your Landing Pages.
There are nine items that you can add to a Landing Page. These are detailed in this article with the following exceptions.
Accent Box
This item is strictly for design purposes, and can be used to visually separate different sections of your Landing Page or other Items that you wish to highlight. Accent boxes are a great way to create contrast on your page. Think of these them like visual highlighters. They can be used to call out important sections or to group similar content and common fields.
To add one, click Accent Box in the Items menu. A new Accent Box appears on your Landing Page.
Accent Boxes appear at the top of the Landing Page, and are placed behind other page Items. In fact, they are the only Items that are able to overlap others. They can be moved, re-sized, and deleted.
Additionally, click the Blue Gear icon to access the Accent Box Properties pop-up. Here, you can modify the following properties:
Border Radius
Border (size, color, and line type)
Color
Mobile Version (whether it displays in the Mobile version)
Clicking a color in the Accent Box Properties pop-up opens a color selector where you can either select from the palette or enter a six-character HEX code.
Captcha
Web robots (aka "bots") are an all-to-frequent threat in the Information Age. Captchas provide an extra bit of security to your forms by requiring human interaction. They provide additional security, helping protect you from fraudulent requests and falsified email addresses that could ultimately affect your deliverability and mailing reputation.
To add one, click Captcha in the Items menu. A new Captcha appears on your Landing Page.
You'll have two options when styling Captchas:
Style (Normal or Compact) – note that this changes the height and width of the display
Theme (Light or Dark)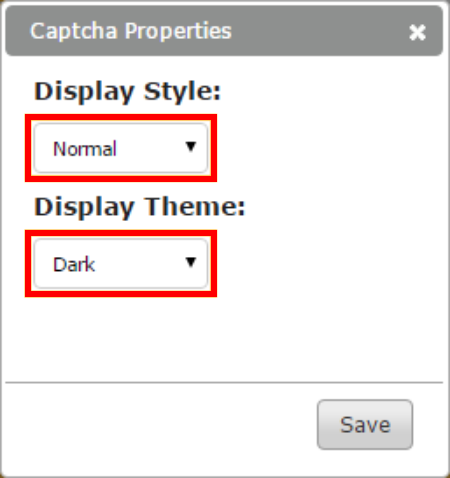 Any users who subscribe to your Landing Page form will now need to click the I'm Not a Robot verification checkbox before they submit.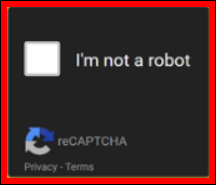 NOTE: You cannot add a Captcha to a form with an unsubscribe checkbox (likewise, you cannot add an unsubscribe checkbox to a form with a Captcha). This helps you keep the form's unsubscribe options in compliance with subscription best-practices.
Images
Images add a sense of visual flair to your landing page. Like other parts of the Landing Page Designer, they're drag-and-drop items that can be freely moved and re-sized.
NOTE: Make sure any images you add are properly sized for both web and mobile content. An image that is too large may become difficult to re-size efficiently.
To add one, click Images in the Items menu. The Asset Manager opens.
Select an existing image or upload a new one.
After adding your image, you can:
Move it with the Green Directional Arrows;
Freely re-size it by hovering your cursor over the image border until it changes to a double-headed arrow and then clicking-and-dragging;
Delete it by clicking the Red X icon;
And click the Blue Gear icon to add a link to the image.
When adding a link, enter the desired URL in the Link field. You can also use the Show on Mobile Version option (checked by default) to control whether the image is available on the mobile version of the Landing Page. When finished, click Save.
Set an Image as a Banner
If desired, you can set images to function as banners on your Landing Pages (i.e., they extend to the horizontal edges of the layout area). Designating an image as a banner doesn't impact the layout area's size. However, if the layout area is re-sized, the banner image is re-sized proportionally (the image maintains its aspect ratio and re-sizes to the width of the layout area). Keep in mind the image height may also re-size, and this could push other items further down the page.
To do so:
Hover over an image and click the Blue Gear icon to open the Image Properties pop-up.
Check the Is A Banner checkbox and click Save (the checkbox is unchecked by default).
The image now automatically re-sizes and extends to the horizontal edges of the layout area.
Text
As their name suggests, Text Boxes are Landing Page Items that contain text. As with text boxes you're likely familiar with in other programs, you can edit the text inline and set different font characteristics or create links. Because there are several different options available for text boxes, let's read on to see what you can do.
To add one, click Text in the Items menu. A new text box appears at the bottom of your Landing Page.
You can modify the text, place it anywhere on the Landing Page, and re-size the text box itself. The text remains within the dotted border.
Formatting your Text
When you highlight text in a text box, you'll see several inline style options. These are (in order):
Make text bold
Make text italic
Underline text
Add a hyperlink
Set text as an H1 heading
Set text as an H2 heading
Set lines of text as bullets
NOTE: As you design your form, the bold styling from the Style menu always takes precedence over any inline styles. This means you can't un-bold via the inline style options. Additionally, note that setting the H1 and H2 styles applies the styles established in the Style menu.
Aligning your Text
There is a Text Alignment menu to the Text Properties pop-up (accessed with the blue Gear icon on any text item) containing the following options:
Left (default)
Center
Right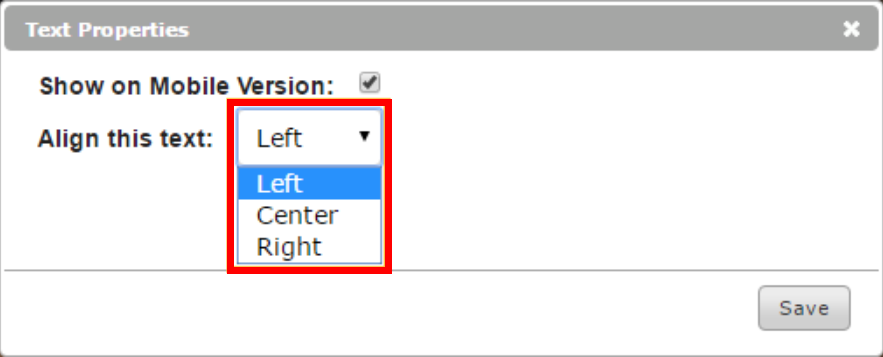 Unsubscribe Checkbox
You can add a checkbox to allow Landing Page viewers to unsubscribe from all mailings. In fact, it's important (and the law) to include an unsubscribe option for your subscribers. By adding an unsubscribe checkbox, you give your subscribers the ability to easily to opt out of your mailings.
To do so:
From a subscription Landing Page, click Unsubscribe Checkbox in the Items menu. An unsubscribe checkbox appears on your Landing Page.
An unsubscribe checkbox appears on your Landing Page. When checked, all other form fields are disabled. Note that the Email field always defaults to the original email address when unsubscribing. When a subscriber clicks Submit and the unsubscribe checkbox is checked, they'll receive a message indicating they've been unsubscribed. Unsubscribing does not remove a subscriber's profile information from Higher Logic Informz.
NOTE: The unsubscribe checkbox will automatically be hidden from Unknown subscribers (no email address) who visit the Landing Page.
Unsubscribe Reasons
Though we never want to see our subscribers leave, an unsubscribe form allows for a graceful exit. A key item to add to an unsubscribe form is an Unsubscribe Reason. By creating a set of options and/or text fields on your form, you can get a better understanding of why your subscribers are leaving.
Once you've entered your unsubscribe items, you can stylize the rest of your form. Don't forget to test the Web and Mobile versions for consistency, look, and feel.
There are two types of unsubscribe Items you can add to your Landing Pages:
Unsubscribe Options
These are radio buttons you can add to give subscribers a variety of reasons to indicate why they're unsubscribing.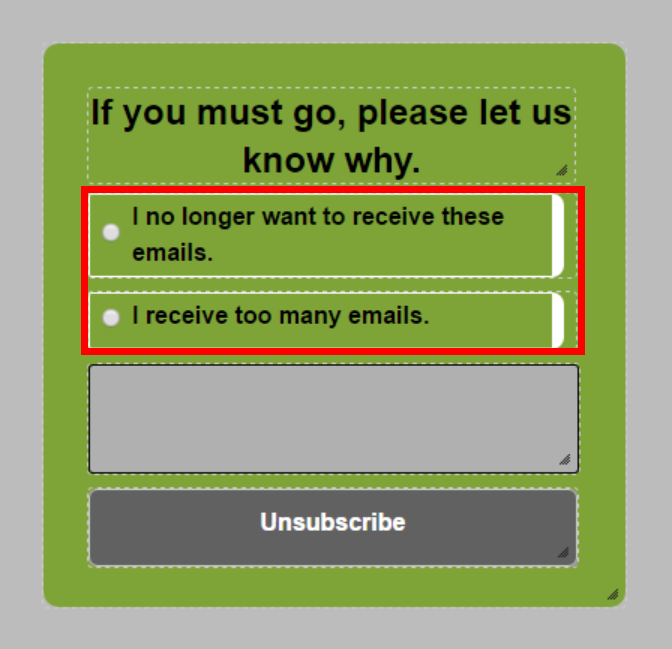 To add one, click Unsubscribe Option in the Items menu. Repeat this step to create additional options. You can freely edit the size and text of these Items to suit your needs.
Unsubscribe Text Area
These give your subscribers an opportunity to explain their reason(s) for unsubscribing.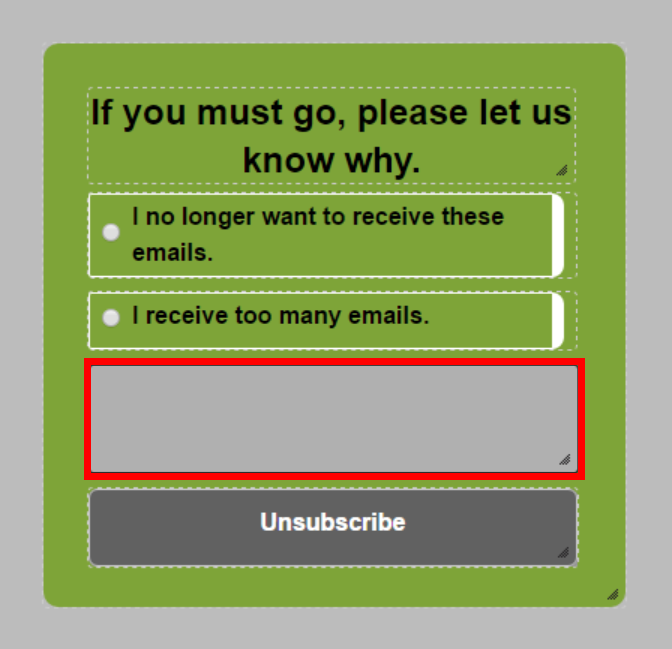 To add one, click Unsubscribe Text Area in the Items menu.
Video
One fantastic feature of Landing Pages is the ability to embed YouTube videos. You have the freedom to choose between including video controls or autoplay. Only one video can autoplay - you cannot set multiple videos to autoplay (see below).
NOTE: Informz will not directly host videos, but will let you play them on your Landing Page (all embedded videos must come from a non-Informz source).

Additionally, you cannot view videos in the Landing Page designer; you will only see a placeholder. You can, however, view videos in test mode or in the live forms.
Add a Video
From a subscription Landing Page, click Video in the Items menu.
Enter your video's URL in the provided field, and then click Add.The video is now added to your Landing Page, displayed as a placeholder image in the designer.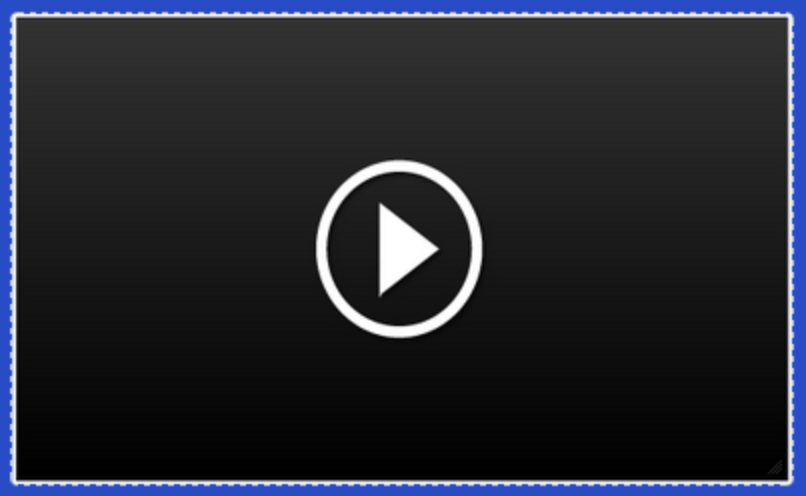 In the designer, click the Blue Gear icon attached to the video placeholder to modify it using the following properties:
Video URL
Autoplay (Yes/No)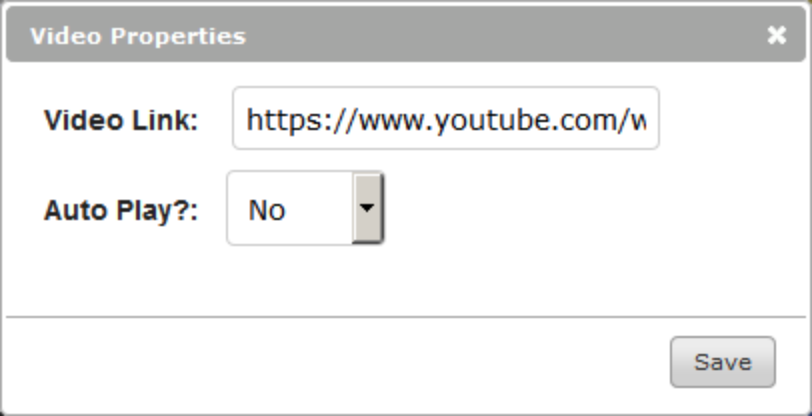 Notes on Videos
Here are some rules to consider when embedding a video:
The URL must be a direct URL to the video (not to a channel or a top-level page). If you use an invalid URL, you will receive an error message. If you enter invalid URLs, the placeholder box will still display in the designer but no video will play when the page is tested or live. Always test pages containing a video to ensure it plays correctly.

Only one video on a page can be set to autoplay. If a page contains multiple videos, and the user sets a video to autoplay, any attempts to set a second video to autoplay will produce a warning message.