NOTE: Some of the information in this article and associated video is not applicable to customers whose site is based on the Community Essentials model.
As a Community Admin, you can can perform a number of important tasks for your community, including:
running reports to view community metrics;
updating its join and view permissions;
adding and removing Community Admin access to/from members;
inviting (and if allowed by Super Admins, adding) members to join;
restricting and removing current members;
emailing members;
moderating Discussion posts and Library entries;
managing community events;
managing any community Volunteer Opportunities;
and more.
Watch the video
Available actions
You can perform all of these actions from a single, "one-stop shop" menu. From any community tab, you'll see a SETTINGS button to the right of your community's name. Click this to view every action you can perform, grouped by category on the left.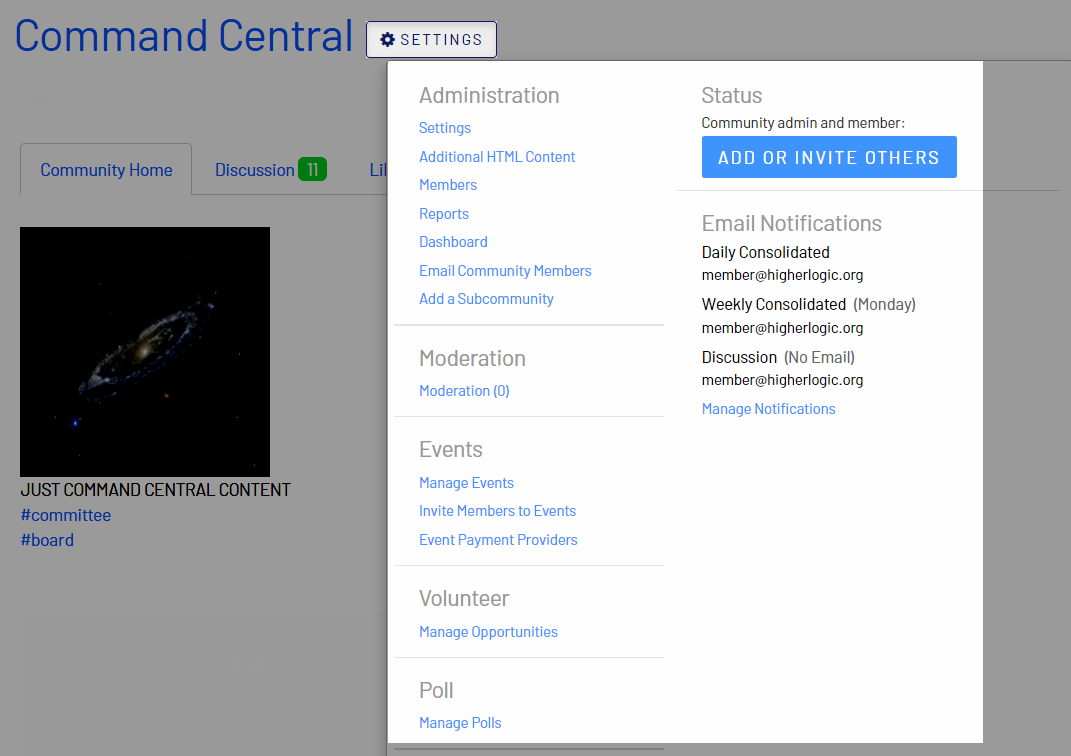 These actions are discussed in their respective articles; refer to the links below to learn more.
Administration
Moderation
Events
Volunteer
Polls
Site Admin privileges in Microsites
If a community is associated to a Microsite, the community's Community Admins automatically have Site Admin privileges also. In these cases:
The Community Admins are not included in the Add/Edit list of the Site Admins column of the Pages > Sites > List page (as regular Site Admins do).
The Community Admins will display Community, Site in the Admin Roles column of the Users > List page.
Super Admins can enable and disable permissions (for additional control of these Site Admins) in Site Setup > Admin (tab).
Related articles