Use the Message Designer to create and modify email messages. You can:
add and remove content,
insert headings, text blocks, and images, and
apply custom templates.
The designer's formatting tools make it easy to:
add borders and spacing,
change font styles and colors, and
manipulate images.
Watch the video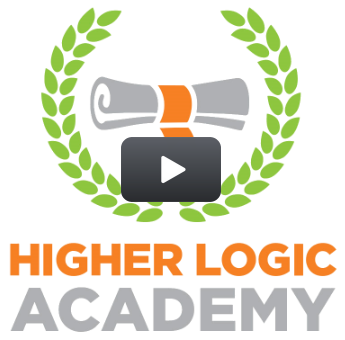 Editor layout
Let's learn about the Message Designer's three main areas:
Navigation Bar - Across the top are the four primary tabs you'll use to design and configure your messages.
Canvas - In the middle is the canvas, which is where you'll add and manage message content.
Content Properties - After adding or selecting content on the canvas, a properties panel appears on the left where you can configure the content. The options vary depending on the content type (e.g., selecting text provides typical formatting options while selecting images provides image-formatting properties).
Template tab
The Template tab is where you can apply templates to modify the look of your message without changing its content. Here, you can see every available template that you can apply to your messages.
NOTE: Templates must be activated in order to be available.
Select a template
The gallery always lists the currently used template first. If you want to find a template in a different folder, click the Folder menu to select a folder.
Click a different template thumbnail to use it for your message. Higher Logic Thrive Marketing Professional (Thrive Marketing Professional) will attempt to automatically migrate any message content you have from the old template to the new template (see below). However, if the new template does not have enough available Message Content Areas, some content may be truncated or lost.
Original template
New template
Edit templates in Message Designer
If you want to quickly edit your template while working on a message, you can do so on the Template tab.
Click your template's Edit button to open Template Designer 2 (this automatically saves your work).
When you've made your modifications, click Save to update the template.
Click Return to navigate back to your message in Message Designer, along with a notification indicating a new version of the template is available.
Click Update Template to switch to your new template.
Additional details
Keep the following details in mind about the Template tab:
The template used in the message always displays as the first item (regardless of the folder selection).
You can edit the in-use template even if that template is deactivated.
You cannot edit an in-use template if it has been deleted. This disables the Edit button.
NOTE: Only users with template editing permissions can make changes directly from Message Designer.
Design tab
The Design tab is where you build your messages, of which content types are the heart and soul. In Message Designer, you add content to Message Content Areas, which are indicated by the Add Content button. These layouts are defined in your message's template, and are set up with all the settings you'll need to tell your organization's story.
To start adding content, click one of the Add Content buttons. The available content types (again, dictated by the template) appear in a menu next to the Message Content Area.
Click the content type you'd like to add to launch its properties. Now, you can add content and format it as necessary using the Rich Text Editor.
NOTE: Editing options may be limited based on the Theme properties in the template.
Text version
This is the text-only version (all HTML is removed) of your message, which you can see and edit by selecting this view.
To view the text-only version, click the menu at the top right and select Text Version.
NOTE: This version is sent to recipients who opt to receive text-only emails (i.e., they use a text-based email client).
As you're creating a message, the text-only version is automatically created for you alongside the HTML version. After your message is finalized, verify and reformat this version to fix any issues (spacing, bullets, styles) that may not convert properly from the HTML version.
TIP: Content you add to your text-only version is not automatically added to the HTML version, enabling you to add unique text-only content.
Undo/Redo buttons
Undo - Click this to undo one or more actions you made while creating your message. This is the best way to quickly and easily fix mistakes you've made or changes you don't want to keep.
Redo - Click this to redo actions you've made while creating your message, but had then undone.
NOTE: These buttons are only available when editing the HTML version of your message.
Properties tab
The Properties tab is where you'll set high-level properties for your message. There are four main subsections in the Properties tab:
Name (message properties) sub-tab
There are several options available in the Name subsection.
Enter a Message Name. This is for your own organizational purpose; contacts won't see this.
Click the Folder menu to store your message in an available folder.
Tentative Send Date
A good way to stay organized is to set a tentative send date for each message. By doing so, everyone on your team will know "who's sending what, when" by checking the calendar. If you have concerns about sending too many messages, or if you need to oversee other child accounts, this is an invaluable tool.
Click the Tentative Send Date field and select a send date and time.
Targeting sub-tab
Targeting is where you'll set the recipients for your message. See Targeting in Messages to learn more.
Envelope sub-tab
The From email address is displayed next to the "Friendly From." Some bounces and all out-of-office replies go to this address.
The Friendly From is the name that contacts see in the "From" field.
Enter the Subject Line for message recipients. Click the Personalization icon to the right to add any personalizations to your subject line.
NOTE: Subject lines are required for all messages. If you enable A/B Testing, Subject Line A and Subject Line B are required.
Check the Use Targeted Subjects box to set alternative subject lines that display to contacts in the specified target groups. See the Targeted Subject Lines section of our Targeting in Messages article to learn more.
The Reply To email address receives all email replies.
A/B Testing
You can A/B test your Friendly From and Subject Line. When you select either option, the Envelope page expands to allow you to enter an "A" version and a "B" version.
Analytics sub-tab
Use Google Analytics to track hyperlinks in your Thrive Marketing Professional messages to better understand your audience.
See Google Analytics to learn more about setting up Google Analytics in Thrive Marketing Professional.
Review & Send tab
The Review & Send tab is your final stop before sending your message. Here, you'll have the chance to check the look of your content, test your personalizations, and send your message to your targeted contacts.
Check Content sub-tab
The Check content subsection gives you the chance to review the look of your message before you send it. This subsection has the following areas:
Version preview
You can review three different versions of your message: HTML, Mobile HTML, and Online. Click the corresponding buttons to view the different versions.
Personalization Test
Run the Personalization Test to ensure that all message recipients have valid personalization field values in your message.
NOTE: You can only check Thrive Marketing Professional personalization values; integration values cannot be tested.
Virtual Inbox Test
Run the Virtual Inbox Test to see how your message will look in a variety of email clients.
The test section updates to display three categories of email clients: desktop, mobile, and webmail.
Click the arrows on the right to expand the categories and view which email clients were tested.
Click Failed tests and Passed tests in the panel on the left to see which email clients failed the test and which ones passed.
NOTE: It may take a few minutes for the test to complete; you can continue to work as the test is running, and results will auto-update in real-time as results are compiled.

Also, you can run this test multiple times, with each set of results saved for future reference. To view them, click the dropdown and select a test (you may have to click Back to view this menu).
TIP: Virtual Inbox Test is run on a variety of desktop, mobile, and webmail email clients. To see a list of the email clients that are currently included, visit the Email on Acid "active email clients" page, scroll down, and click to view the full client list.
Get Feedback sub-tab
The Get Feedback subsection allows you to gather feedback from your colleagues before you send your message to your contacts.
Three feedback options are available:
Send Test
Send Test enables you to send your message to yourself and/or other individuals before it goes to your contacts.
Click the Test Recipients menu to select a test group or a list of email addresses for your test.
Enter a message to add to your subject line in the Prepend to Subject field. Additionally, enter a recipient email address for all test replies.
When ready, click Send Mail Test.
Send for Review
The Send for Review option lets you gather feedback.
Click the first menu to select a test group or a list of email addresses for your review.
Enter a Due Date and Instructions for your reviewers in the corresponding fields.
Check the Include test message in invitation box if you'd like to send a test message along with your reviewer invitation.
Use the Email Comments to the Author, Send an Email to the Reviewer, and Send a Due Date Reminder to Each Reviewer to fine-tune the properties for your review message.
Finally, click Send for Review to finish.
An email message will be sent to the test group or the list of email addresses that you specified in step 1 (above), and a copy will be sent to you.
The message indicates the name of the message to be reviewed, when the review period ends, and a link to the message in the Reviewer tool.
NOTE: When the review period ends, you'll receive a message with a list of the reviewers' comments.
Information for your reviewers
If you're going to have others reviewing your email messages, it's a good idea to:
Inform your reviewers of your request, especially if they are new to your account and unfamiliar with your review procedures.
Refer your reviewers to instructions on how to use the Reviewer tool.
Notify your reviewers that the review-request email message will be from Reviews@informz.net; this should prevent them assuming it's spam and deleting it.
NOTE: Your reviewers might not know that "Informz" is a previous name of the Thrive Marketing Professional product.
Get Count
Click this option to see how many contacts will receive your message.
Send sub-tab
The Send area at the bottom of the page gives you everything you need to get your message sent and into your contacts' inboxes.
Schedule Options
You have several scheduling options for your message:
Send Message Now
Schedule One-Time
Daily or Weekly
Monthly
Triggered
When you select an option, the page expands to let you fine-tune your selection.
Delivery Methods
Additionally, you'll have several delivery methods:
Standard
Optimized
Distributed
Review the descriptions and make a selection.
When you've set all your message options, click Schedule Message to send.
Auto Resend
The Auto Resend feature enables you to automatically resend a message to contacts who did not open the original message.
NOTE: You must configure this option while creating a (original) message; it cannot be set up after a message has been sent.
TIP: Learn about the Auto Resend feature.