Curious about the recent features and updates that are available in Higher Logic Thrive Community (Thrive Community)? If so, you've come to the right place.
New Content Security Policy page
RELEASED: October, 2022
A new page that Super Admins can use to add a layer of browser-based security to their site's pages. Admins can:
enable violation reporting and
add custom values to CSP directives.
The configuration page is accessible at Settings > Security > Content Security Policy.
To learn how to configure CSP for your site, see Manage your Content Security Policy.
New Ideas list page
RELEASED: September, 2022
A new page that Super Admins can use to manage their site's Idea submissions. Super Admins can:
search and filter the Ideas list,
edit Idea Statuses in "bulk," and
simultaneously delete multiple Ideas.
The new page is accessible at Feedback > Ideation > List.
To learn about the new page and the idea-management options, see Manage Ideas.
New Featured Card layout
RELEASED: July, 2022
A new, single-card layout is available in the Featured Card widget: Hero Card. This full-width layout is ideal for displaying large hero images for your community home pages and landing pages.
To learn more, see Widget Spotlight - Featured Card.
New widgets
RELEASED: March, 2022
Two new widgets are available to add to your Thrive Community:
Check out their articles for more information about their purpose, how to configure them, and more!
TIP: We've also recently created articles dedicated to listing all of our available widgets, along with descriptions of their use/purpose. Check those out in the Widgets section of our knowledge base.
Ribbons & Badges interface uplift
RELEASED: February, 2022
Customers using either Higher Logic Thrive Community or Higher Logic Thrive Platform have access to a newly redesigned interface with which to create and manage their Ribbons & Badges.
To learn more, see our knowledge base article.
Copy Pages tool
RELEASED: February, 2022
Higher Logic makes it easy for Super Admins to copy pages from one microsite (or your main site) to another microsite with the new Copy Pages tool!
The Copy Pages tool is a standalone page in the Admin interface (Admin > Pages > Copy Pages) with a few dropdowns to simplify page copying.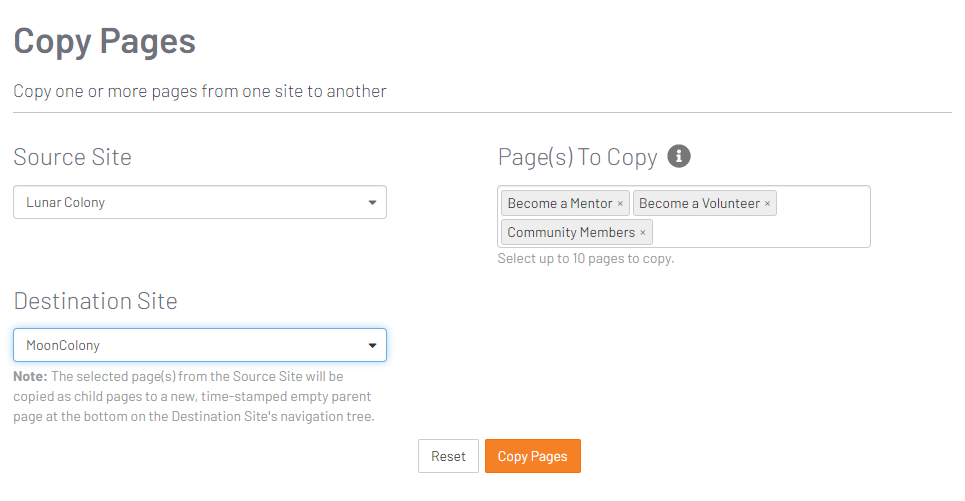 Copied pages appear in a uniquely named "parent element" in the CMS of the Destination site and are managed like any other site pages.
To learn more, see our knowledge base article.
Resend verification email to pending users
RELEASED: February, 2022
For Higher Logic Communities configured to require user's to validate their email address before their account can be created, account creation hinges on users taking action. Because it's possible users may forget to complete this step or lose the verification email, Super Admins can now resend it to them from the Pending Approval queue on the Users List.
See Resend Verification Email to Pending Users to learn more about this process.