Curious about the recent features and updates that are available in Higher Logic Thrive Community (Thrive Community)? If so, you've come to the right place.
New widgets
RELEASE DATE: March, 2022
Two new widgets are available to add to your Thrive Community:
Check out their articles for more information about their purpose, how to configure them, and more!
TIP: We've also recently created articles dedicated to listing ALL of our available widgets, along with descriptions of their use/purpose. Check those out HERE.
Ribbons & Badges interface uplift
RELEASE DATE: February, 2022
Customers using either Higher Logic Thrive Community or Higher Logic Thrive Platform have access to a newly redesigned interface with which to create and manage their Ribbons & Badges.
To learn more, see our knowledge base article.
Copy Pages tool
RELEASE DATE: February, 2022
Higher Logic makes it easy for Super Admins to copy pages from one microsite (or your main site) to another microsite with the new Copy Pages tool!
The Copy Pages tool is a standalone page in the Admin interface (Admin > Pages > Copy Pages) with a few dropdowns to simplify page copying.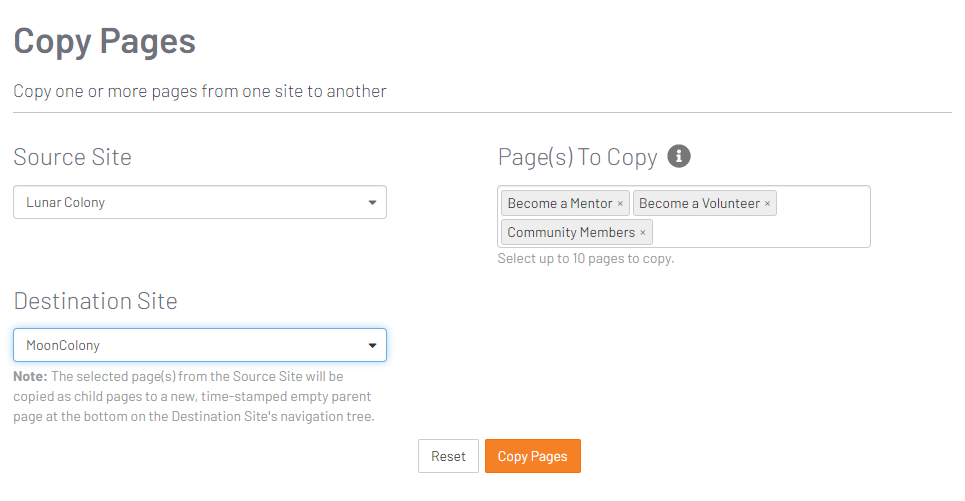 Copied pages appear in a uniquely named "parent element" in the CMS of the Destination site and are managed like any other site pages.
To learn more, see our knowledge base article.
Resend verification email to pending users
RELEASE DATE: February, 2022
For Higher Logic Communities configured to require user's to validate their email address before their account can be created, account creation hinges on users taking action. Because it's possible users may forget to complete this step or lose the verification email, Super Admins can now resend it to them from the Pending Approval queue on the Users List.
See Resend Verification Email to Pending Users to learn more about this process.
Community statistics timing update
RELEASE DATE: December, 2021
We've changed the timing for when a community's numerical statistics are updated, both on community list pages and the tabs within your communities.
EXAMPLE: The statistics we're referring to are the numbers next to the community tabs.



Recently, during our routine page-performance monitoring, we noticed a significant impact to load times due to community statistic queries running every time a user loads these pages.
To improve performance and page-load times, these statistics no longer update in real-time. Instead, they will be calculated each night. This change has no impact on community content, only the updating of the displayed numerical statistics.
TIP: Reports are not affected by this change, and still provide real-time data each time they're run. So, if you need these statistics in real-time, or at some point in between the nightly updates, run the appropriate community report to get the data you need.
Request to Join communities
RELEASE DATE: November, 2021
Request to Join communities are now available! With this type of community, membership can only be obtained by submitting a request and having it approved by a Community or Super Admin.
To learn more, see our knowledge base article.
Admin Toolbar
RELEASE DATE: November, 2021
We're excited to announce that Thrive Community has a new Admin Toolbar!

This Admin Toolbar replaced the Webmaster Links menu (pictured below) that many Admins are used to as the access point for Admin pages.
When you log in as a Volunteer Admin, Site Admin, or Super Admin, the Admin Toolbar will be "sticky" across the top of your entire site to provide convenient access to your Admin pages.
The Admin Toolbar and its options have been designed to comply with accessibility standards.
To learn more, see our knowledge base article.
Connected Community mobile app
RELEASE DATE: August 19, 2021
We're excited to announce that Thrive Community has gone mobile!
The Connected Community mobile app is now available for you and your members from:
To learn more, see our knowledge base articles.
Blogging security group
RELEASE DATE: August 06, 2021
As a result of Higher Logic's ongoing commitment to security and privacy, we have deployed a new security group, HLBlogger.
All members of your community who are to have blogging privileges in your community must be added to HLBlogger in order to create/edit blogs.
See Spam Mitigation - Restrict Blog Creation to learn more.
Latest Q&A List widget option
RELEASE DATE: July 07, 2021
The Latest Q&A List widget has a new option, Show Unique Threads?.
Admins can use this option to show only the most recent posts in a Q&A thread.
To learn more, see our knowledge base article.
Redesigned Library Entries page
RELEASE DATE: June 09, 2021
The Library Entries page has been redesigned to give it a fresher and more modern look -- and to offer a more functional user experience.
Some of the features to look out for are the:
Featured Card Row,
Details Panel, and
Ellipsis (...) menus.
To learn more, see our knowledge base article.