Curious about the recent features and updates that are available in Higher Logic Community? If so, you've come to the right place.
New Connected Community mobile app
RELEASE DATE: August 19, 2021
We're excited to announce that Higher Logic Community has gone mobile!
The Connected Community mobile app is now available for you and your members from:
NOTE: To learn more, see our knowledge base articles.
New blogging security group
RELEASE DATE: August 06, 2021
As a result of Higher Logic's ongoing commitment to security and privacy, we have deployed a new security group, HLBlogger.
All members of your community who are to have blogging privileges in your community must be added to HLBlogger in order to create/edit blogs.
TIP: See Spam Mitigation - Restrict Blog Creation to learn more.
New Latest Q&A List widget option
RELEASE DATE: July 07, 2021
The Latest Q&A List widget has a new option, Show Unique Threads?.
Admins can use this option to show only the most recent posts in a Q&A thread.
NOTE: To learn more, see our knowledge base article.
Redesigned Library Entries page
RELEASE DATE: June 09, 2021
The Library Entries page has been redesigned to give it a fresher and more modern look -- and to offer a more functional user experience.
Some of the features to look out for are the:
Featured Card Row,
Details Panel, and
Ellipsis (...) menus.
NOTE: To learn more, see our knowledge base article.
Latest Q&A widget
RELEASE DATE: March 25, 2021
Admins can now display a feed of the community's most recent Q&A threads on community home pages and other pages throughout the site.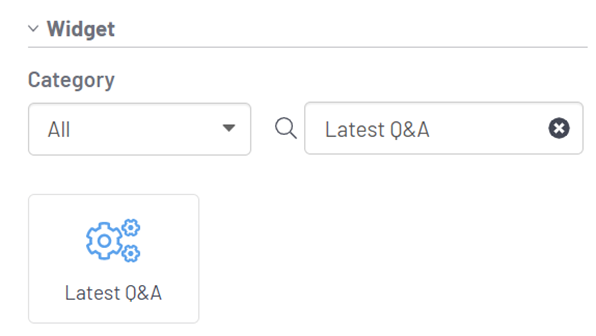 The Latest Q&A widget has several configuration options, such as:
filtering by a specific community,
filtering on unanswered Q&A threads, and
specifying how many days back the widget should look for posts to include.
NOTE: To learn about widgets, see our knowledge base article.
Question & Answers thread type
RELEASE DATE: 4th quarter, 2020
Admins can now enable a Question & Answers option for a community so that its members can post questions -- and post answers to those questions!
The feature is enabled at the Community Type level (see Enable Questions & Answers). After the option is set, any new communities based on that Community Type will inherit the feature.
The Question to be answered post type can be used independent of or alongside the standard Open-ended Discussion post type in a community.
Admins can edit, moderate, and delete questions and answers (see Manage Questions & Answers).
Members can click to indicate that they i) have the same question and ii) found a particular answer helpful.
This new feature presents another way that you can encourage communication and engagement in your community, as well as giving members another way to help one another.
NOTE: For a closer look at how to enable this new feature, moderate questions and answers, and update the text of question thread options, see the Discussions section of the knowledge base.
Nesting rows in Page Designer
RELEASE DATE: October 07, 2020
Admins can now "nest" rows when building or editing a community page. Nesting is the ability to place a row inside an existing row, effectively creating a layered row structure.
EXAMPLE: The image below illustrates nesting a 3-column row in the right column of a previously placed 2-column row.



This enhancement allows you to more finely tune how your content displays. The flexibility of being able to layer the different types of rows allows for greater control and more creativity. You can more easily group related content (e.g., related text and images) so that it is better organized for your audience.
NOTE: For a closer look at how to use this new functionality, see Nesting Rows.
Engagement Benchmark Score
RELEASE DATE: July 01, 2020
Engagement Benchmark Score (EBS) is a new performance metric that Super Admins can use to see how their community site's activity, value, and reach performance compares with others belonging to the same organizational type and industry. The EBS page is easily accessible by clicking BENCHMARK tab on the main dashboard in the Admin interface.
Super Admins can see a comprehensive, monthly snapshot of data that details their community site's:
Score - an average score based on the following three community-engagement factors.
Activity - a measure of how many users have created content on the community site.
Value - a measure of all user engagement (e.g., comments and replies) that the Activity generated.
Reach - a measure of how many users have performed an Activity versus total active members.
As a Super Admin, you can:
See when the latest EBS score was generated, how it was calculated, and get tips on how to improve it.
Use this information to encourage more and better community engagement.
Print and/or save a copy of the score to share with peers and stakeholders.
To learn all about this new performance-reporting feature, see Engagement Benchmark Score.