Curious about the recent features and updates that are available in Higher Logic Community? If so, you've come to the right place.
Latest Q&A widget
RELEASE DATE: March 25, 2020.
Admins can now display a feed of the community's most recent Q&A threads on community home pages and other pages throughout the site.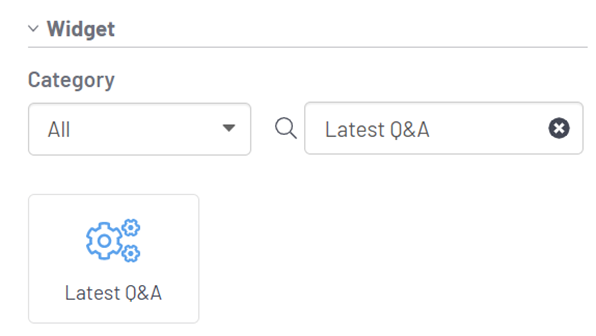 The Latest Q&A widget has several configuration options, such as:
filtering by a specific community,
filtering on unanswered Q&A threads, and
specifying how many days back the widget should look for posts to include.
NOTE: To learn about widgets, see our knowledge base article.
Question & Answers thread type
RELEASE DATE: 4th quarter, 2020.
Admins can now enable a Question & Answers option for a community so that its members can post questions -- and post answers to those questions!
The feature is enabled at the Community Type level (see Enable Questions & Answers). After the option is set, any new communities based on that Community Type will inherit the feature.
The Question to be answered post type can be used independent of or alongside the standard Open-ended Discussion post type in a community.
Admins can edit, moderate, and delete questions and answers (see Manage Questions & Answers).
Members can click to indicate that they i) have the same question and ii) found a particular answer helpful.
This new feature presents another way that you can encourage communication and engagement in your community, as well as giving members another way to help one another.
NOTE: For a closer look at how to enable this new feature, moderate questions and answers, and update the text of question thread options, see the Discussions section of the knowledge base.
Nesting rows in Page Designer
RELEASE DATE: October 07, 2020.
Admins can now "nest" rows when building or editing a community page. Nesting is the ability to place a row inside an existing row, effectively creating a layered row structure.
EXAMPLE: The image below illustrates nesting a 3-column row in the right column of a previously placed 2-column row.



This enhancement allows you to more finely tune how your content displays. The flexibility of being able to layer the different types of rows allows for greater control and more creativity. You can more easily group related content (e.g., related text and images) so that it is better organized for your audience.
NOTE: For a closer look at how to use this new functionality, see Nesting Rows.
Engagement Benchmark Score
RELEASE DATE: July 01, 2020.
Engagement Benchmark Score (EBS) is a new performance metric that Super Admins can use to see how their community site's activity, value, and reach performance compares with others belonging to the same organizational type and industry. The EBS page is easily accessible by clicking BENCHMARK tab on the main dashboard in the Admin interface.
Super Admins can see a comprehensive, monthly snapshot of data that details their community site's:
Score - an average score based on the following three community-engagement factors.
Activity - a measure of how many users have created content on the community site.
Value - a measure of all user engagement (e.g., comments and replies) that the Activity generated.
Reach - a measure of how many users have performed an Activity versus total active members.
As a Super Admin, you can:
See when the latest EBS score was generated, how it was calculated, and get tips on how to improve it.
Use this information to encourage more and better community engagement.
Print and/or save a copy of the score to share with peers and stakeholders.
To learn all about this new performance-reporting feature, see Engagement Benchmark Score.
Concepts / Ideation
RELEASE DATE: May 28, 2020.
There is a new Concepts section on the Admin > Community > Moderation > Settings page.
Ideation posts that are subject to moderation are now included in moderation notification email messages, if these notifications are configured for the account. See Manage Your Site's Moderation Queue.
Admins can use this section to manage who should receive notification email messages when Ideation posts hit the Moderation queue. See Moderation Notifications.
Ideation
RELEASE DATE: May 13, 2020.
Several improvements were made to the use of the Ideation feature. These changes bring it in line with other user-created content in Discussions, Libraries, and Blogs.
Ideas now count as a user contribution and are included in the counts for the Moderate First-Time Contributors and Contribution Frequency settings in Admin > Community > Moderation > Settings. See Moderation Notifications.
Ideas are now moderated along with other contributions (discussion posts, library uploads, and blog posts) when a moderated user posts an idea. See Manage Your Site's Moderation Queue.
Ideas will now be scanned by the new Watch Words feature (via Admin > Community > Moderation > Watch Words) and be subject to the feature's settings. See Moderation Watch Words.
Moderation Watch Words
RELEASE DATE: April 23, 2020.
Moderation – A new feature, Watch Words, is now available in the Admin interface. With this feature, Super Admins can opt to automatically moderate offensive words or replace a word with a series of asterisks. Learn more about this feature in Moderation Watch Words.
Blog Moderation – Blogs associated to communities now inherit the community's moderation settings. Blogs in self-moderated communities can be marked as inappropriate. Those who receive moderation email notifications for their community will receive alerts when blogs are moderated, too.
My Inbox
RELEASE DATE: April 15, 2020.
Several enhancements have been made to My Inbox in user Profiles.
Back to Inbox button - When a user opens a message from their inbox and then clicks this button, they are returned to the page on which they opened the message.
When a user views a message received from an email notification and then clicks this button, they are directed to the first page of their inbox.
Next and Previous buttons - Open messages now have Next (message) and Previous (message) buttons so that users can more easily navigate between successive messages without having to return to the inbox list.
Private Message - Users can compose a new private message from their inbox.
Page Designer
RELEASE DATE: April 1, 2020.
Several enhancements have been made to Page Designer.
Performance improvements - The page now loads and saves more quickly.
Visual changes - The grey background was removed and the color scheme lightened.
Action - The drag-and-drop action now highlights on the page where item blocks can be placed.
Collapse option - HTML item blocks can be collapsed to display more of the page and simplify moving content.
Edit - The page publish attribution and state are now visible on Edit.
CSS class names - These can now be added to rows for better targeting.
Item Blocks (Content and Widget)
There are a few notable changes to the appearance and behavior of item blocks.
The name/title of item blocks now display in the header.
A block's action icons now display next to the title.
You can now double-click an item block to edit it.
There's a new Copy to Clipboard action.
Copy to Clipboard
Copy any item block to the clipboard for easy pasting across pages.
Copied item blocks remain on the clipboard for the duration of the editing session.
There is no limit to the number of item blocks that can be copied to the clipboard.
Copied item blocks can be deleted from the clipboard at any time during the session.
New My Inbox tab
RELEASE DATE: March 25, 2020.
Inbox was moved from the My Account tab and is now own tab, My Inbox, on the user Profile page, making it more accessible.
Also, the New Message button now displays the unread messages count.