Follow the best practices outlined in this article to ensure your iMIS Bridge is functioning properly before you send a mailing.
Check Your Target Groups
Prior to sending a mailing, it's always a good idea to check the subscriber count in your target group. Verifying the size is usually a good indicator that you've selected the correct list. Additionally, checking the count ensures that Informz is connected and synced to your iMIS database.
Click View Details for your target group to see your subscriber counts and additional details.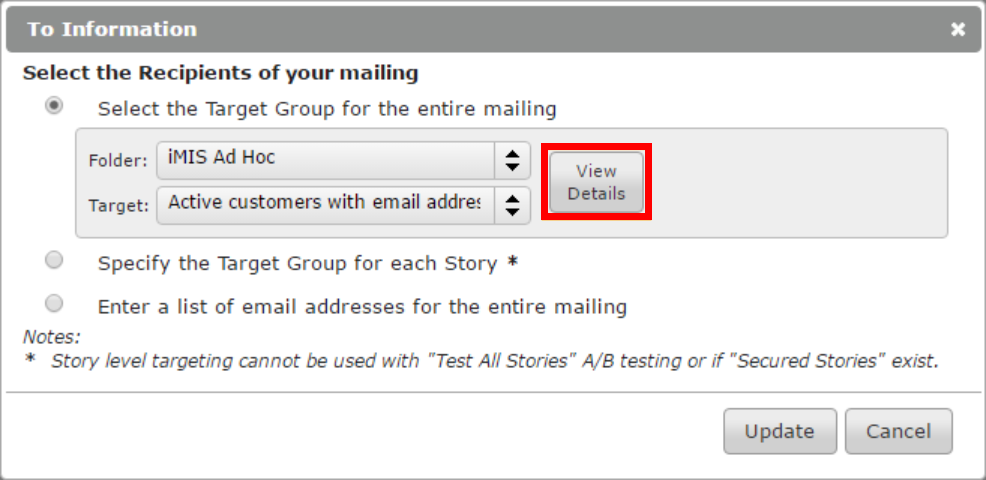 View the Subscribers Count
When it's time to send your mailing, you'll find yourself on the Mailing Designer's Send tab. Here, click View Subscribers Receiving This Mailing to open a window with a detailed count of all subscribers in the target group.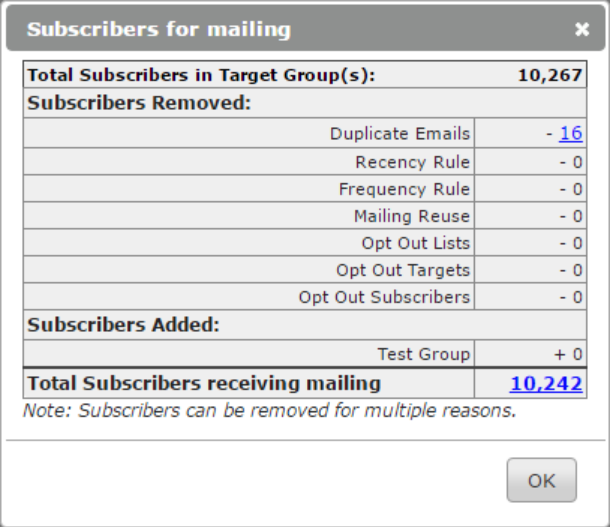 This pop-up shows additional counts for subscribers who are removed or added to the mailing (due to duplicate emails, opt-outs, test groups, etc.). This can be a particularly useful tool when you're looking at compound target groups, multiple target groups simultaneously, etc.
Check your Bridge Connection
If your subscriber count is at zero, check to see if there is a problem with your iMIS bridge connection. Navigate to Admin > Check Bridge Status and determine if your bridge is up and running. You'll see one of two statuses: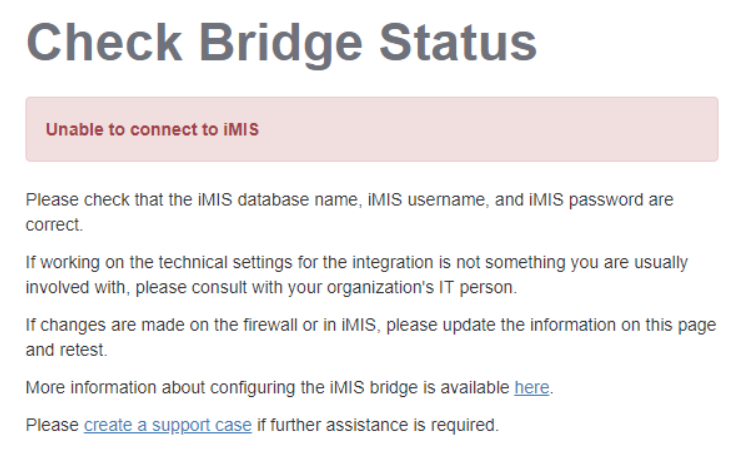 There are other considerations when using IQA queries. Ultimately, Higher Logic may need to ask several questions to help diagnose the problem and take the necessary steps to repair it. Here are some questions he or she might ask:
Has your IP address changed? - If the IP address used to access your database has been changed, Informz won't be able to connect to iMIS. This can happen for a variety of reasons (such as changing your Internet Service Provider). Higher Logic needs to know the new IP address, and he or she can provide you with the current settings that Informz uses.
What are your firewall settings? - Ensure that your firewall on your iMIS database server is open to accept traffic from Informz using a TCP connection (contact Informz for the IP address). Additionally, if your port has changed, you'll need to note this as well.
Have you changed your Database Name/Password? - If the name of your iMIS database name has changed, Informz won't be able to sync. The same is true if your password has changed. Always let Higher Logic know of any such changes.
Sync with iMIS
Once you've confirmed that your bridge is up and running, revisit your target groups. If the counts in Informz don't match up with those in your iMIS database, you may need to perform a sync between Informz and iMIS.
To sync Informz with iMIS:
Navigate to Subscribers > Upload > Sync Informz with iMIS and click Sync Subscribers.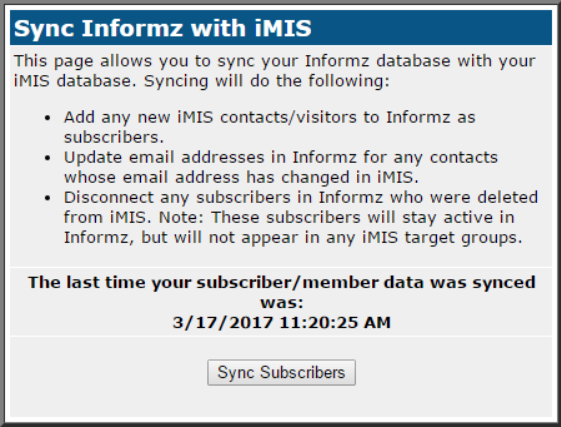 TIP: After you sync, it's a good idea to rebuild your target groups to ensure that they have the latest information on all of your subscriber target groups.
Navigate to Subscribers > Target Groups and click Rebuild All iMIS Target Groups. This process typically takes a few minutes.