Traditionally, organizations use discussions to prompt engagement from their members, but in time they often become difficult to manage, with similar ideas and feedback spread across dozens of threads. This makes cultivating ideas time consuming and difficult.
Ideation is designed around the singular principle of soliciting and gathering user ideas and feedback from your users, all from a centralized location: the Ideation home page, which is shown below.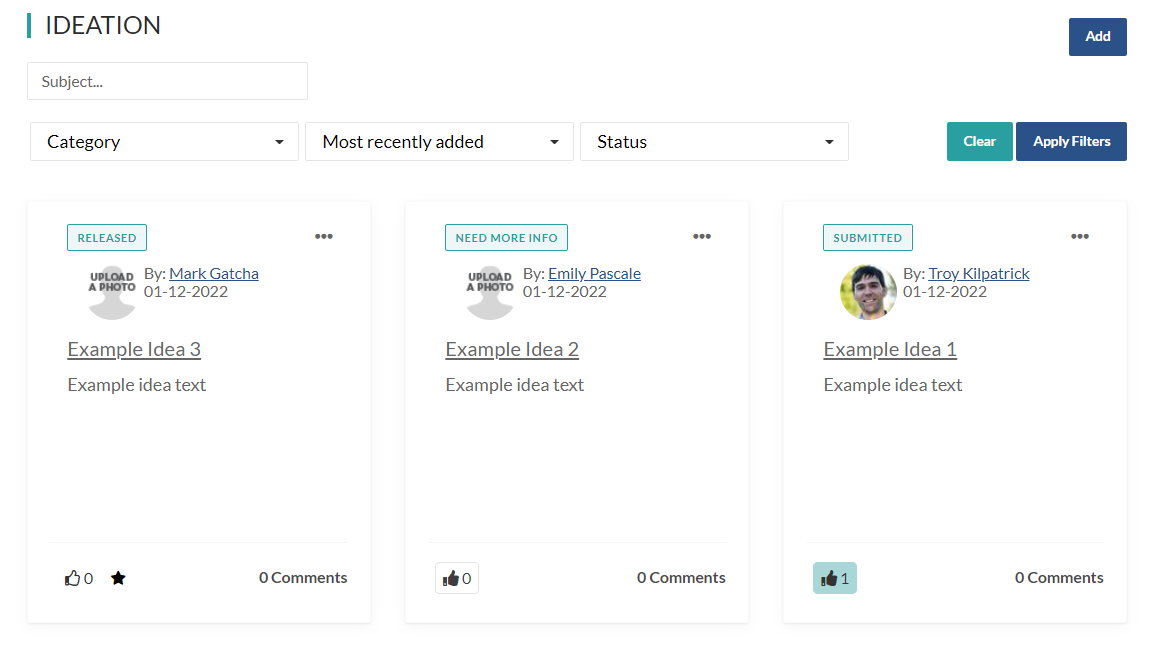 Users can organize their idea submissions in Categories that your organization has defined;
Admins can keep users in the loop about their submissions via custom Status labels; and
Users can vote and comment on idea submissions to help crowd-source the best ideas.
Watch the video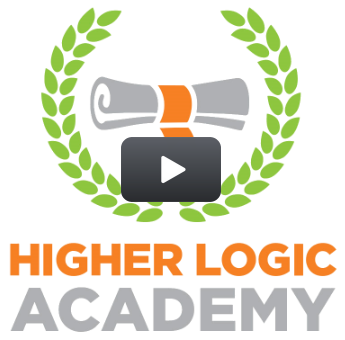 TIP: Check out the Higher Logic Academy Paths page for product- and role-specific videos!
Common use cases
Common use cases for Ideation include:
User groups that solicit product feature ideas - Ideation gives these organizations a central place to gather and nurture feedback to better align their product road map with user-requested ideas and features.
Associations that request event session ideas for their upcoming annual conference - Ideation gives these associations an opportunity to deliver the sessions and content their members actually want and need.
Ideation features
A centralized location where all Ideation conversations take place: the Ideation home page
When searching for ideas, the system will display already submitted ideas as users type into the search bar. This helps to both make it easier to find ideas and prevent duplicate submissions about the same ideas. If a user doesn't see a suggested idea already submitted, they can click a link right from the search bar to post it themselves.
Users can vote and comment on submissions, helping to crowd-source ideas and feedback
Admins can control who can view and submit ideas
Admins can create custom Categories to keep ideas organized
Admins can create custom Status labels
Organization can provide feedback on an idea (great idea! bad idea! Already in development)
Users can submit their ideas anonymously (if enabled)
Admins can customize this module's name to fit your organization's specific use-case (e.g., Product Feedback)
Ideation home page
Submitted ideas are displayed in a large "card" format, making them easily readable and digestible. Up to 12 of the most recent ideas are shown by default. You can click the page buttons at the bottom to view more, or use the search bar and various filters to focus the ideas shown.
The most important information about each idea is shown directly on its card for at-a-glance consumption, including its title and description, the person who submitted it, and when, its associated Categories and votes, and the number of comments. You can even vote on each idea right on its card by clicking the thumbs-up or thumbs-down icon.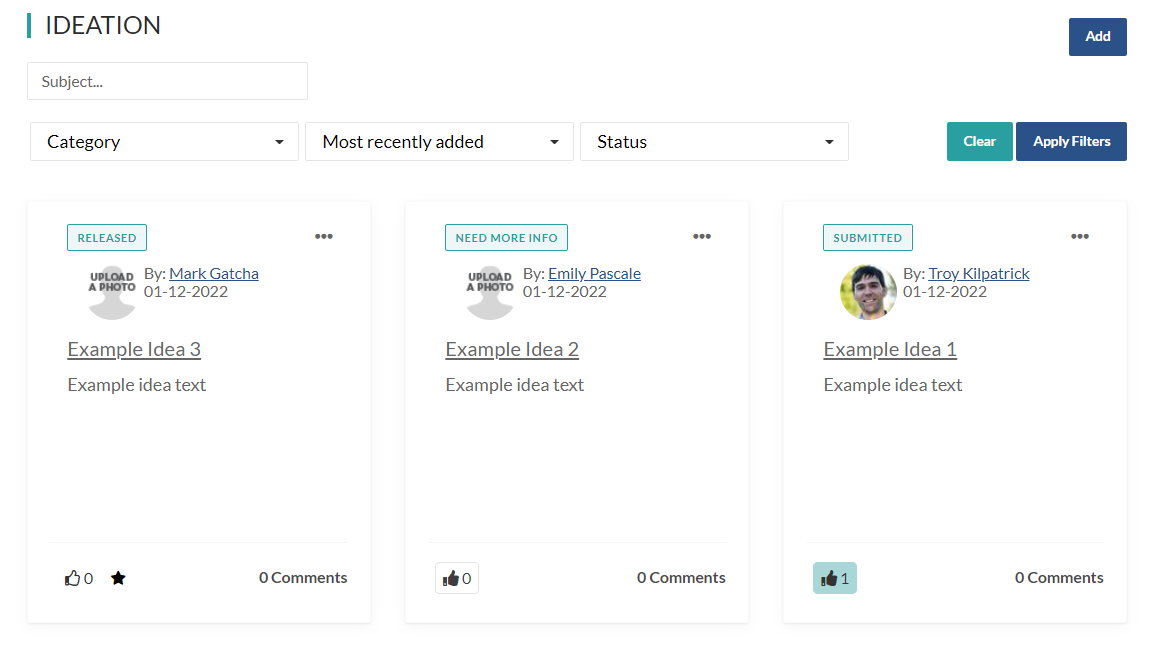 NOTE: Users with Ideation-management permissions will see an ellipsis menu at the top of the Ideation card and can use the options to edit, delete, pin, and change the status of an idea. Learn more about Ideation Settings.
Click the name of an idea to view its details page. Here, you can:
edit your ideas,
edit other people's ideas,
view any associated comments,
add comments, and
mark a comment as the "Official Response."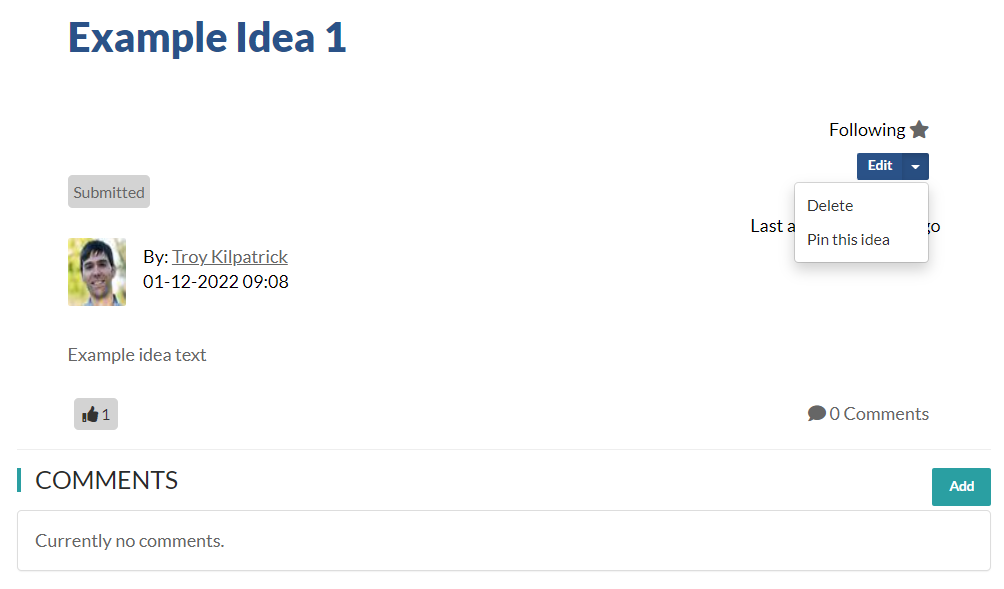 Mark as Official Response
As users read through idea submissions, they can comment on them for numerous reasons, such as to request more information and to add their support.
Users who have Ideation-management permissions (via the Who can edit ideas? setting; see Ideation Settings) can also mark a comment as the "official response."
NOTE: Only one comment per idea can be marked as "official."
To mark a comment as "Official Response":
Navigate to the idea that you want to edit.
Click the pencil icon of the comment that you want to mark as the "official" response.
On the edit dialog, check the Mark as 'Official Comment' from an Administrator box.
NOTE: This permission is no longer exclusive to Admin users. The ability to do this is controlled by Security Group membership.
Click Save.
The comment moves to the top of the Comments list for that idea and displays the Official Response bubble.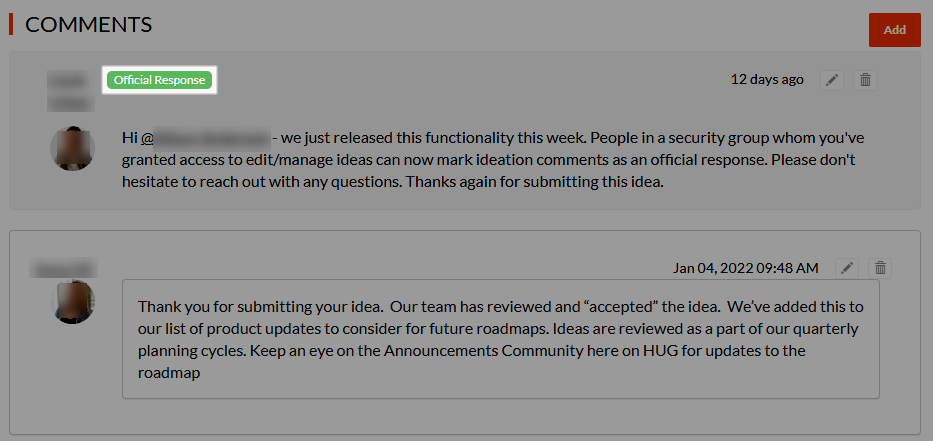 Notes
The Official Response checkbox option remains available for the other comments for that idea.
If a different comment is subsequently marked as "official":
that comment moves to the top of the Comments list,
it assumes the Official Response bubble, and
the supplanted comment loses the "official" designation and returns to its original position in the Comments list.
Ideation and Moderation
Ideation is user-created content and, as such, is subject to your site's or an individual community's Moderation settings.
Integration write-backs
If your Higher Logic site is associated with a third-party integrated database, some of the activities in your Community can be written to that database during the standard activity-sync process.
Navigate to Settings > External Content > Activity Sync in the Admin interface in order to manage writeback activities on the Subscriptions tab.
To learn about the activity-sync process, see Member Activity Sync.
Related articles