IMPORTANT: Before you can assign Super Admin permissions, you have to upload a list of your event registrants to your track site. If you haven't already done so, see Upload Event Registrants to learn how, and then return here.
Now that you have uploaded people with various roles into your Event Engagement site, you can assign Super Admin permissions to select people so that they can perform administrative tasks in your site.
Watch the video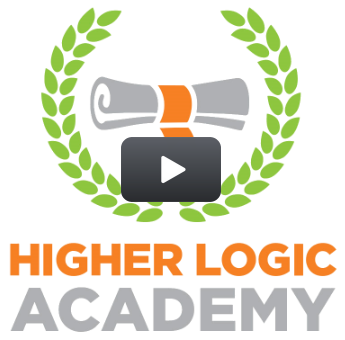 Super Admin actions
IMPORTANT: Higher Logic recommends assigning this permission to a limited number of trusted and knowledgeable people.
Super Admins can:
Manage Super Admin permissions
The Super Admins list page is where you manage your track's Super Admin permissions. You can assign and remove permissions on this page.
To access the Admin interface:
In the Admin Toolbar, click Admin.

Navigate to Users > Admins.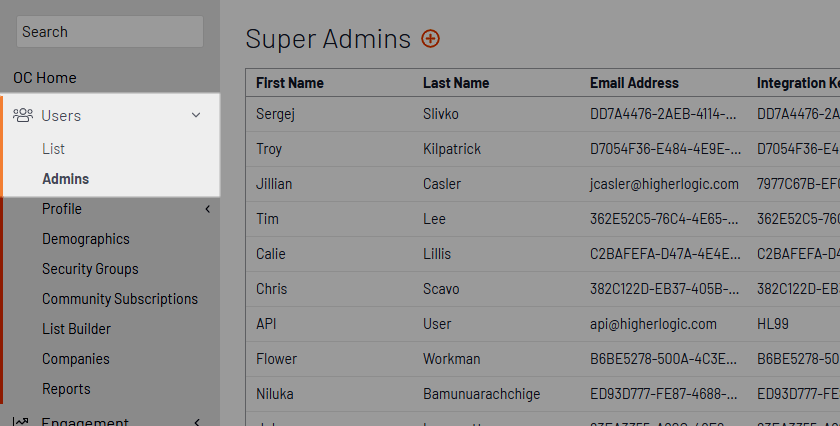 The page displays a list of current Super Admins for your track.
TIP: You can click the columns count under the list and select Informal Name to display that column.
To assign Super Admin permissions:
Click the plus sign to the right of the page title.
In the dialog, specify the email address of the person you're assigning permissions to.
NOTE: As indicated, use a comma to separate multiple email addresses.
Click

Add. A message will confirm the action.
Review the list to confirm that the new Super Admins are listed.
NOTE: Super Admins are not automatically notified when they have been assigned these permissions, so you should inform them. Refer to Notification message, below.
To remove Super Admin permissions:
Click a row to select a Super Admin.
Click Remove. A message will confirm the action.
Review the list to confirm that the Super Admin is no longer listed.
Return to this page and repeat these steps whenever you want to manage your Super Admins.
Search and Export
These options are in the upper right.
Search
If your Event Engagement site has a lot of Super Admins, click the magnifying glass icon to open the search field to refine the list. The search field:
Is not case sensitive,
Will query all the fields on the page, and
Accepts alphabetical, numeric, and special characters.
The list auto-updates as you type in the field.
Click the X to clear the field and restore the full list of Super Admins.
Export
You can download a .csv-based list of your current Super Admins by clicking the export icon.
Navigate to where you want to store the file, keep the default file name (SuperAdminResults.csv) or give it a memorable name, and save it.
TIP: Navigate to the saved file and review it. It should contain all of your current Super Admins and all of the list columns.
Notification message
When you assign Super Admin permissions to a registrant in your Event Engagement site, you must notify them. It's also a good idea to give them some guidance and information about what they can expect when they next login and what they can do as a Super Admin. For example, when they'd previously logged in as a non-Admin registrant, the Webmaster Links tab to access the Admin interface would not have displayed; now it will.
TIP: A copy of this image has been attached to this article for your convenience. Feel free to download it and include it in your notification message.

The following is suggested text for your notification to a new Super Admin; feel free to use it or not, or customize it to suit your needs.
NOTE: If you keep the <placeholders>, be sure to substitute them with the appropriate information.
Sample message
<Greeting of choice>,
You have been assigned Super Admin permissions for <organization name>'s Event Engagement site, <site link>. One of the first things you'll notice is the gear icon on any site page. Click this and then click Admin (under Site-wide options) to access the Admin interface.
As a Super Admin, you can manage:
When you've got some time, check out the articles in the Configure Your Event Engagement Site and Manage Registrants sections of the Event Engagement knowledge base.
If you have any questions, feel free to contact <whomever> at <phone, email address>.
<Closing of choice>
Image file