In this article, we'll cover the various ways you can manage a Library Entry after it has been added to a Library.
Watch the video
TIP: Check out the Higher Logic Academy Paths page for product- and role-specific videos!
Library Entry access
While there are a few places you can access Entries, the most common is from a community's Library tab, and that's what we're going to focus on in this article.
As you can see below, this tab showcases Entries in two areas:
If enabled, you'll see the Featured Card Row at the top of the page, which displays the eight most viewed/downloaded Entries. If it contains more than four Entries, click the < and > to scroll through them.
The area below is where all of the Library Entries are located. There are various ways you can filter the displayed Entries, like selecting a specific folder (if they've been created), filtering by file type, or selecting a Sort By option (e.g., creation date or most downloaded). These options are available above the list.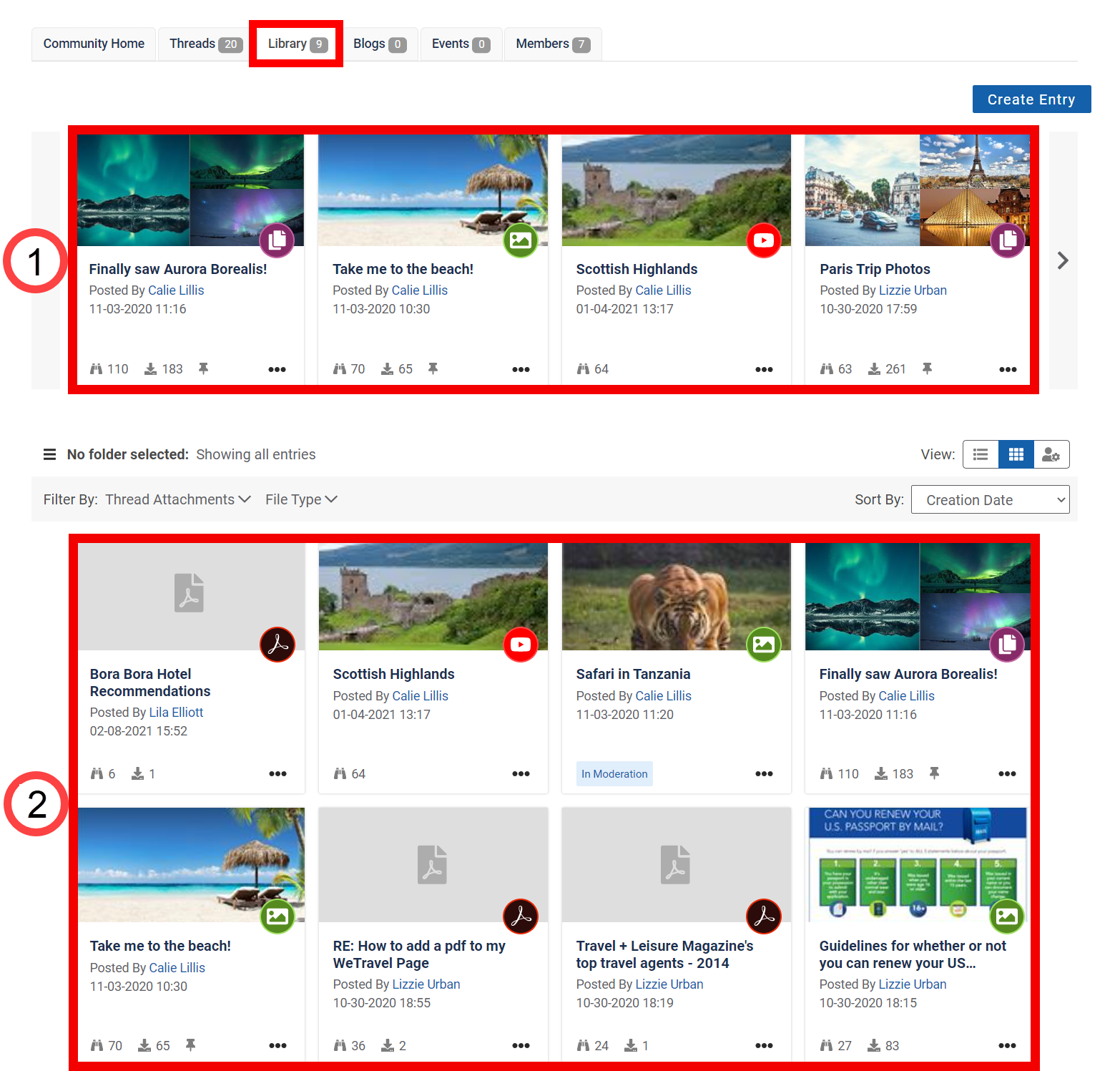 NOTE: Once the redesigned Library is fully released, Super Admins will be able to choose whether the Featured Card Row is enabled and configure its widget parameters. During this preview phase, however, it is here in a "view only" state.
Manage an Entry in the Details Panel
Click a Library Entry in the main list (area 2 in the image above) to expand the Details Panel. This panel allows you to manage everything about an Entry without ever leaving the page.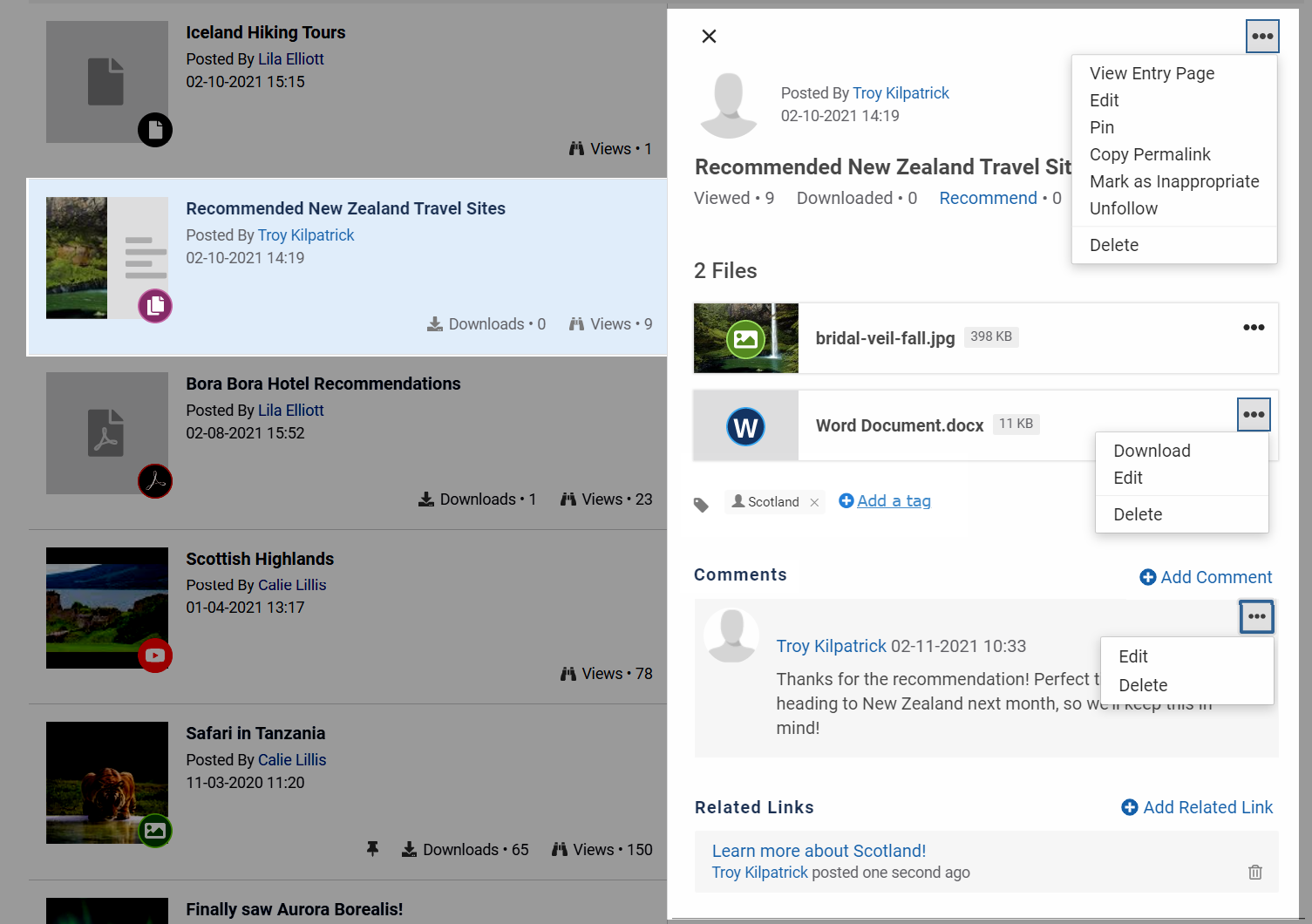 From here, you can:
Click the ellipsis (...) menu at the top-right of the Details Panel to access the primary management options for the Entry. These options are described in the Entry management options section below.
If the Entry contains uploaded files like images or documents, like the example above, click their associated ellipsis (...) menu to download, edit, and delete them.
Click Add a tag to tag the Entry with any relevant tags; doing so groups this Entry with any other content belonging to this tag, making it easier for users to find all content of a specific topic across your Higher Logic site. Click a tag to view its associated content. To delete a tag, click the X next to its name.
Any comments about this Entry left by users are posted in the Comments area. Click Add Comment to post one; click a comment's ellipsis (...) menu to edit or delete it.
Users can post links (both internal and external) to content related to the Entry. These are displayed in the Related Links area at the bottom. Click Add Related Link to post one; click the trashcan icon to delete one.
TIP: If you want to see a full-size preview of an image before downloading it, click the thumbnail icon in the Details Panel. This is especially helpful when there are multiple images in an Entry, as their thumbnails are smaller.
TIP: You can also access an Entry's full page to view all of these details and perform all of these same management actions. To do so, click its ellipsis (...) menu and select View Entry Page.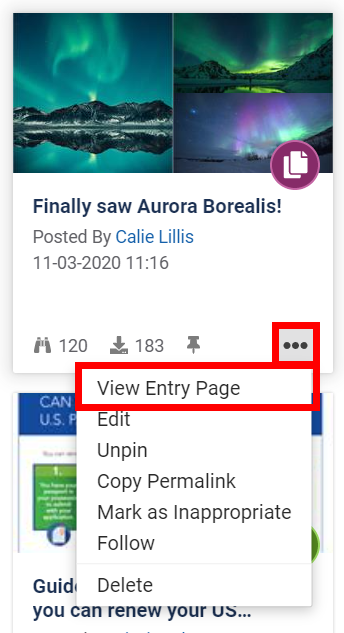 Entry management options
Let's go over the options you can use to manage the Entry itself. Remember, these are available in the ellipsis (...) menu for each Entry, both in the Details Panel and in the main list.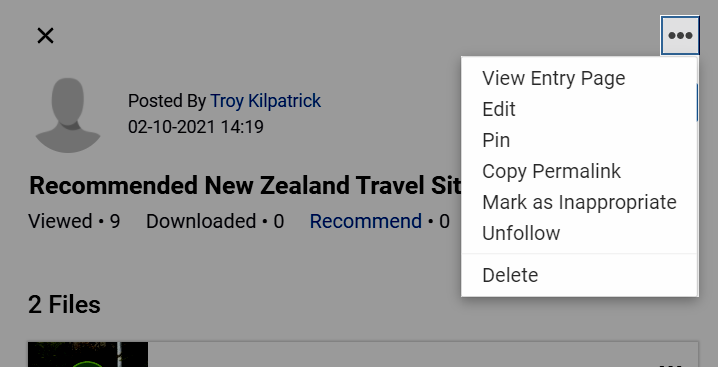 Option
Description
View Entry Page
Opens this Entry's dedicated page in the current tab. (Right-click to select to open in a new tab.)
Edit

Opens the Add to a Library page where you can update the following Entry details:

Its title
The Library its stored in
The specific folder within the chosen Library where it resides
Its description
Add or remove files, or simply update the existing files; the process for this depends on the file type (e.g., images, YouTube video, etc.)

Pin / Unpin
This feature is unavailable during the Library Preview phase; it will be available once the redesigned Library is fully launched.
Copy Permalink
Copies this library entry's permalink (URL) to your clipboard. It can then be pasted elsewhere to link to this Entry (e.g., a custom CMS page) or simply shared with someone for easy access.
Mark as Inappropriate
If the Library's community has Self-Moderation enabled, all users can use this option to flag any Entry as inappropriate. This places the Entry in moderation, where a Community or Super Admin will then decide whether or not to remove the Entry from the Library.
Follow / Unfollow

Select this to Follow an Entry, meaning you'll receive an email notification about any future updates it receives.

If following, this option becomes Unfollow, which you can select to stop receiving updates.

Delete

Click this, followed by Delete in the confirmation popup to delete the Entry.

WARNING: Deleting an Entry permanently deletes ALL of its files. This action cannot be undone!
Related articles